Apple Pie
It's officially FALL!! There is no better way to start the coziest season than with this delicious apple pie! This pie is so simple to make and it's the best Apple Pie I have ever tasted!! Sweet cinnamon apple filling on top of a flakey crust is a hard combination to beat, especially when topped with a crumble….. and ice cream!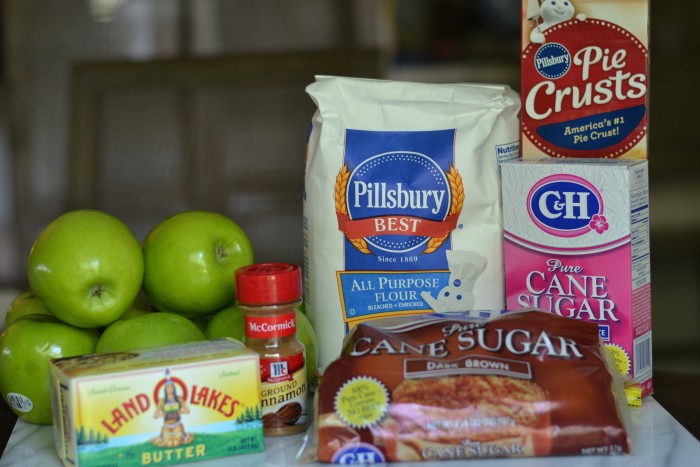 For this pie, you will need Granny Smith apples, cinnamon, real salted butter, all purpose flour, brown sugar, sugar and a Pillsbury pie crust.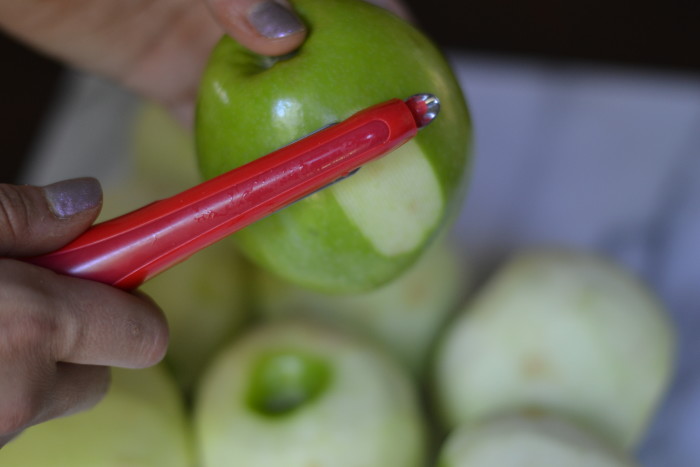 Start by peeling the apples. This recipe calls for 10 apples which seems like a lot but they cook down!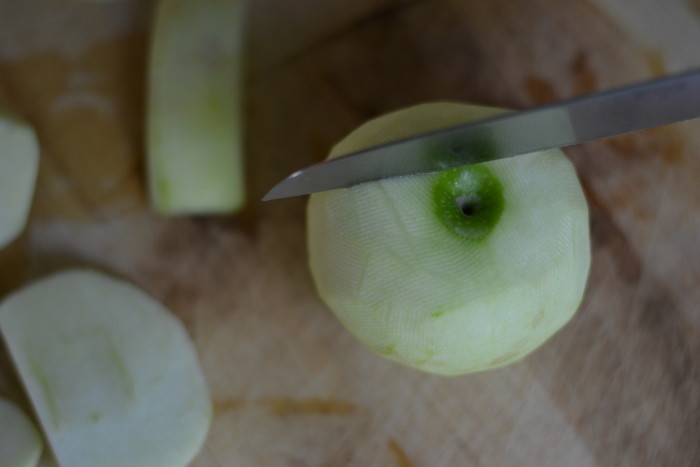 Core the apples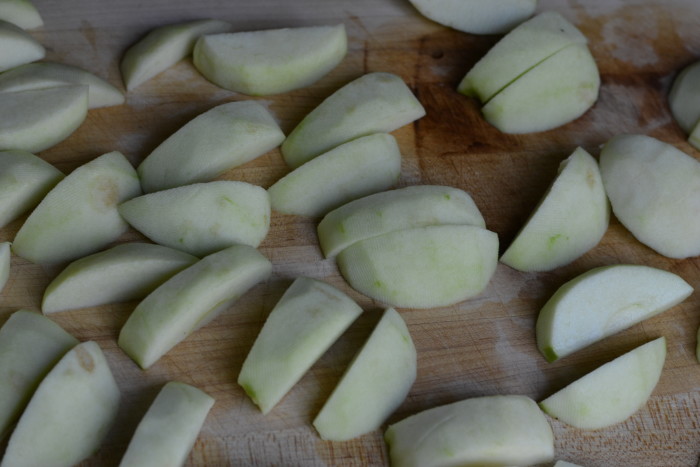 Cut the apples into 1 inch pieces.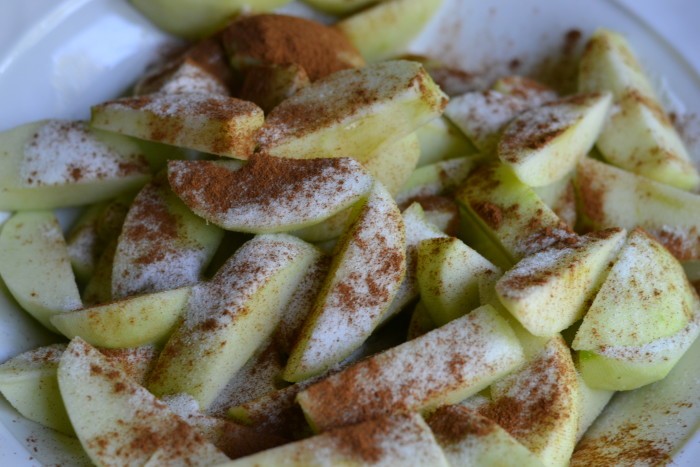 Put the apples into a large bowl and add the sugar and cinnamon.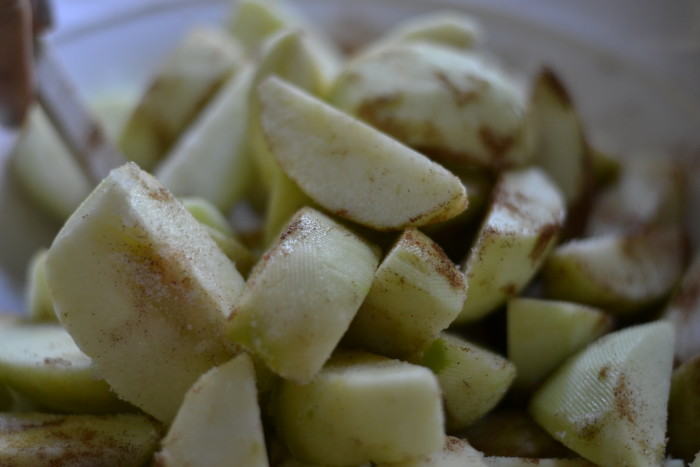 Toss the mixture and let sit while you prepare the topping.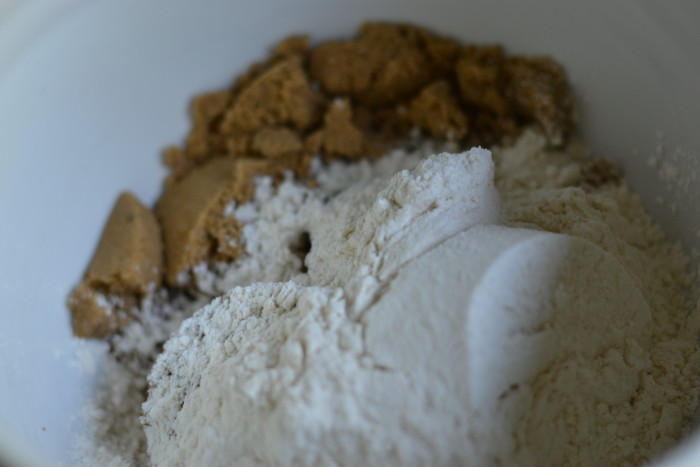 In a separate bowl combine the flour and brown sugar.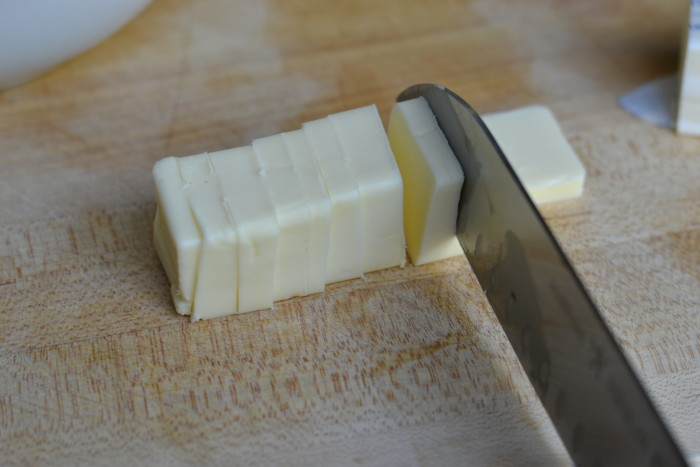 Next, cut a stick of cold butter into thin slices. Be sure to use real salted butter for this pie!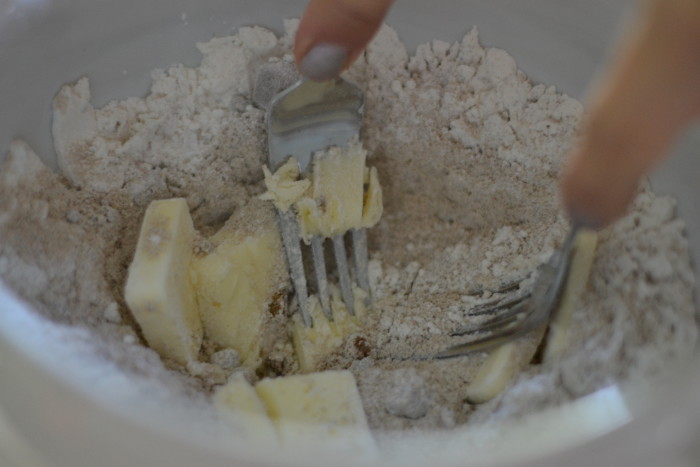 Using two forks cut the butter into the flour and sugar mixture. This steps takes a minute or two!!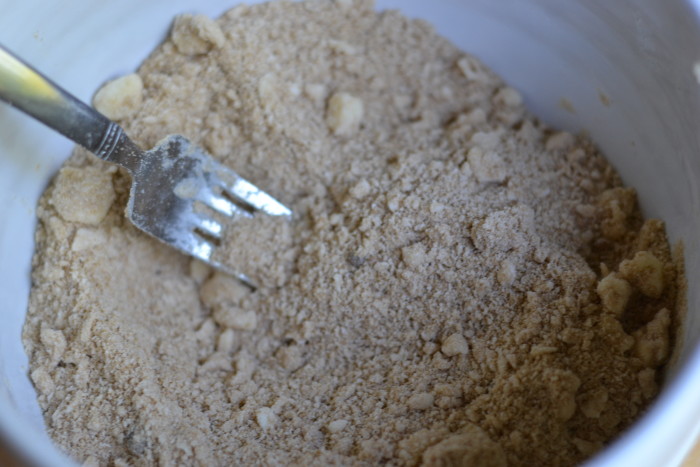 The butter should be completely combined.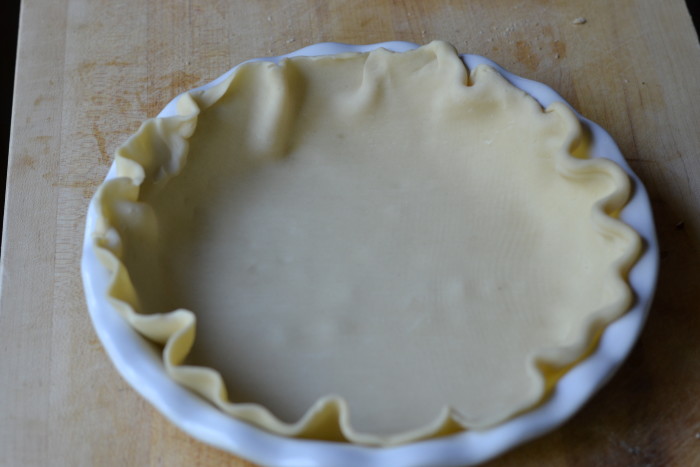 Roll out one of the Pillsbury crusts over the pie pan. Using your fingers, pinch the edges of the crust. If you are feeling ambitious you can make your own crust but for this pie I'm keeping it simple!!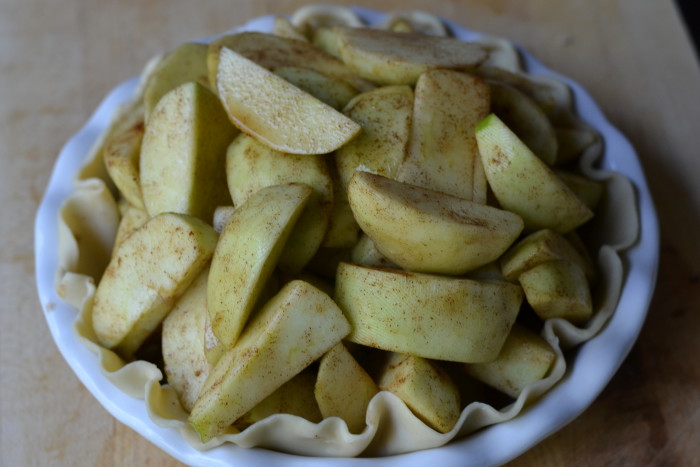 Pile on all of the apples. Its a lot of apples but the cook down.. I promise!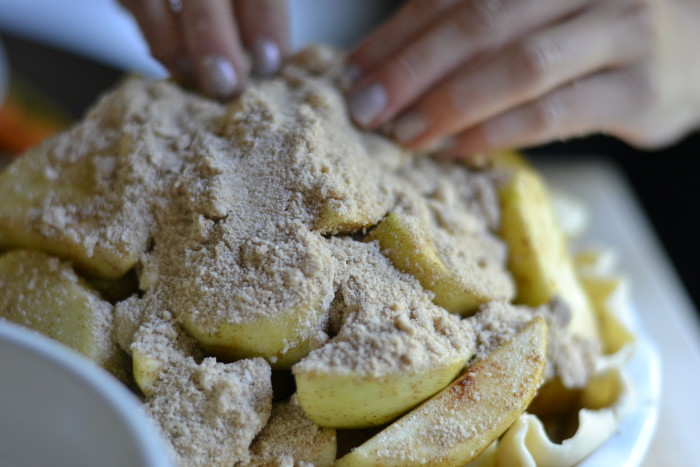 Using your hands, sprinkle on the topping. This part gets messy but the more topping you can fit on the better!!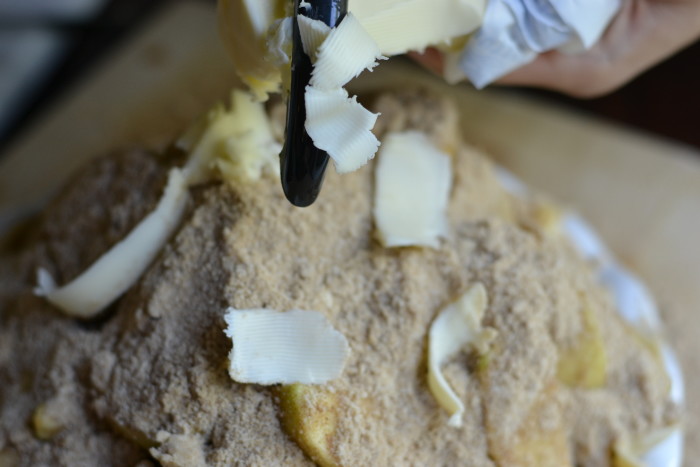 Using a peeler, shave on some extra butter.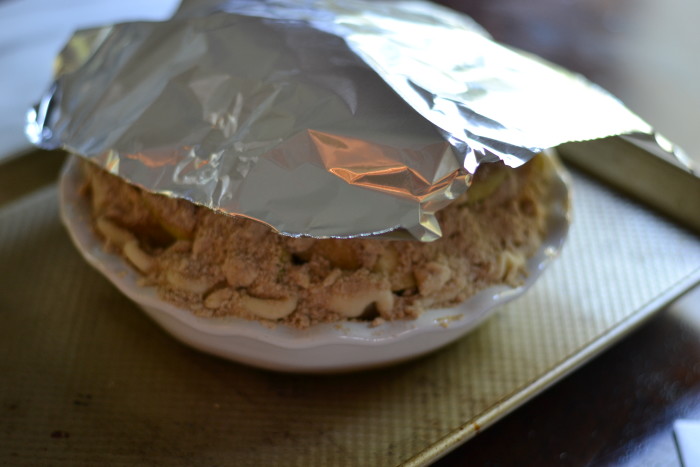 Tent the pie with a piece of foil and set on a baking sheet. Place in a 400 degree oven for 20 minutes. Remove the foil and continue baking until the top turns golden brown, another 15-20 min.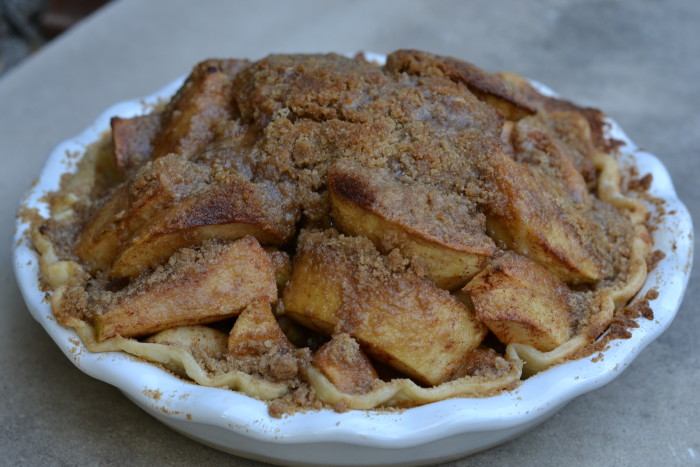 Pull the pie out of the oven and let sit for about 10 minutes.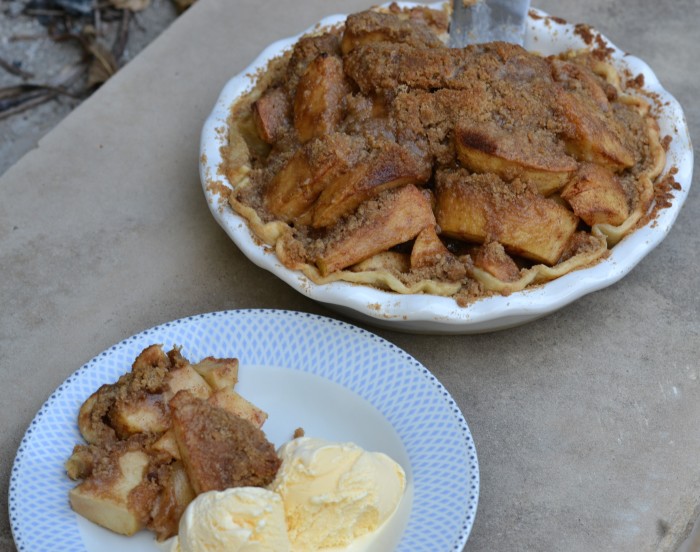 Serve with a big scoop of ice cream and enjoy!!
Ingredients
1 Pillsbury pie crust
1/2 cup sugar
2 teaspoons cinnamon
10 Granny Smith apples, peeled
3/4 cup packed brown sugar
3/4 cup flour
1/3 cup real salted butter, plus more for topping
Instructions
Preheat the oven to 400 degrees
Start by peeling and coring the apples
Cut the apples into 1 inch pieces
Put the apple slices into a large mixing bowl and add the cinnamon and sugar
Mix together the apples, cinnamon and sugar and let sit while preparing the topping
For the topping combine the brown sugar and flour
Cut in the cold butter into thin slices
Using 2 forks cut in the butter until totally combined
Roll out the unbaked pie curst over the pie pan and pinch the edges
Add in all of the apple mixture
Sprinkle on the topping, try and get as much topping on as you can
Shave on some additional butter, about a tablespoon
Place the pie on a baking sheet with edges
Tent with foil and bake for 20 minutes
Remove the foil and bake for another 15-20 minutes
Let set for about 10 minutes
Serve with ice cream and enjoy!!
http://martinfamilystyle.com/apple-pie/
Usually there is no need to visit apothecary every time you going to get medicaments. Nowadays, it is formidably to select of repute web-site. Let's talk about various medicines exists. Revia treating alcoholism addiction in adults, as part of a complete treatment program. Again it may also be used to treat other appeal as determined by your health care purveyor. Cialis is a cost effective medicine for helping men to sustain an erection. What about cialis price and sexual dysfunctions? You may have heard about cheapest pharmacy for cialis A extended form of sexual dysfunction among men is the erectile disfunction. Such disorders commonly signal other diseases: low libido or erectile dysfunction can be the symptom a strong heartiness problem such as heart trouble. Why it happen? How common is erectile dysfunction? Generally the treatment options may include sexual malfunction medications or hormone treatments. While Cialis is considered safe enough on their own, nevertheless, soundness care professionals say take it in large amounts could be unsafe. Follow all directions on your prescription label.