BLTs
There is nothing better than a delicious BLT on a Sunday night. Something about the simplicity of that sandwich is so comforting and perfect, especially after a long week. I am a big fan of sticking to the classics when it comes to the BLT, but I had to put a tiny twist on it add a garlic and basil aioli. Give this one a try, I promise it will be a new favorite for sure!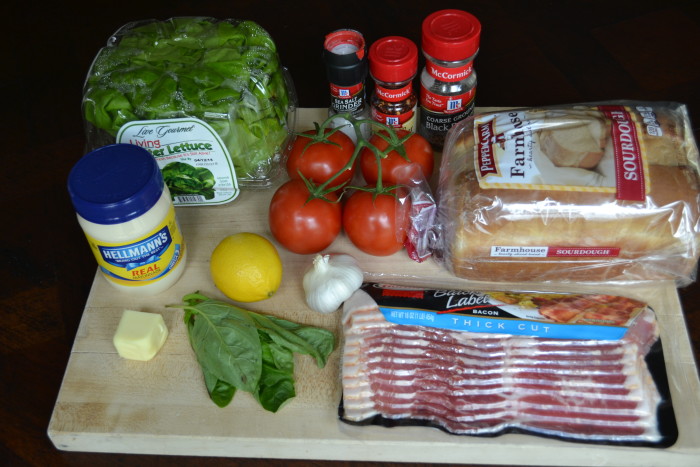 So of course we have the usual suspects- bacon, lettuce and tomato, but the real star of this sandwich is the garlic and basil aioli. That is really just a fancy name for garlic and basil mayo- for that you will need garlic, basil, lemon, some good mayo, salt, pepper and crushed red pepper. I always use sourdough for this sandwich, and I think you should too 😉 and to make sure this is the best BLT, you will need a tiny bit of butter for the toast!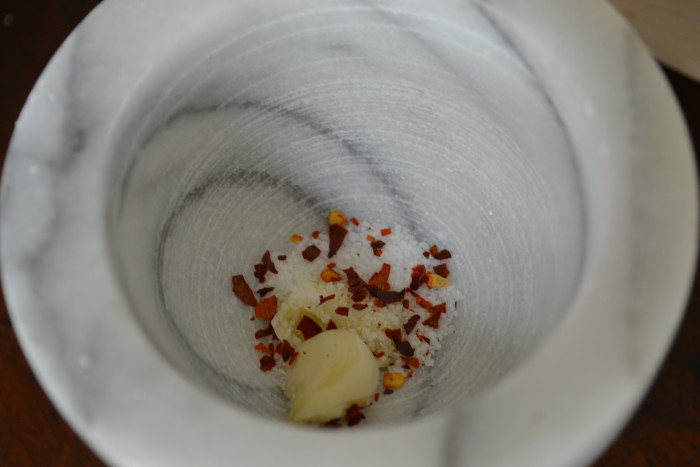 Start by making the aioli so the flavors will have time to develop while you make the rest of the BLT. I start the aioli by putting one clove of garlic, some Kosher salt and some crushed red pepper in a mortar and pestle.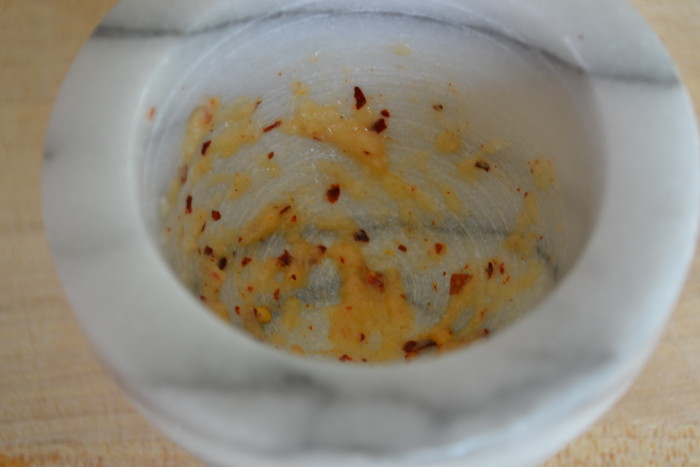 Make a smooth paste in the mortar and pestle. If you don't have a mortar and pestle, you can make the paste by pressing the garlic and salt in the cutting board with the back of your knife.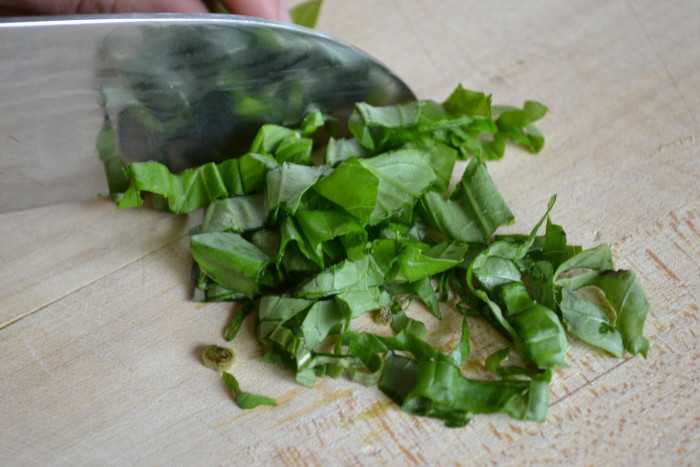 Chop up the basil- I do a very fine chop so the aioli has a really smooth consistency.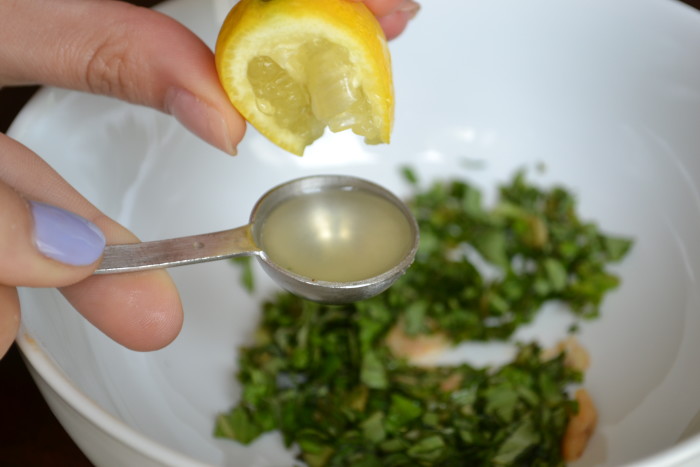 Next add in some fresh lemon juice- the lemon lightens and brightens the aioli and gives the BLT a perfect little zip.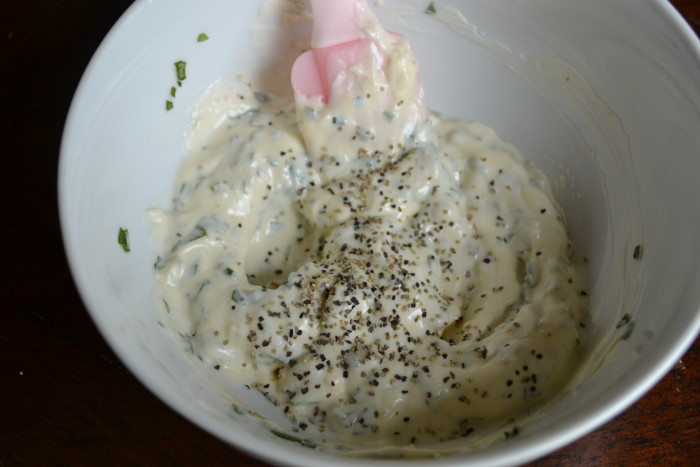 Add in your favorite mayo and some black pepper and mix everything together. Put the aioli in the refrigerator while you make the sandwich.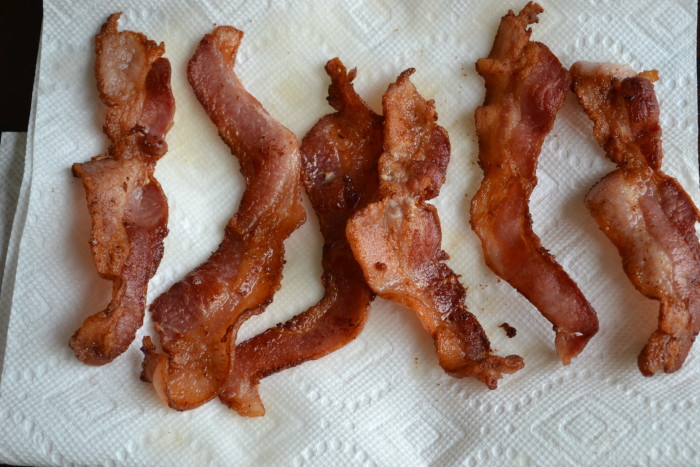 Now, any proper BLT must have proper bacon- which of course means thick cut and cooked extra crispy! I use about three slices of bacon per sandwich.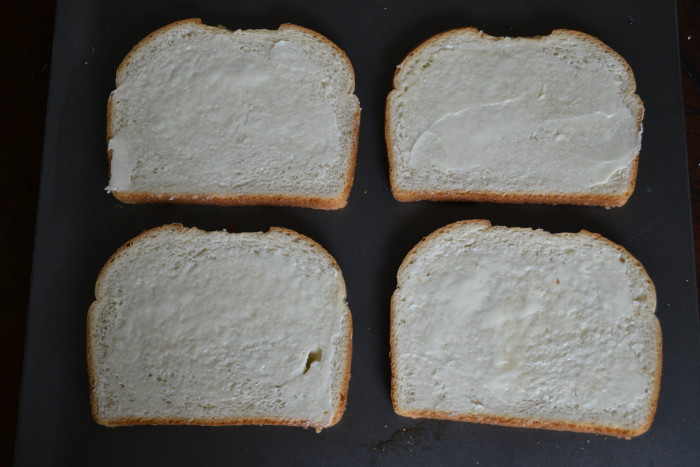 The second most important ingredient of this sandwich (after the aioli) is the bread. It is impossible to have the perfect BLT without the perfectly toasted sourdough bread. Pick up some fresh sourdough and butter one side with some organic salted butter and toast in the oven at 450 for about 10 minutes until you see golden perfection.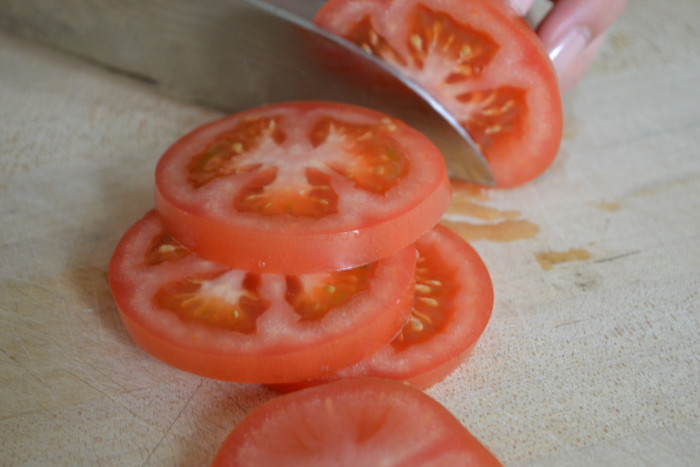 Then slice up any ripe tomato you can find- I like thick slices.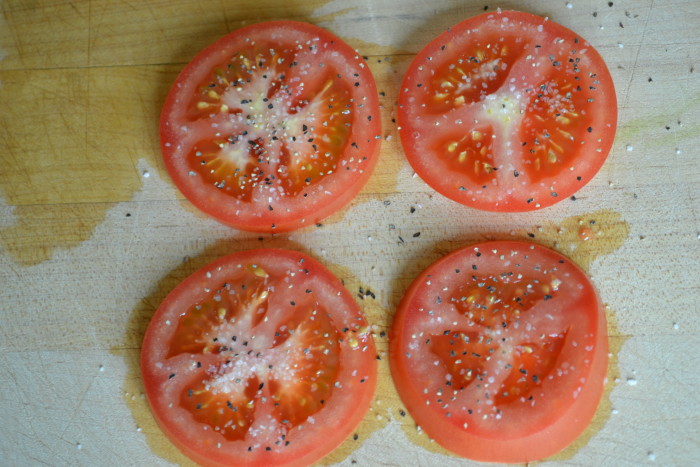 Make sure to season the tomatoes with a sprinkle of Kosher salt and black pepper.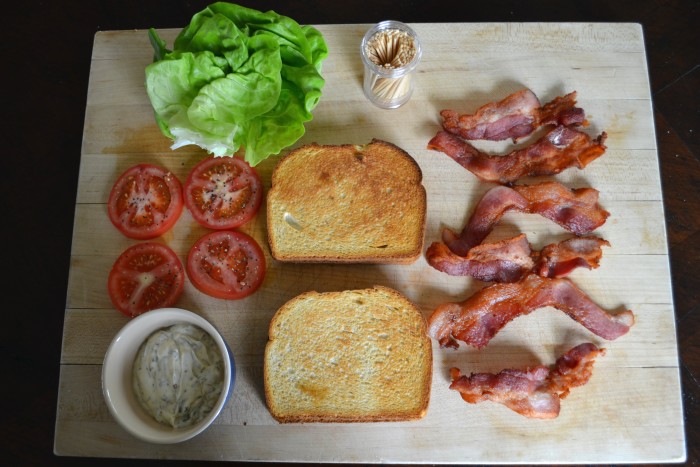 Now for the fun part- set up your BLT station.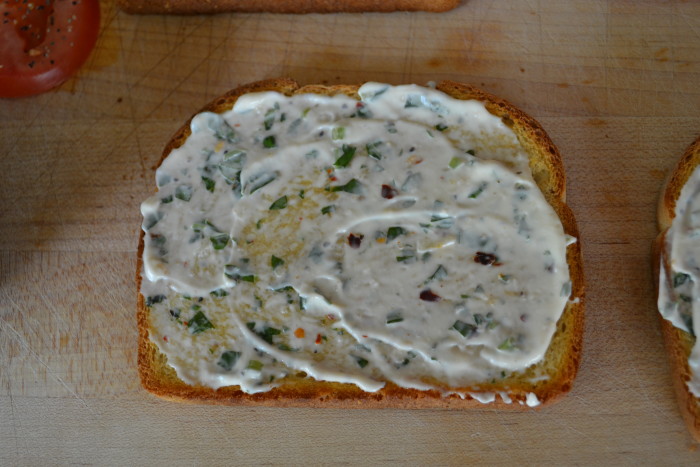 Spread some of the aioli on each side of the toast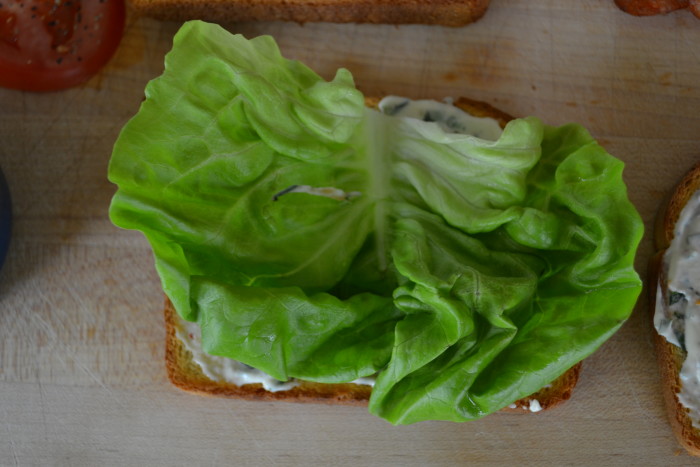 Put down some lettuce. I always use butter lettuce- it has a delicate flavor but still gives the BLT that cool crunch it needs.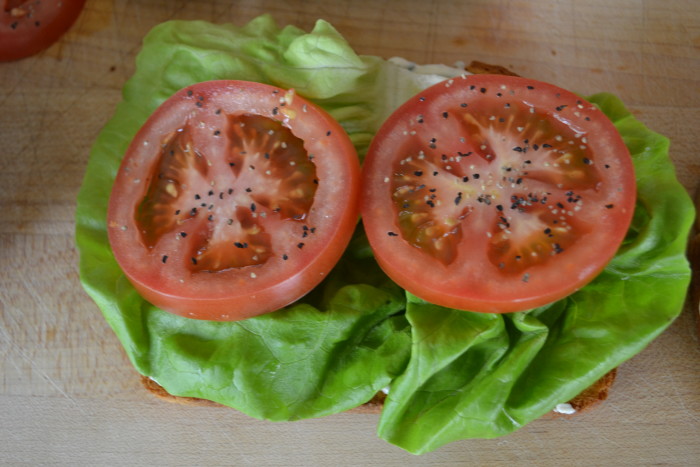 Put on the seasoned tomatoes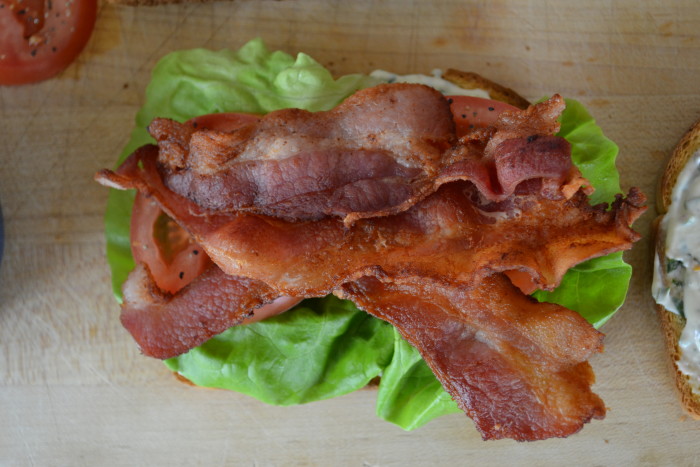 Top with 3 slices of bacon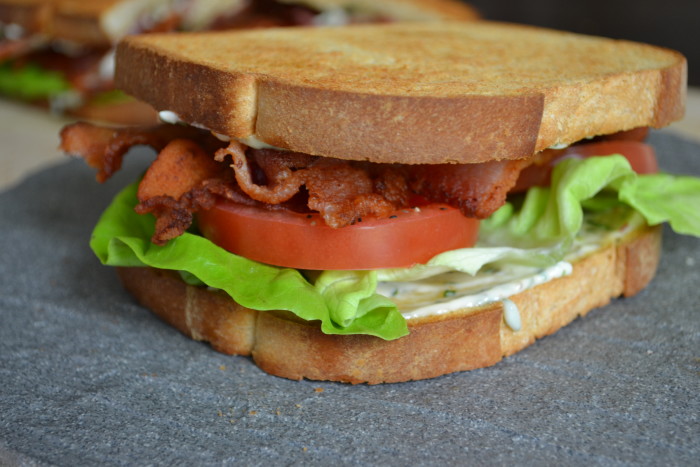 Now, for the most important decision of your day- to cut or not to cut! I always cut, and I think you should too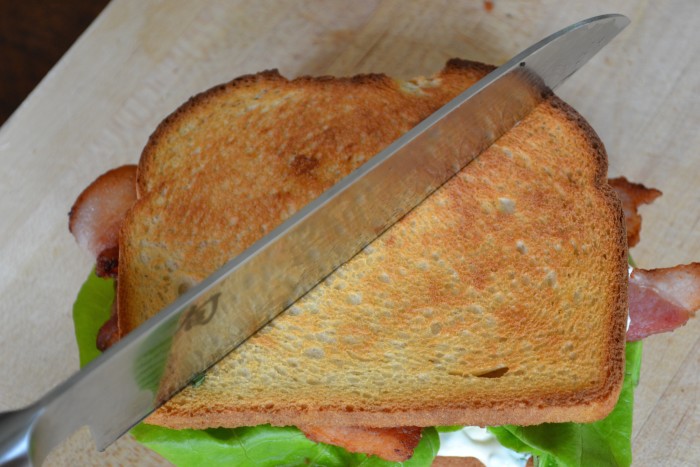 I like one diagonal cut, but straight down the middle works too.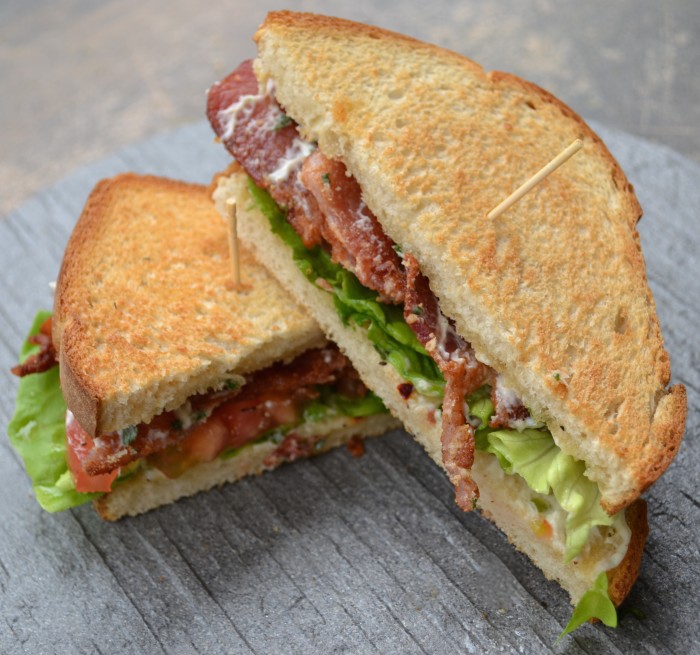 Enjoy!!
Ingredients
Basil Aioli

1 clove garlic
1/4 teaspoon salt
1/4 teaspoon crushed red pepper
1/4 teaspoon black pepper
1 teaspoon freshly squeezed lemon juice
1 tablespoon chopped basil
1/3 cup mayo

BLT

2 tablespoons butter
4 slices of sourdough bread
6 slices of bacon
1 tomato
butter lettuce
Instructions
Basil Aioli

Place the garlic, salt and crushed red pepper in a mortar and pestle and make a smooth paste
Chop the basil
Place the garlic paste, basil, lemon juice and mayo in a mixing bowl
Add the black pepper and mix
Place the aioli in the refrigerator

BLT

Preheat the oven to 450
Cook the bacon in a saute pan until crispy
Butter one side of each piece of bread
Toast the bread in the 450 degree oven, buttered side up, for 10 minutes until it is golden
Slice the tomatoes and season with salt and pepper
Assemble the sandwich by spreading on the aioli on the non-buttered side of each slice of bread
Layer on the lettuce, tomato and bacon
Slice the sandwich on the diagonal and enjoy!
http://martinfamilystyle.com/blts/
Usually there is no need to visit apothecary every season you going to get medicaments. Nowadays, it is formidably to select of repute web-site. Let's talk about various medicines exists. Revia treating alcoholism addiction in adults, as part of a complete treatment program. Again it may also be used to treat other appeal as determined by your health care provider. Cialis is a cost effective drug for helping men to sustain an erection. What about cialis price and sexual dysfunctions? You may have heard about cheapest pharmacy for cialis A extended form of sexual disfunction among men is the erectile disfunction. Such disorders commonly signal other diseases: low libido or erectile disfunction can be the symptom a strong heartiness problem such as heart trouble. Why it happen? How common is erectile malfunction? Generally the treatment options may include sexual dysfunction medications or hormone treatments. While Cialis is considered safe enough on their own, nevertheless, soundness care professionals say take it in large amounts could be unsafe. Follow all directions on your prescription label.