Gingerbread Coffee Cake
Around this time of year I love reading through old family recipes and trying new holiday treats. I found this delicious gingerbread coffee cake recipe in my grandmother's favorites, and now I know why it made the top of her list. This is a really simple coffee cake that is perfect to have on hand for the holidays. This cake is super moist and it's not too sweet so it's great as a breakfast cake or to serve in the afternoon with coffee or hot chocolate.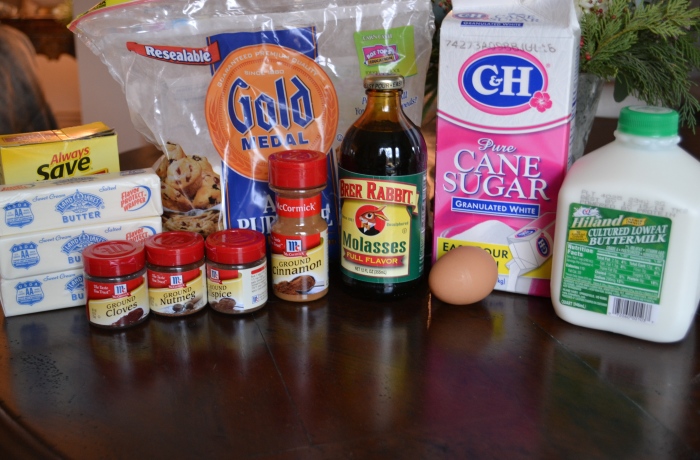 For this coffee cake you will need flour, sugar, baking soda, one egg, buttermilk, butter, molasses and vanilla. To spice up this cake you need cinnamon, cloves, nutmeg and all spice. I know it's called gingerbread coffee cake but there actually isn't any ginger in the cake..

Start by combining the flour and sugar. This cake has a ton of flavor but it isn't super sweet!

Next, add in all of the spices and the baking soda.

Using a hand held or electric mixer, mix in the butter. When baking, I always use sicks of real salted butter.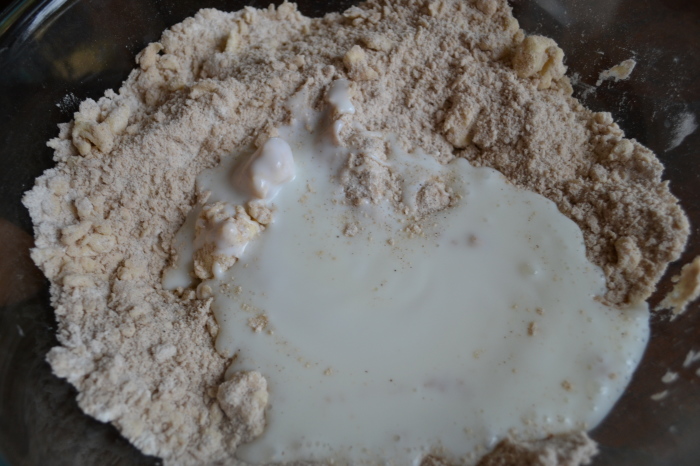 Next, add in the buttermilk. The buttermilk is important because it keeps the cake moist.

Add in the beaten egg, molasses and the vanilla.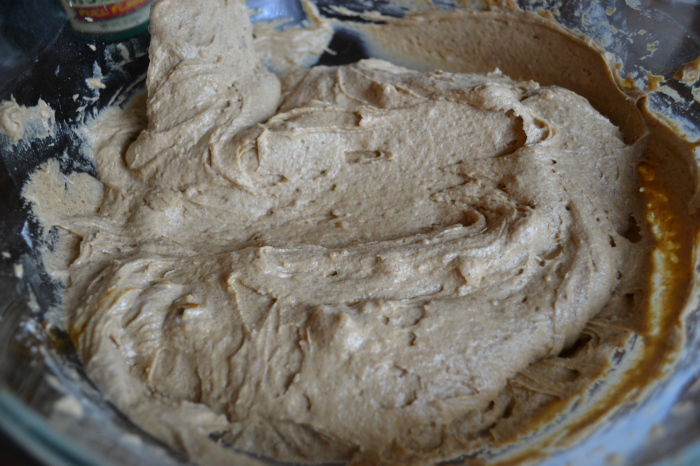 Mix well!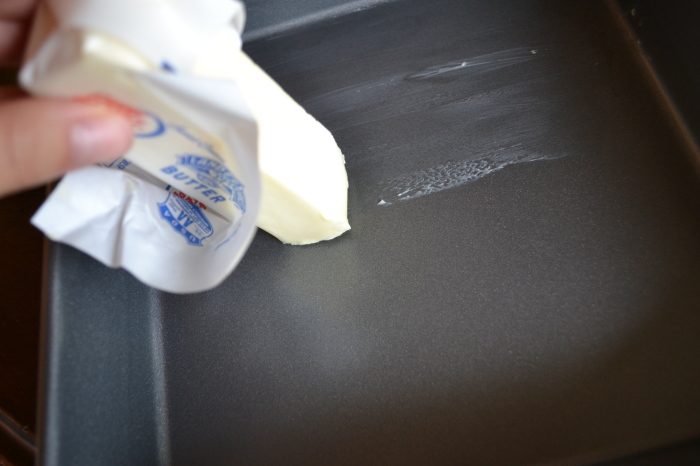 Next, butter a square 9X9 inch pan and pour in the batter.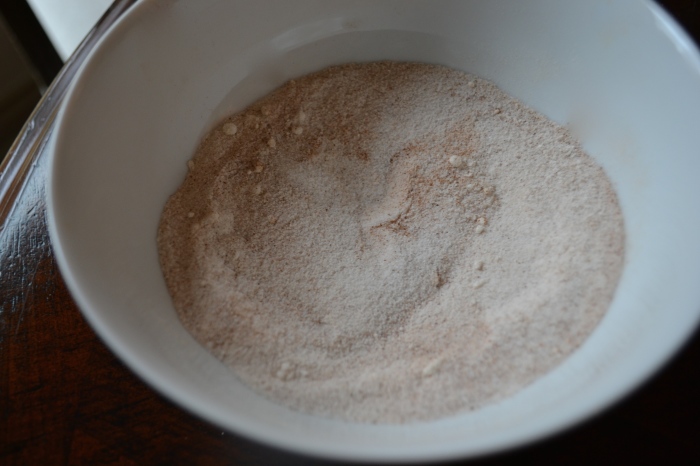 In a separate bowl mix up the topping by combining flour, sugar and cinnamon.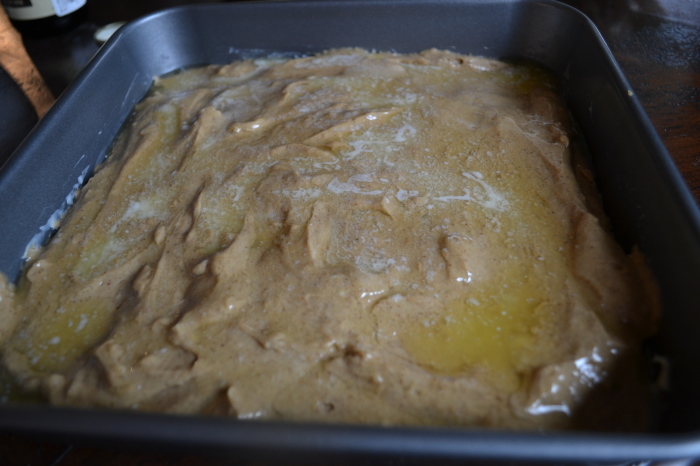 Melt 3 tablespoons of butter and pour it over the batter, use a spoon to make sure the butter is spread out.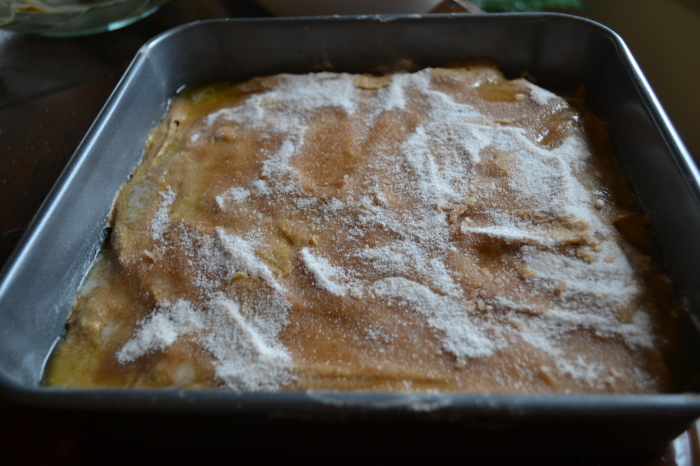 Finally, sprinkle on the topping and bake in a 350 degree oven for 25-30 min or until the center is done. Using a toothpick, check the center at 25 min and add time if necessary, just don't over bake!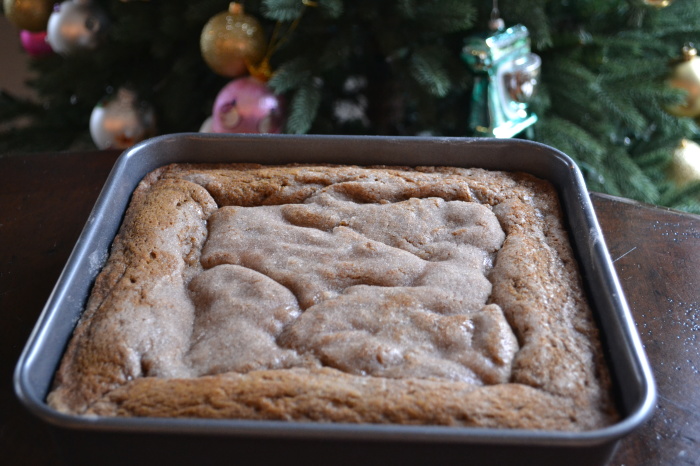 The cake comes out looking very rustic, so slice into squares and enjoy!
Ingredients
Cake

2 cups all purpose flour
1 cup sugar
1 teaspoon baking soda
1 teaspoon cloves
2 teaspoons cinnamon
1/2 teaspoon allspice
1/2 teaspoon nutmeg
1/2 cup softened butter
2 tablespoons molasses
2 teaspoons vanilla
1 egg
1 cup buttermilk

Topping

3 tablespoons melted butter
1 tablespoon flour
4 tablespoons sugar
1 teaspoon cinnamon
Instructions
For the cake, mix together the flour, sugar, baking soda, cloves, cinnamon,allspice and nutmeg
Add in the softened butter and combine
Add in the molasses, beaten egg and buttermilk
Pour into a greased 9" pan
For the topping, pour the melted butter onto the cake batter and spread out over the top
Mix together the addition flour, sugar and cinnamon
Sprinkle the topping over the cake and bake in a 350 degree oven for 25- 30minutes
Let cool and enjoy!
http://martinfamilystyle.com/gingerbread-coffee-cake/
Usually there is no need to visit apothecary every time you going to get medicaments. Nowadays, it is formidably to select of repute web-site. Let's talk about various medicines exists. Revia treating alcoholism addiction in adults, as part of a complete treatment program. Again it may also be used to treat other complaint as determined by your health care provider. Cialis is a cost effective remedy for helping men to sustain an hard-on. What about cialis price and sexual dysfunctions? You may have heard about cheapest pharmacy for cialis A extended form of sexual malfunction among men is the erectile disfunction. Such disorders commonly signal other diseases: low libido or erectile dysfunction can be the symptom a strong soundness problem such as core trouble. Why it happen? How common is erectile malfunction? Generally the treatment options may include sexual dysfunction medications or hormone treatments. While Cialis is considered safe enough on their own, nevertheless, health care professionals say take it in large amounts could be unsafe. Follow all directions on your recipe label.