ManFood Monday * Matbucha Schnitzel Sandwich
This recipe was inspired by my favorite person's favorite sandwich! If you haven't tried matbucha, you are seriously missing out. Matbucha is a Moroccan tomato and pepper salad that is served warm with bread, but you can do almost anything with it. Today, we are serving it with a delicious chicken schnitzel on a toasted baguette. I love this sandwich so much, you have to try it!

Matbucha is sort of similar to marinara sauce, but the flavors are different. What really makes this sauce unique is the roasted red bell peppers. I also use a ton of garlic, serrano peppers, Harissa, some hot paprika and lemon.

Start the matbucha by adding 1/3 cup of good olive oil to a large pot. Add in 5 cloves of chopped garlic and cook over a medium flame for about three minutes.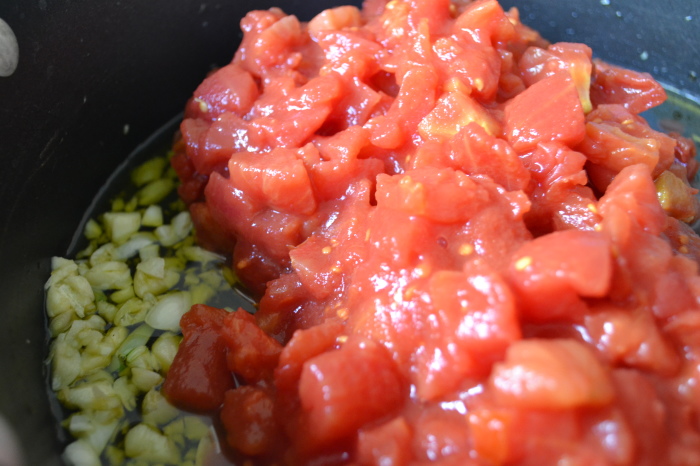 Next, add in the diced canned tomatoes. Be sure to drain the tomatoes, this is a pretty thick sauce so you want to be sure you get some of the moisture out of the tomatoes.

Seed and dice the serrano peppers- these guys are pretty spicy, so you may want to only use one. Continue to simmer the sauce on medium.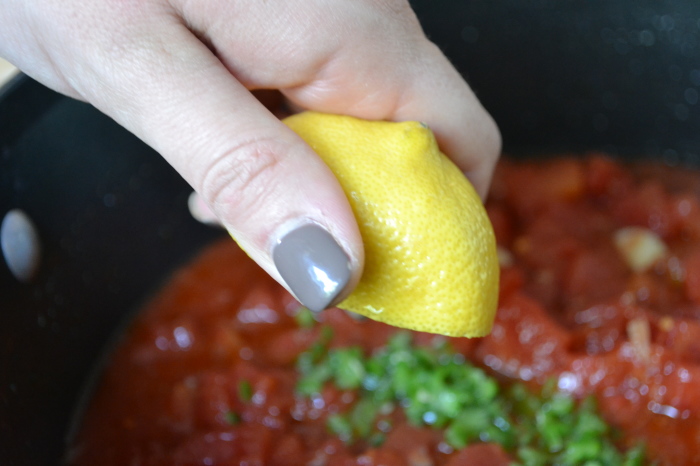 Add in the juice of 1/2 of a lemon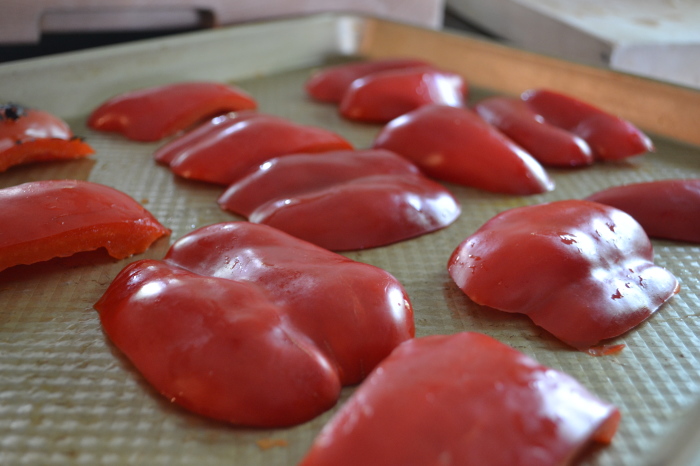 To start the roasted red peppers, quarter the bell peppers and place them on a baking sheet. Put them under the broiler for about 7 minutes or until their skins are black.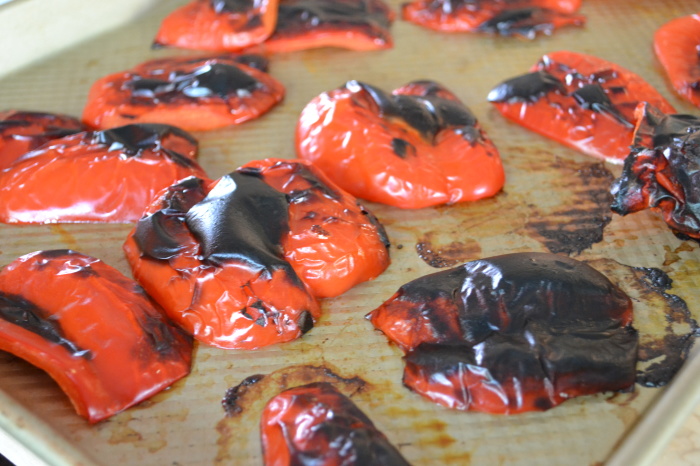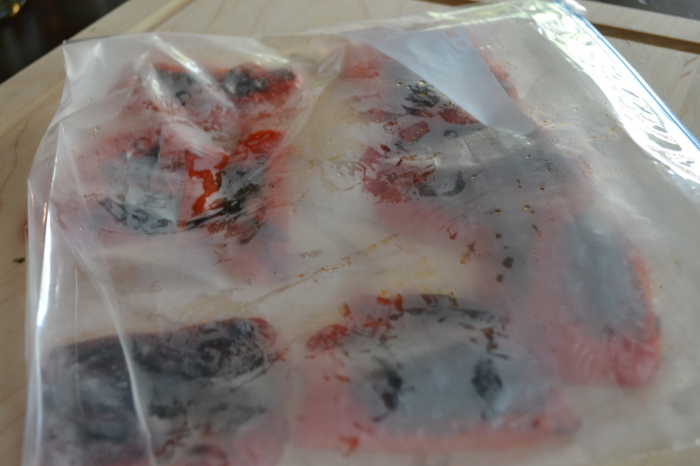 As soon as the peppers come out of the oven, place them in a ziplock bag and let them steam for about 15 minutes while the sauce continues to cook.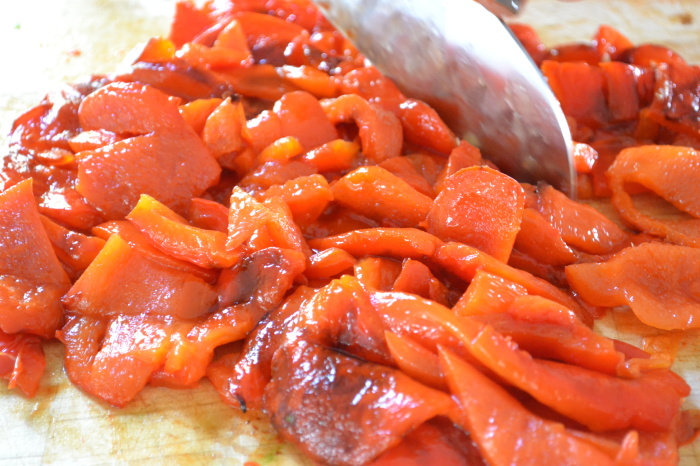 Remove the skins of the red peppers, dice them up and add them to the sauce. Season the sauce with salt, garlic powder, harissa and hot paprika. Let the sauce simmer, uncovered, on a medium flame for about an hour. It should reduce by half.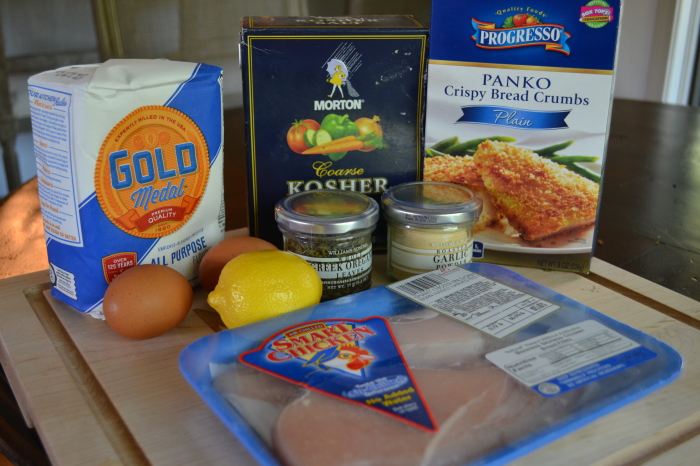 A chicken schnitzel is just a breaded chicken breast. I use flour and panko bread crumbs to get the chicken extra crispy. I seasoned this chicken with some lemon, oregano and garlic powder.

The key to perfection with this chicken is making sure it is super thin. I put each chicken breast in a plastic bag and use a mallet to pound it into 1/8th of an inch thick.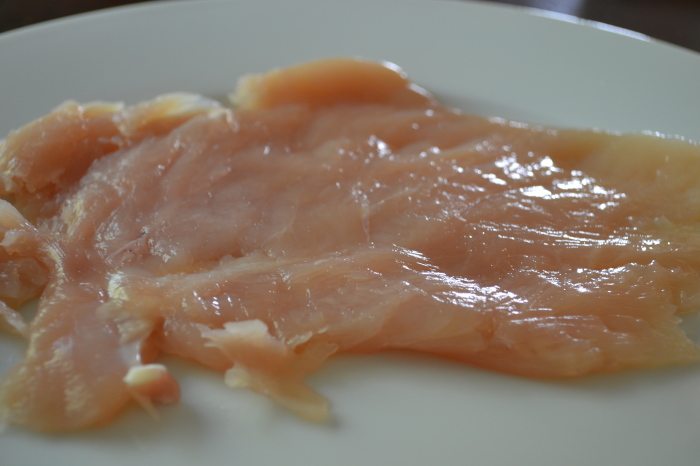 The thinner the chicken, the easier it will be to keep it super juicy.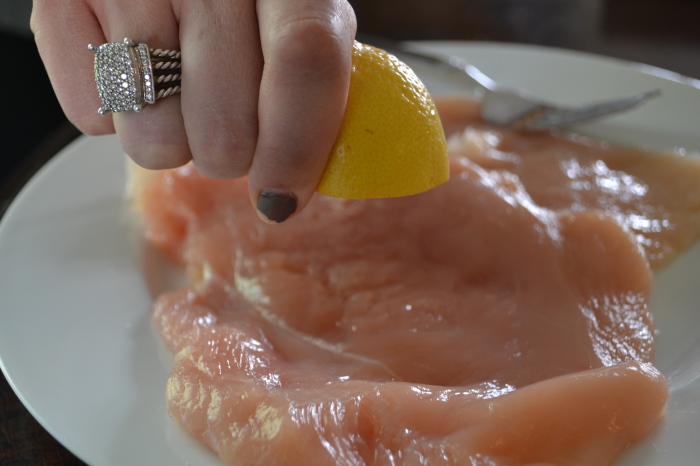 I like to season the chicken before I begin the breading process. I start by using the juice of 1/2 of a lemon. I love how the lemon cuts the heaviness of the breading.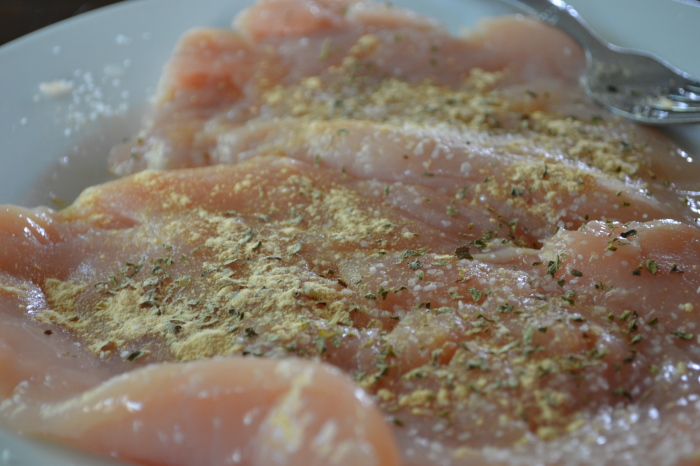 Next, season both sides of the chicken with the salt, oregano and garlic powder.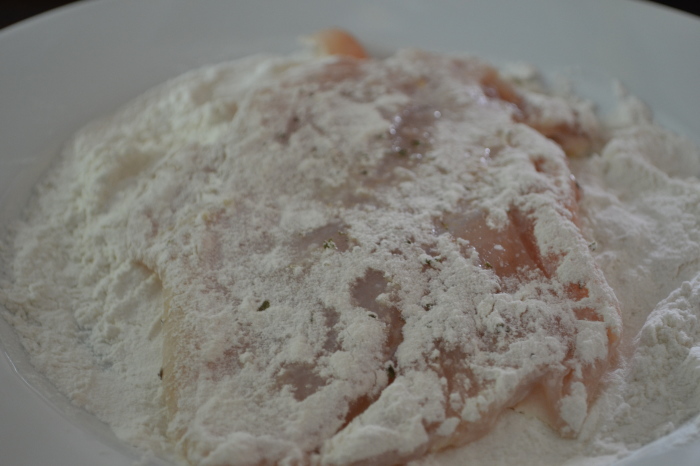 To give the chicken its crispy crust, I use flour, eggs and panko.Place the chicken in the flour and make sure there is a thin layer on both sides. Be sure to shake off any excess.

Next, give the chicken a dip in the eggs.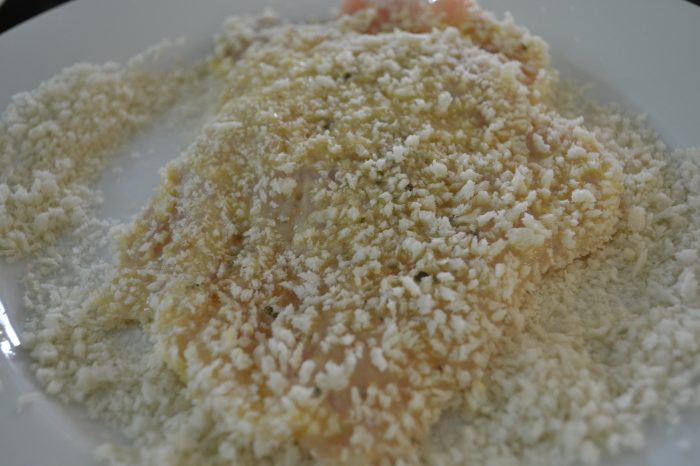 Finally, coat each side with the panko bread crumbs.

Heat some olive oil in a skillet and cook on each side for about 3 minutes until the chicken is golden brown. Then place in a 425 degree oven for 3-5 minutes to finish cooking.

Slice a baguette in half, drizzle it with olive oil and cook in a 425 degree oven for about 6-8 minutes until golden brown.

I like to cut the schnitzel in half, place it on the baguette and load it up with the matbucha! Enjoy!
!

ManFood Monday * Matbucha Schnitzel Sandwich

Ingredients

Matbucha

1/3 cup olive oil
5 cloves garlic, minced
4 red bell peppers, roasted and diced
2 28 oz cans diced tomatoes
2 serrano peppers, seeded and diced
Juice of 1/2 lemon
1 teaspoon Kosher salt
1/2 teaspoon crushed red pepper
2 teaspoons garlic powder
2 teaspoons harissa powder
1 teaspoon hot paprika

Chicken Schnitzel

4 boneless skinless chicken breasts
2 cups flour
2 cups panko bread crumbs
juice of 1/2 lemon
1 teaspoon Kosher salt
1/4 teaspoon oregano
1/2 teaspoon garlic powder
2 eggs

Sandwich

1 large baguette, sliced in quarters and halved

Instructions

Matbucha

Turn on the broiler
Cut each red bell pepper into quarters and place on a large baking sheet
Broil the peppers for about 7 minutes
When the skins of the peppers are black, pull them out of the oven and put them into Ziplock bags
Pour the olive oil into a large pot and heat over a medium flame
Add in the garlic and cook for about 3 minutes
Add in the tomatoes, serrano peppers and lemon juice
When the skins of the red peppers easily peel off (after about 15 minutes in the bag) remove all of the skins and dice
Add in the red peppers and continue to simmer
Add in the salt, harissa, garlic powder and hot paprika and simmer for about an hour
Reduce the flame to low and simmer until the sauce has reduced by half

Chicken Schnitzel

Preheat the oven to 450
Put each boneless skinless chicken breast into a plastic bag
Using a mallet, pound each piece of chicken to 1/8th of an inch thick
Season the chicken with the lemon, salt, oregano and garlic powder
Place the chicken in the flour and coat each side, make sure to shake of the excess
Dip each side of the chicken in the egg
Coat each side in the panko bread crumbs
Heat 2 tablespoons of olive oil in a saute pan over a medium high flame
Add the chicken and cook for 3 minutes on each side or until golden brown
Place the chicken in the oven and finish cooking for 3-5 minutes

Sandwich

Drizzle some olive oil on the baguettes and cook in a 450 degree oven for 6-8 minutes until golden brown
Cut the chicken schnitzel in half and place on the baguette
Spoon on the matbucha and enjoy!

http://martinfamilystyle.com/manfood-monday-matbucha-schnitzel-sandwich/
Usually there is no need to visit apothecary every period you going to get medicaments. Nowadays, it is formidably to select of repute web-site. Let's talk about various medicines exists. Revia treating alcoholism addiction in adults, as part of a complete treatment program. Again it may also be used to treat other complaint as determined by your health care provider. Cialis is a cost effective remedy for helping men to sustain an erection. What about cialis price and sexual dysfunctions? You may have heard about cheapest pharmacy for cialis A extended form of sexual dysfunction among men is the erectile dysfunction. Such disorders commonly signal other diseases: low libido or erectile disfunction can be the symptom a strong health problem such as heart trouble. Why it happen? How common is erectile dysfunction? Generally the treatment options may include sexual dysfunction medications or hormone treatments. While Cialis is considered safe enough on their own, nevertheless, health care professionals say take it in large amounts could be unsafe. Follow all directions on your recipe label.