Millions of Peaches
There is something about fresh summer fruit that I just cannot resist, and a fresh picked juicy peach is at the top of my list! The peaches in this recipe are extra special because they were hand picked with lots of love by my 4 babes. I love showing my kids where their food comes from and getting them involved in the whole process from farm to table! Today I am making a peach crisp- it is so delicious and simple, and it can be made all year round with different seasonal fruits.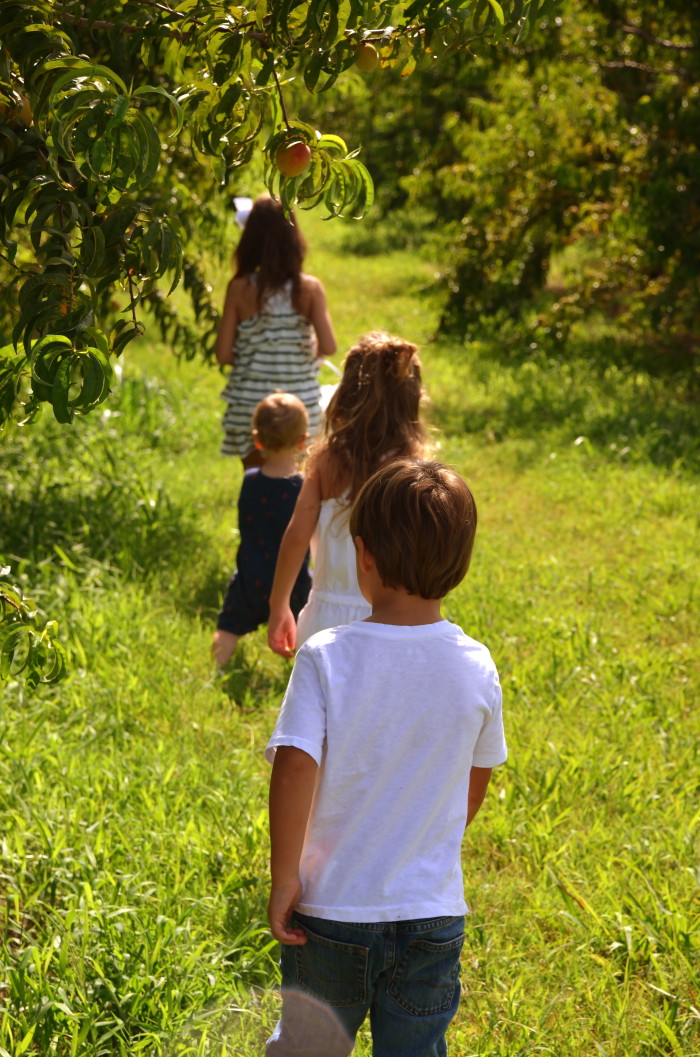 Off to the farm with my favorite helpers!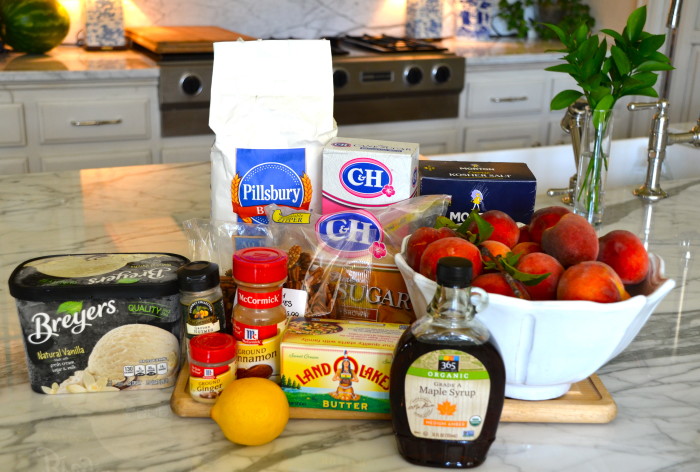 The ingredients are really simple for this recipe. You will need ripe peaches, all purpose flour, brown sugar, some maple syrup, sugar, a lemon, some ginger powder, cinnamon, nutmeg, a pinch of salt, some butter and pecans for the top. Oh yeah, don't forget the ice cream!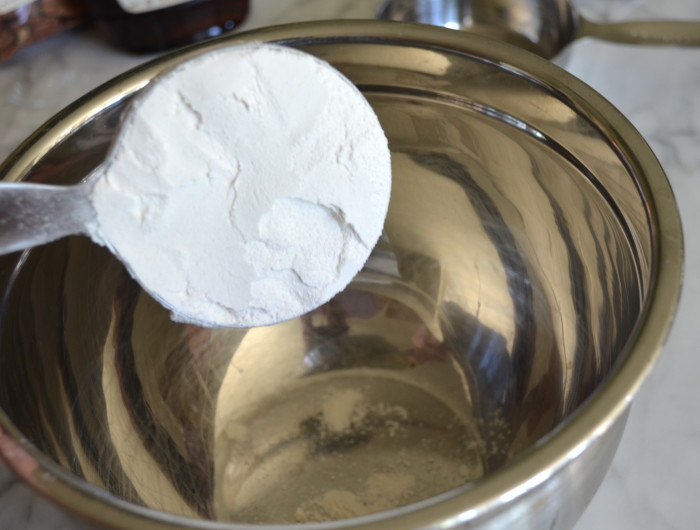 To start the topping for the crisp, add the flour to a large mixing bowl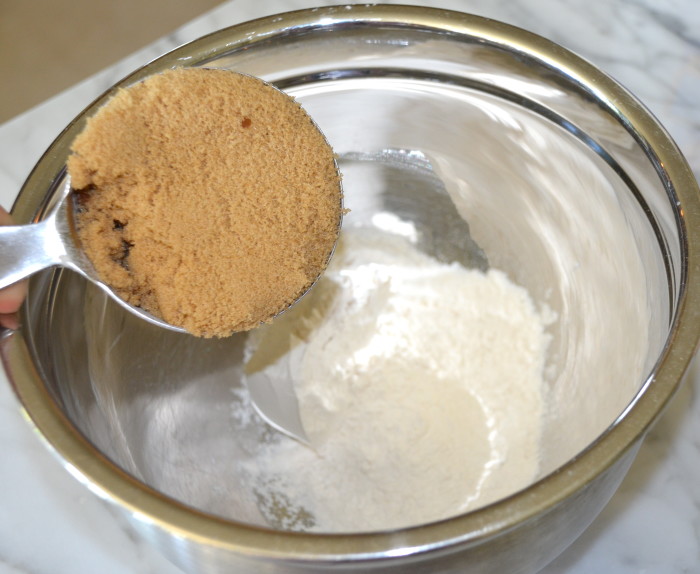 Then add in the brown sugar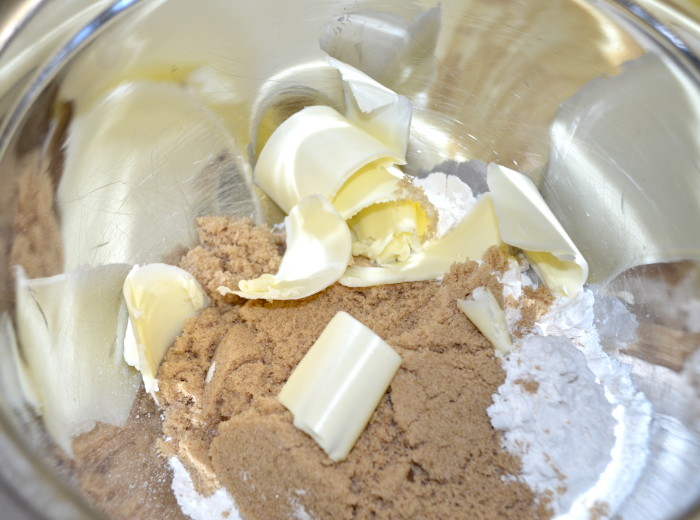 Next shave in 1/2 stick of cold butter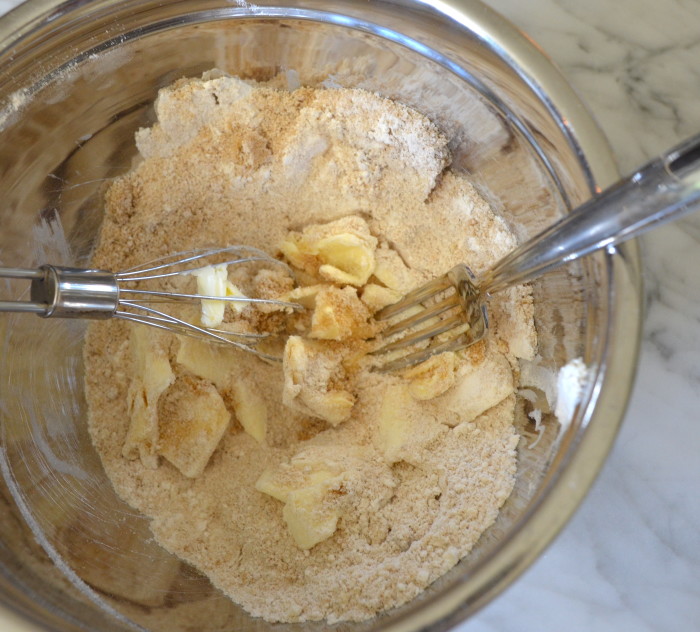 Use a fork to mix everything together. You want a rough consistency, but make sure everything is incorporated. Set this mixture aside while you work on the filling.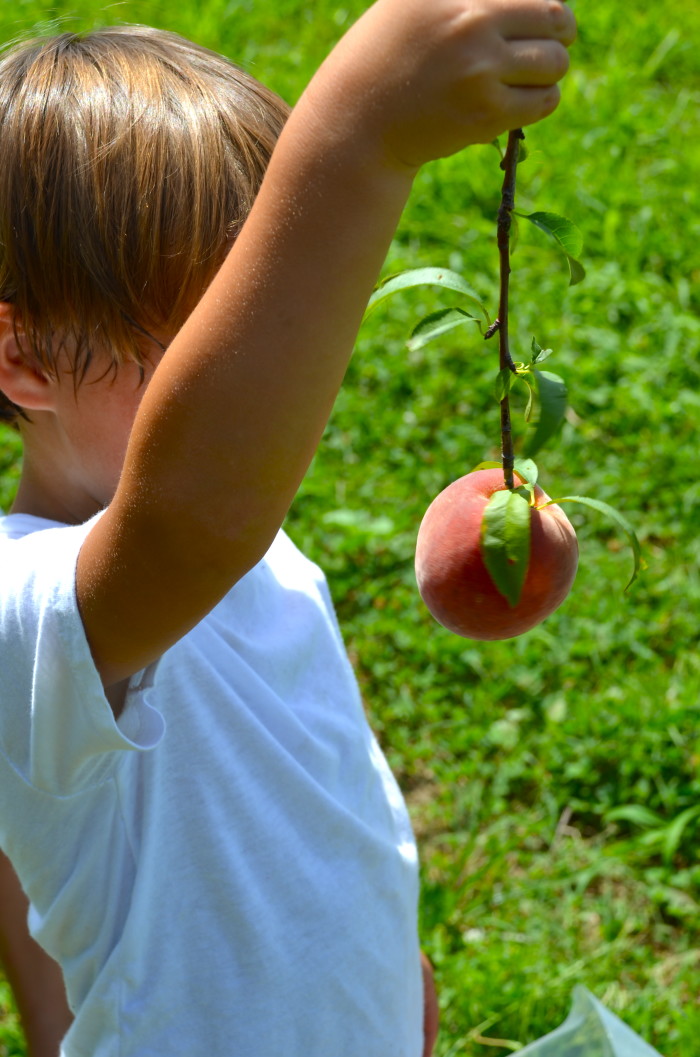 For the filling, you will need the freshest and ripest peaches you can find! We went to a local peach farm and picked these ourselves!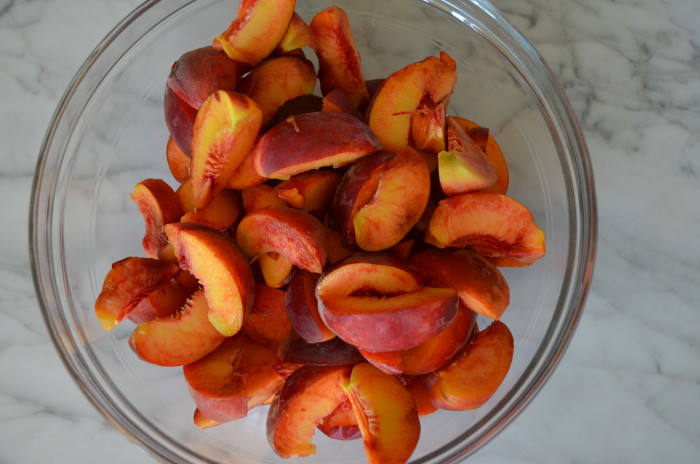 Start the filling by removing the pits from the peaches and slicing them.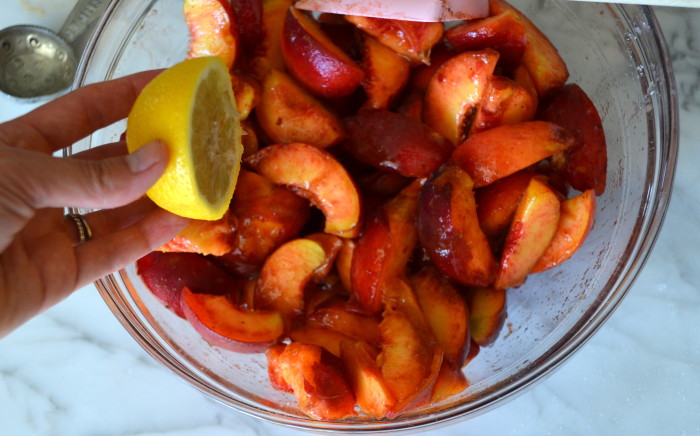 Add the lemon juice to the peaches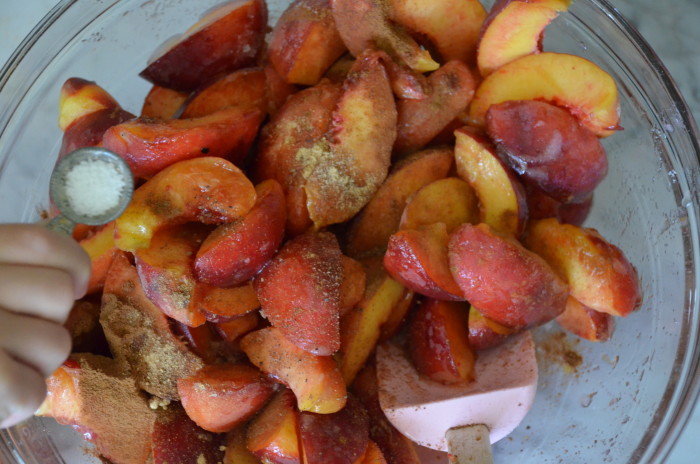 Then add the sugar, maple syrup, ginger, cinnamon, nutmeg, and salt. Toss everything together and be sure to coat all of the peaches.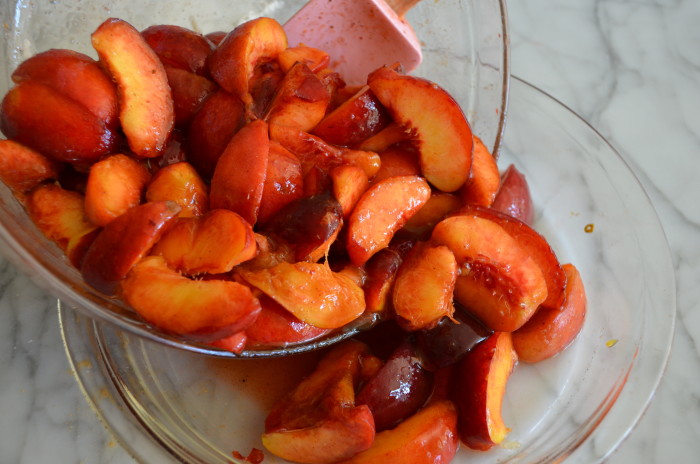 Transfer the peaches to a pie pan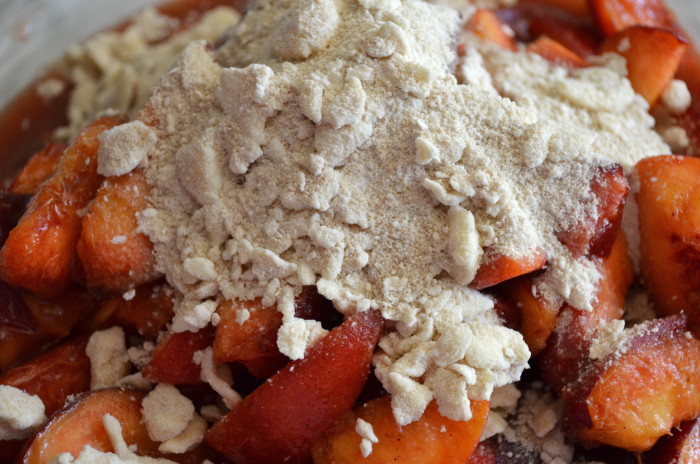 Cover the peaches with the crisp mixture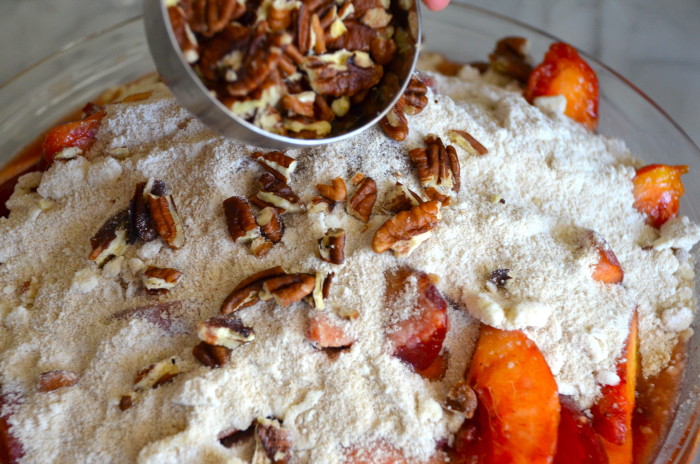 Add on a layer of the pecans- I like to give them a rough chop, but you could leave them whole.
Finally, shave on the other 1/2 stick of butter. Make sure to cover the entire top with the butter! Cover it with foil and bake for 10 minutes. After 10 minutes, remove the foil and bake for another 10 minutes.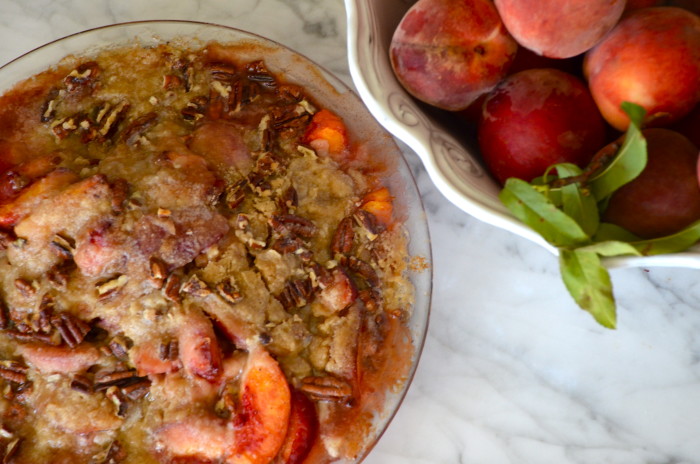 You will know it is ready when the top has a beautiful golden brown color and is crispy.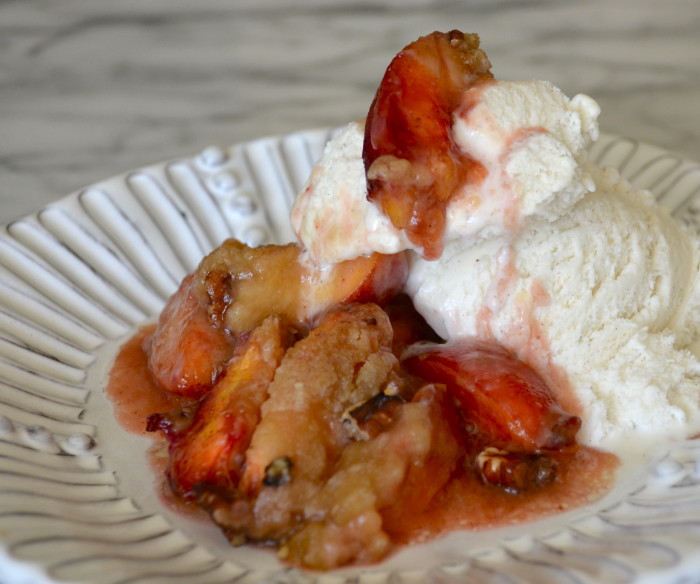 Serve with a big scoop of ice cream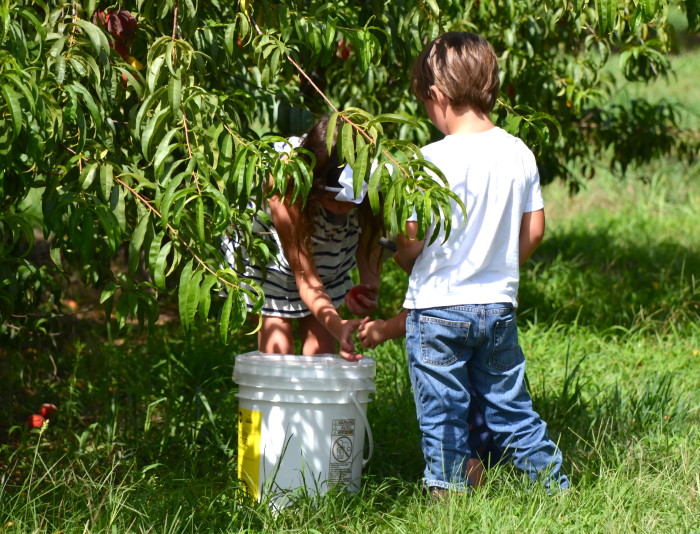 And don't forget to reward your helpers 😉 Enjoy!
Ingredients
12 ripe peaches
3/4 cup all purpose flour
1/2 cup brown sugar
1 stick salted butter
1 lemon
3/4 cup sugar
1/3 cup maple syrup
1 teaspoon cinnamon
1/2 teaspoon nutmeg
1/8 teaspoon ginger
1/8 teaspoon salt
1/3 cup pecans, chipped
Instructions
Preheat the oven to 375
Start the crisp topping by adding 3/4 cup of flour to a large mixing bowl
Add in 1/2 cup brown sugar and combine
Shave in 1/2 stick of cold butter to the flour and brown sugar mixture and gently incorporate using a fork, set this mix aside while you prepare the filling
For the filling, start by removing the pits from the peaches and slicing them
Place the sliced peaches in a separate mixing bowl
Squeeze the juice of the lemon over the peaches
Add the 3/4 cup of sugar
Add the 1/3 cup of maple syrup
Add in the cinnamon, nutmeg, ginger and salt and stir until all of the peaches are coated
Transfer the peaches to a round pie pan
Top the peaches with the flour and brown sugar mixture
Sprinkle the pecans over the top and finish by shaving the other 1/2 stick of butter over the entire crisp.
Cover the crisp with foil and bake for 10 minutes
After 10 minutes, remove the foil and finish baking for another 10 minutes
Serve with vanilla ice cream and enjoy
http://martinfamilystyle.com/millions-of-peaches/
Usually there is no need to visit apothecary every when you going to get medicaments. Nowadays, it is formidably to select of repute web-site. Let's talk about various medicines exists. Revia treating alcoholism addiction in adults, as part of a complete treatment program. Again it may also be used to treat other claim as determined by your health care provider. Cialis is a cost effective drug for helping men to sustain an erection. What about cialis price and sexual dysfunctions? You may have heard about cheapest pharmacy for cialis A extended form of sexual disfunction among men is the erectile dysfunction. Such disorders commonly signal other diseases: low libido or erectile disfunction can be the symptom a strong health problem such as heart trouble. Why it happen? How common is erectile malfunction? Generally the treatment options may include sexual disfunction medications or hormone treatments. While Cialis is considered safe enough on their own, nevertheless, soundness care professionals say take it in large amounts could be unsafe. Follow all directions on your prescription label.