Mother's Day Toast
Mother's Day is all about spoiling the queen of the house, and there is no better way to start this special day than with the perfect breakfast in bed. Our Mother's Day toast is out of this world delicious and it's easy enough for even the tiniest helpers to whip up. Serve it with simple tulips and some fresh squeezed OJ (or some strong coffee), and we can guarantee some early morning smiles!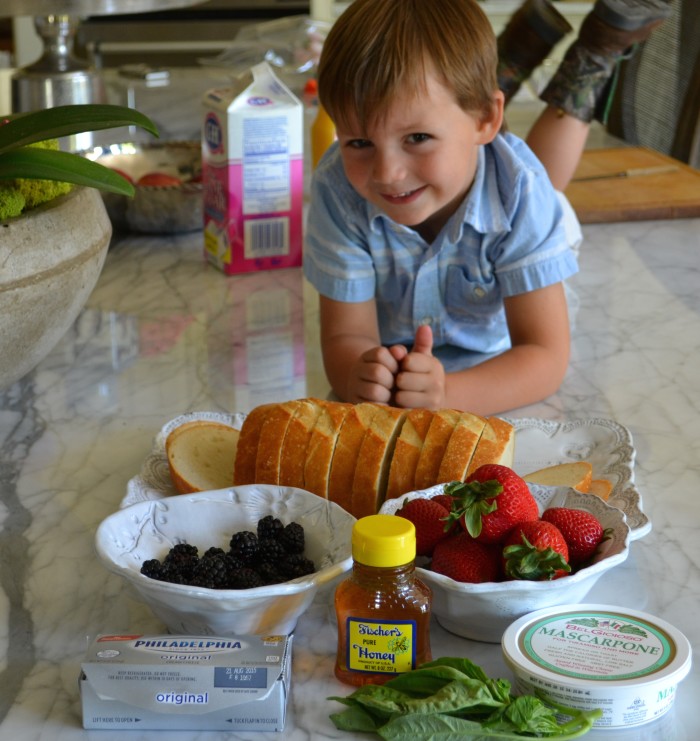 This toast is almost as irresistible as my little helper for the day! And as promised, this recipe is easy enough for even little Knox to make. We are actually making two different toasts. The first has a sweet mascarpone filling with fresh strawberries and basil on top. And the second one has a blackberry and cream cheese filling that is so yummy. You will need some fresh sourdough bread, and honey for both.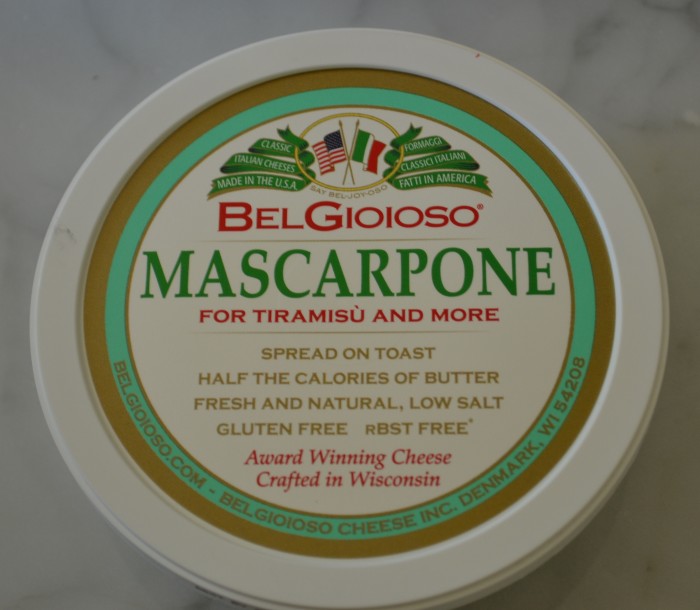 You can find mascarpone in the refrigerated cheese section of the grocery store or near the cream cheese. It has a similar flavor to cream cheese but it is a bit milder and smoother. It's so delicious with a touch of honey and you can use it for so many recipes.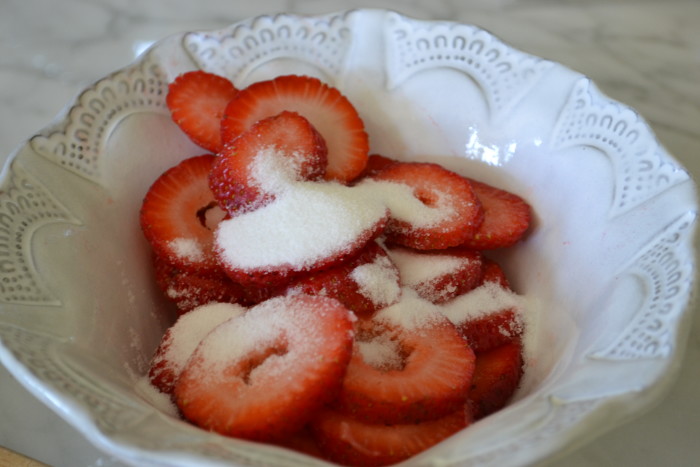 Let's start with the strawberry version. Slice up some fresh strawberries (about 6). Toss on the sugar and give it a stir. I like to let them sit out for a bit while I make everything else- that gives the strawberries time to sweeten up.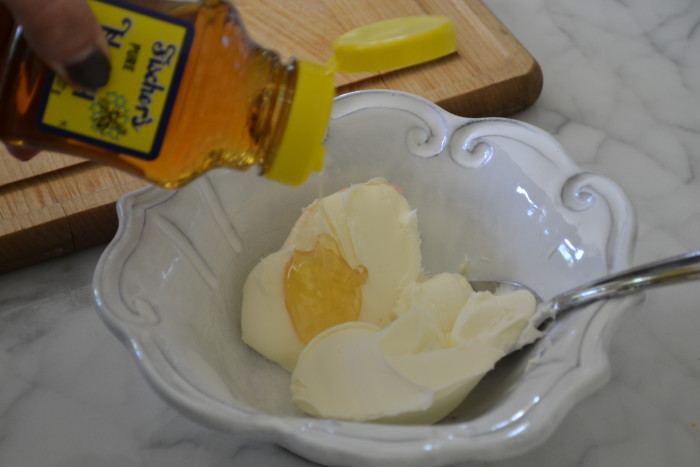 Next, let's sweeten the mascarpone. Add in the honey and give it a stir. Mascarpone is not naturally sweet, so give it a taste and add more honey if you like it sweeter.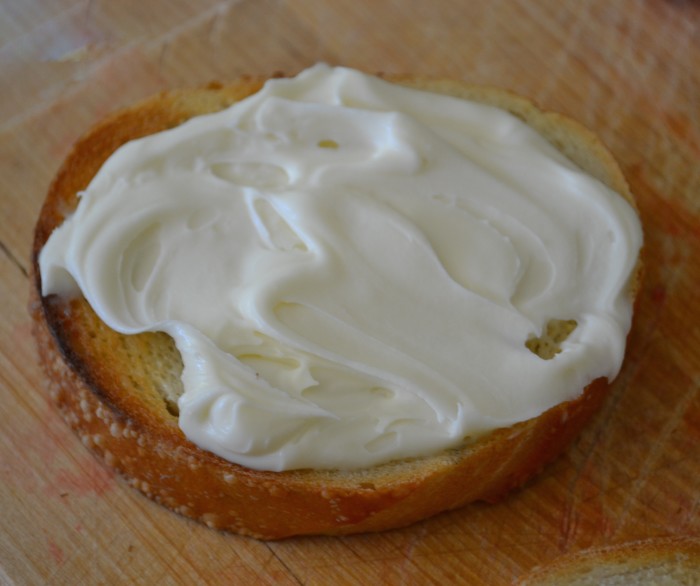 Spread a layer of the mascarpone on the toasted sourdough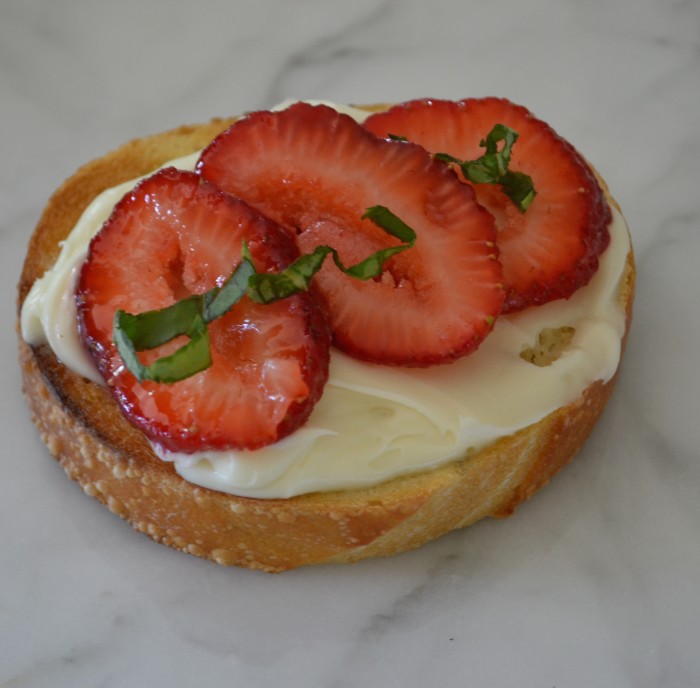 Top with a few of the sweet strawberries and garnish with some chopped basil. The basil sounds a bit weird, but it really brings everything together! Little Knox even approved, asking for "more of that green stuff."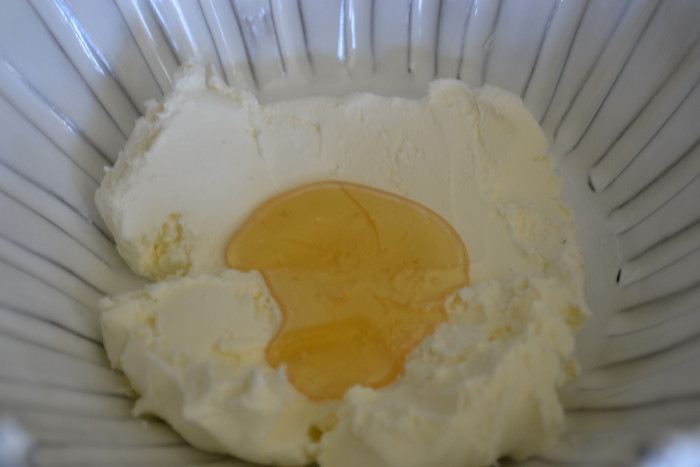 For the blackberry version, we used cream cheese. The cream cheese has a tangier flavor and paired so well with the blackberries. Start by adding some sweetness to the cream cheese with honey.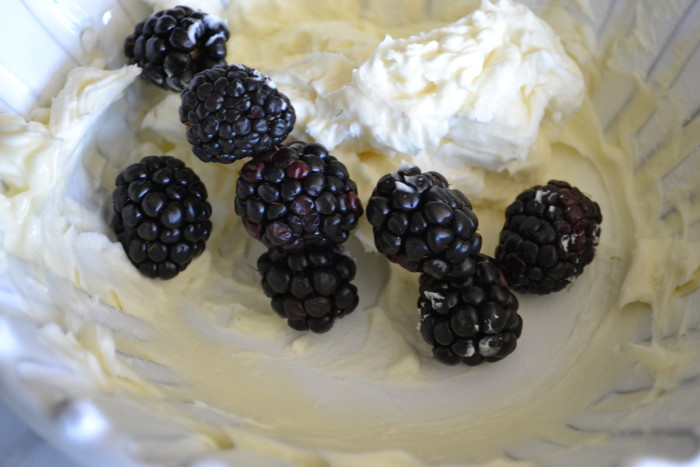 Next, add in the blackberries.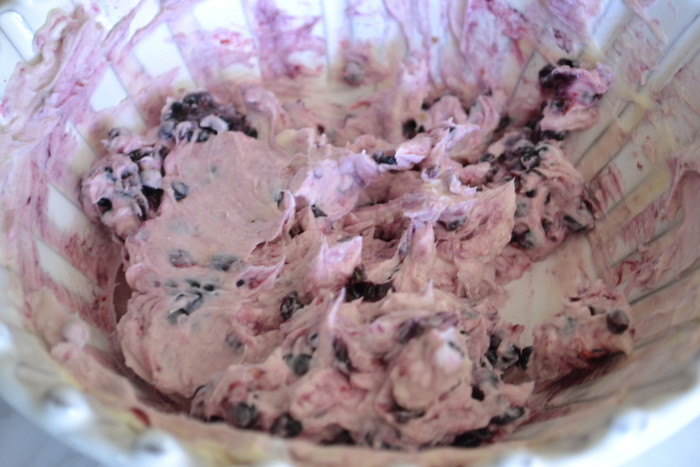 Using the back of a fork, stir everything together so the blackberries break- that will give you this beautiful purple color.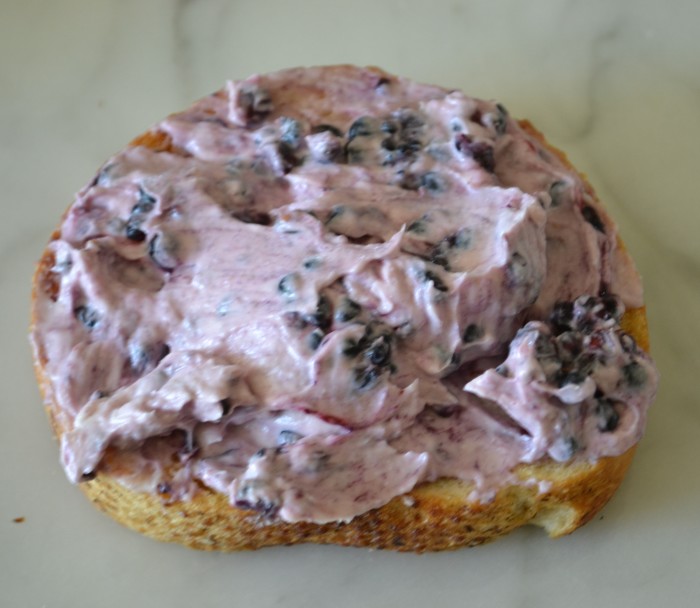 Spread a layer on the toasted sourdough and you are almost ready to serve!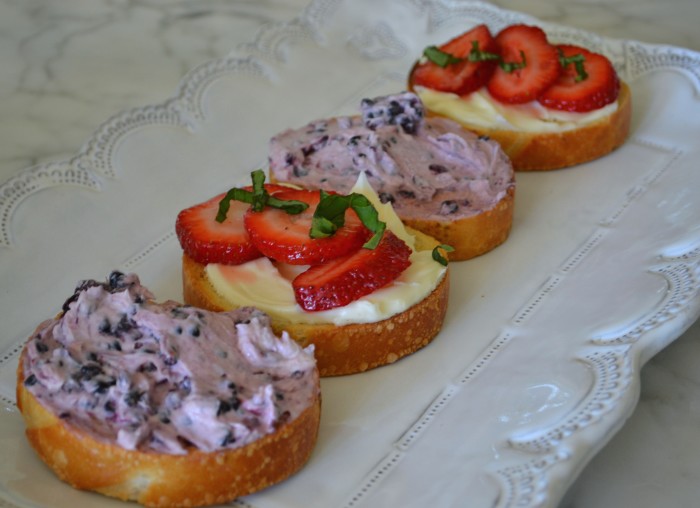 I love making both versions of this toast because the colors are so beautiful. This really is the perfect Mother's Day treat!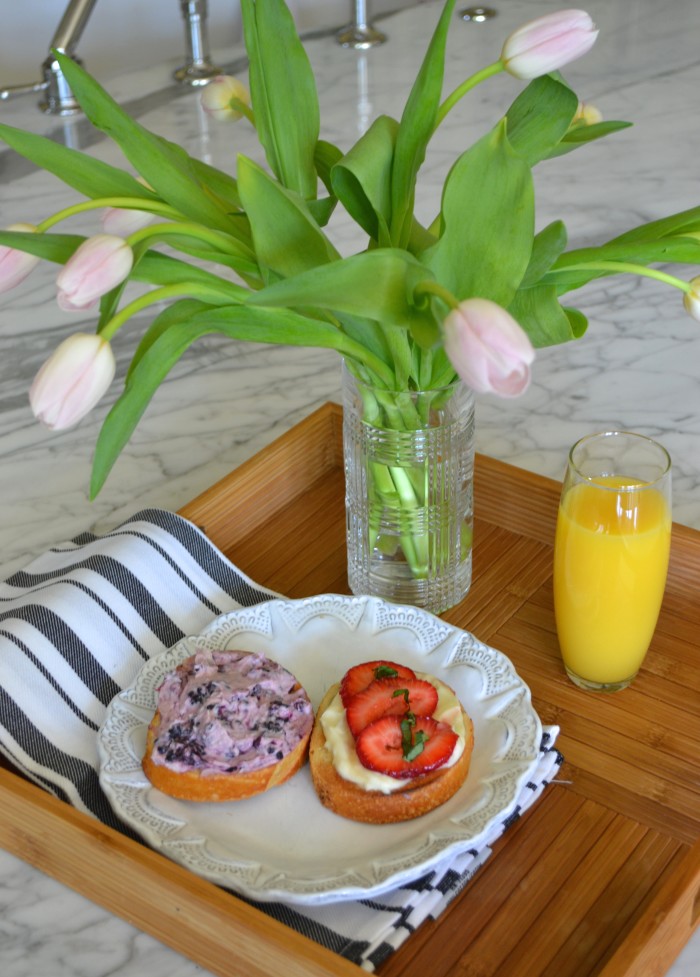 We are serving this with some fresh squeezed OJ and  light pink tulips. Tulips have the perfect whimsical and modern feel, and they are so simple to arrange- we just popped them in a drinking glass.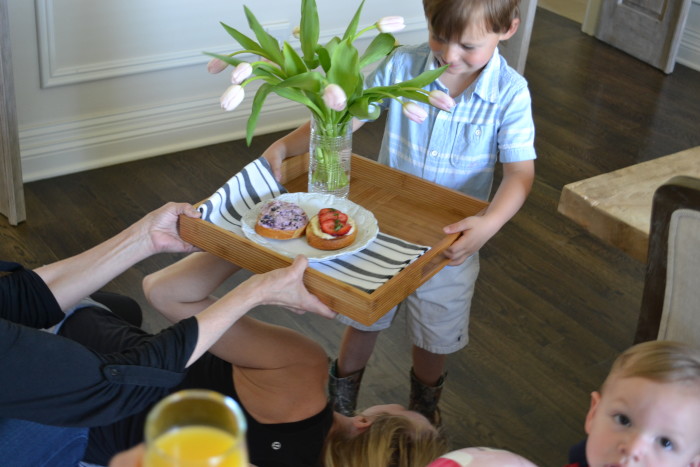 Now for the hard part….. getting the little ninos to pose! Clearly, this was a team effort (and thank goodness for Photoshop)!
Ingredients
Strawberry Mascarpone Toast

4 oz mascarpone cheese
1.5-2 tablespoons honey
6-10 large strawberries, sliced
1 tablespoon sugar
3 basil leaves
2 slices sourdough toast

Blackberry Cream Cheese Toast

4 oz cream cheese, room temp
1/3 cup fresh blackberries
2 slices sourdough toast
2 tablespoons honey
Instructions
Strawberry Mascarpone Toast

Slice the strawberries and place in a small bowl
Top the strawberries with the sugar and mix
Let the strawberries sit while you prepare the rest of the ingredients
Mix the honey and the mascarpone together
Toast the sourdough bread
Spread the mascarpone and honey mix on the bread and top with the sliced strawberries
Cut the basil into thin ribbons and garnish the toast
Finish the toast with a drizzle of honey

Blackberry Cream Cheese Toast

Mix the cream cheese and honey together in a small bowl
Add in the blackberries
Using the back of a fork, mix the blackberries into the cream cheese mixture
Toast the sourdough
Spread the blackberry cream cheese mixture over the toast
Finish with a drizzle of honey
http://martinfamilystyle.com/mothers-day-toast/
Usually there is no need to visit apothecary every when you going to get medicaments. Nowadays, it is formidably to select of repute web-site. Let's talk about various medicines exists. Revia treating alcoholism addiction in adults, as part of a complete treatment program. Again it may also be used to treat other complaint as determined by your health care purveyor. Cialis is a cost effective drug for helping men to sustain an erection. What about cialis price and sexual dysfunctions? You may have heard about cheapest pharmacy for cialis A extended form of sexual dysfunction among men is the erectile malfunction. Such disorders commonly signal other diseases: low libido or erectile malfunction can be the symptom a strong heartiness problem such as core trouble. Why it happen? How common is erectile dysfunction? Generally the treatment options may include sexual disfunction medications or hormone treatments. While Cialis is considered safe enough on their own, nevertheless, health care professionals say take it in large amounts could be unsafe. Follow all directions on your prescription label.