Pollo Asado Salad
 I am so excited to share this recipe for a few reasons. First, it's absolutely delicious, but more importantly- this recipe is putting my longstanding battle with the boneless skinless chicken breast to rest!  It's no secret that I hate cooking boneless skinless chicken breast. It seems so simple, but it is actually really easy to screw up. I've screwed it up enough that I decided to never entertain with it and pretty much banned it from all of my recipes. I'm not sure why I decided to conquer my fear and give chicken another chance, but I am glad I did. This pollo asado salad is the perfect light summer meal and it's definitely making my 4th of July menu!
You will need 4 boneless skinless chicken breasts, I always go for organic if I can find it. For the marinade, you will need garlic, limes, a jalapeno, cilantro, some olive oil, a dark beer (I typically use Negra Modelo, but this is all I could find on a Sunday in Oklahoma 😉 salt, cumin and chili powder (I like to use Mexican chili powder).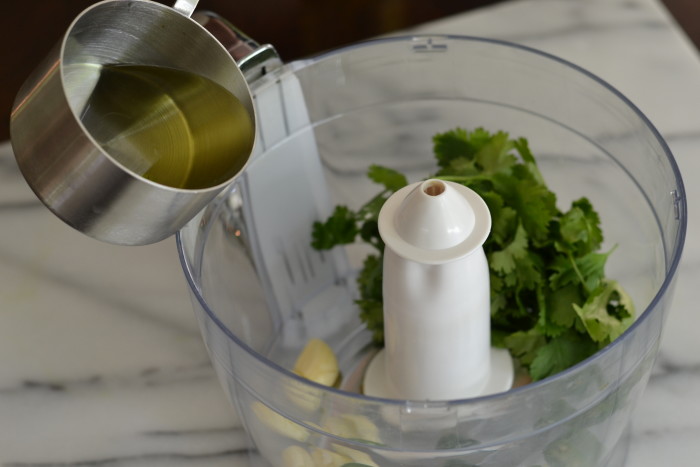 Add 5 garlic cloves, 1 jalapeno (no need to seed it), the cilantro and olive oil to the food processor.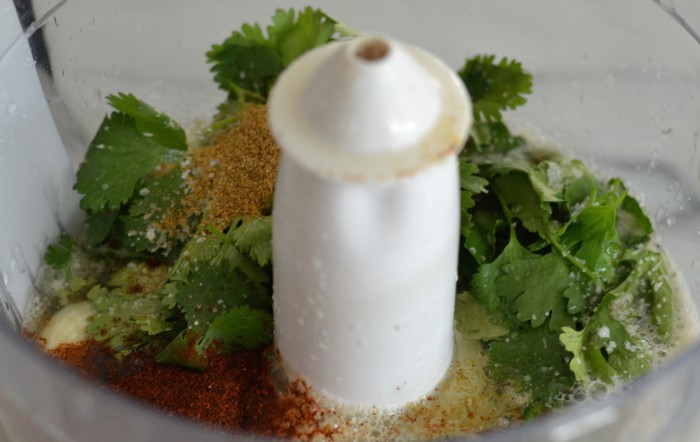 Next, add in the cumin, chili powder and salt.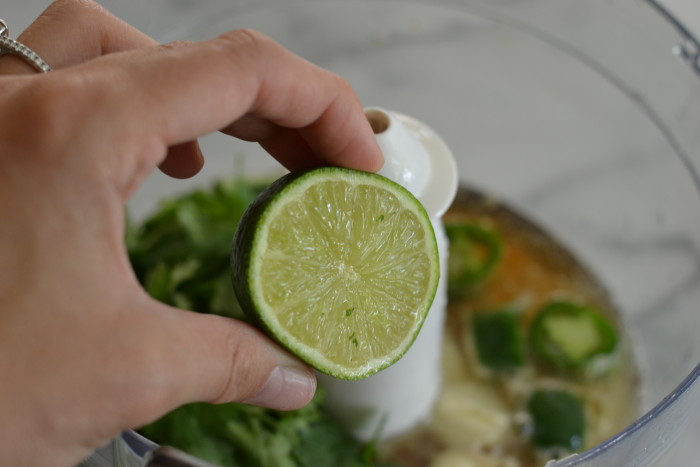 Squeeze in the lime juice.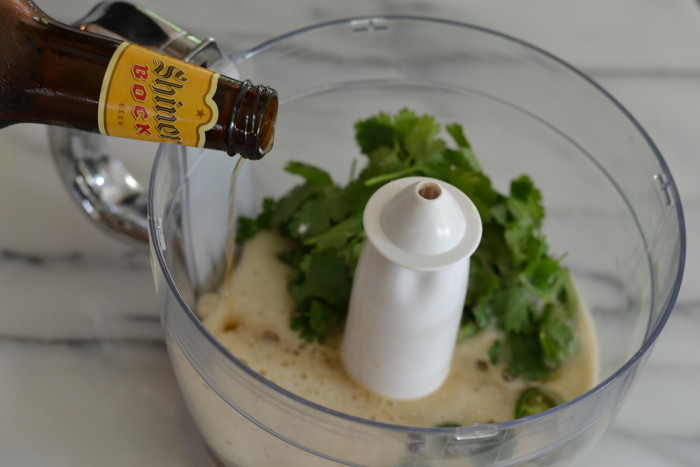 Add in a little over half of the beer. Blend until everything is smooth and set aside.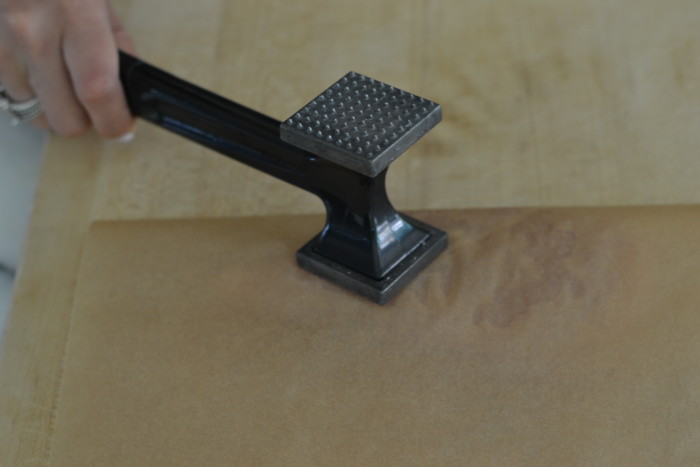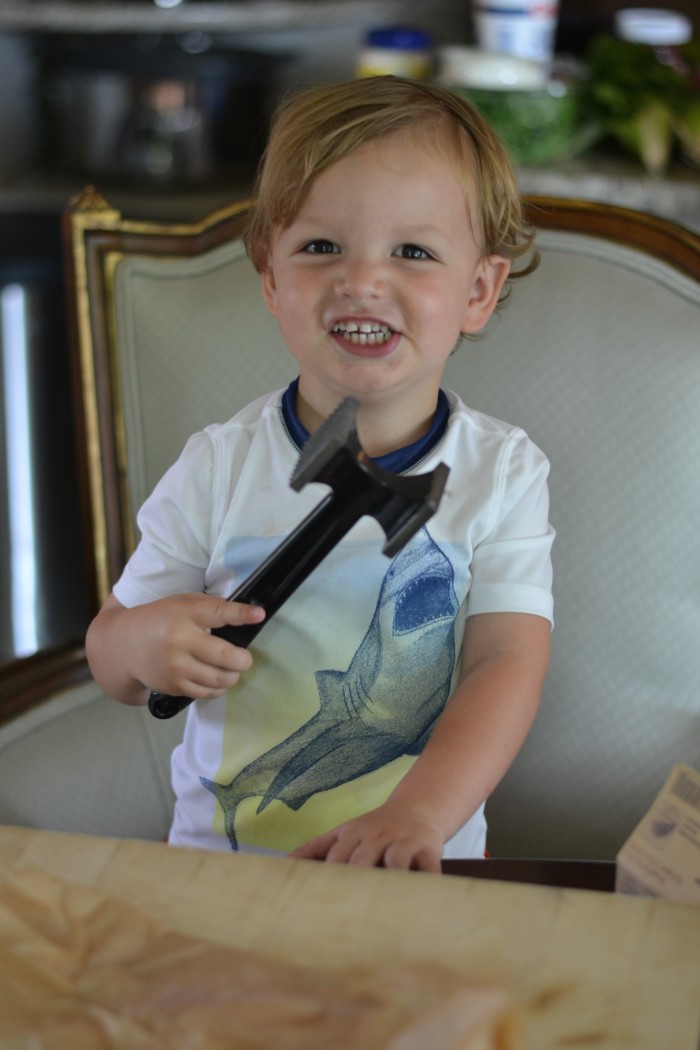 To get the chicken started, I like to pound it out as thin as I can get it (I can usually always recruit a cutie to help with this part). I just place the chicken in between some parchment paper and use the flat side of a meat tenderizer to get it to about 1/4 inch thick. Getting it this thin will help it cook evenly and I just like the taste of really thin chicken better.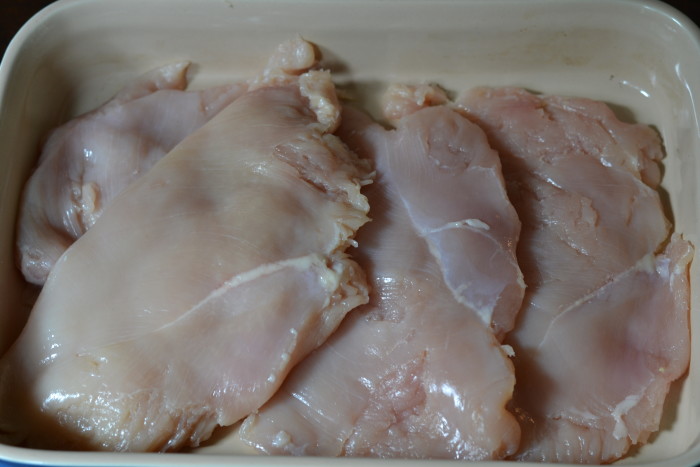 After you pound out the chicken, place it in a baking dish.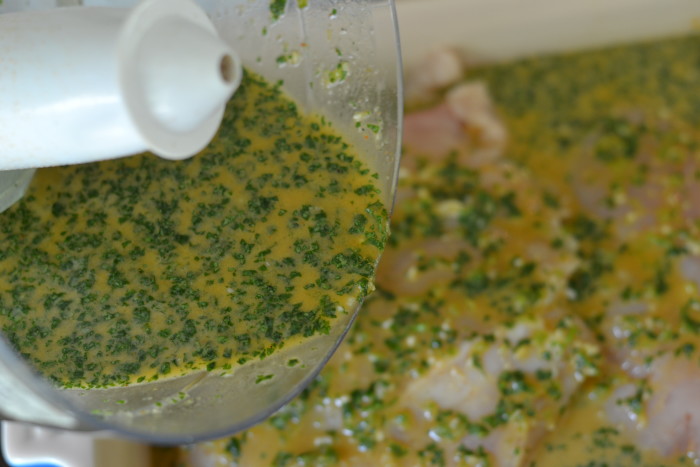 Pour the marinade over the chicken so that it is completely covered. Cover the dish and let it sit for at least 1 hour and up to 3 hours.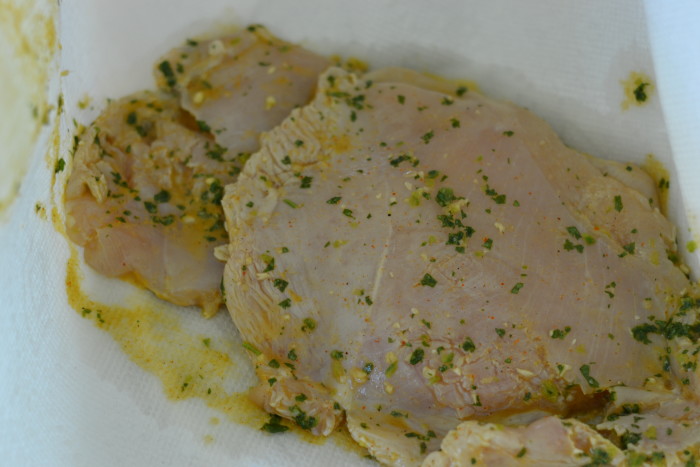 Before the chicken goes on the grill, make sure it is room temperature and be sure to pat it dry with paper towel to remove the excess marinade. Give both sides a sprinkle with some Kosher salt and put it on the grill.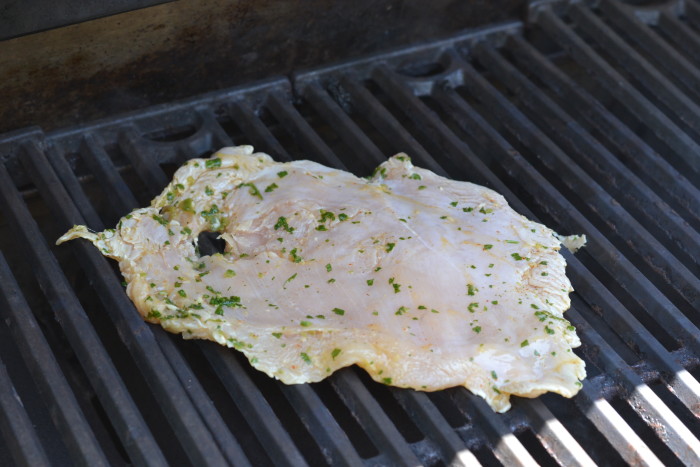 I get the grill to 500 degrees, put the chicken on, shut the lid and cook each side for 3 minutes.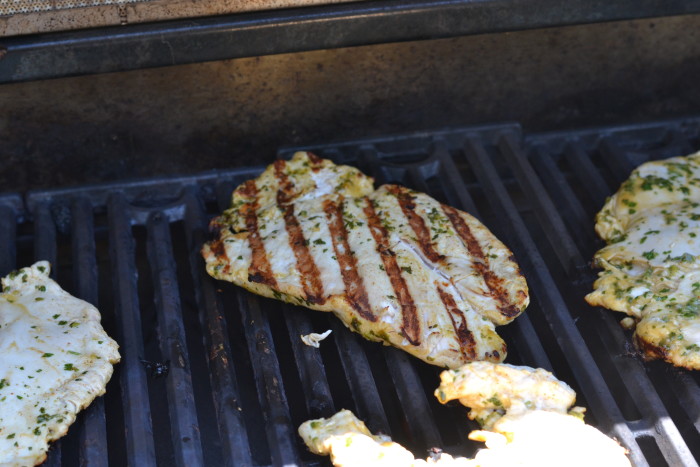 Once the chicken hits the grill, don't touch it! That will help you get these beautiful grill marks. If it sticks at all, just leave it- it needs more time! When the chicken is finished, take it off the grill and cover it with foil while you make the rest of the salad.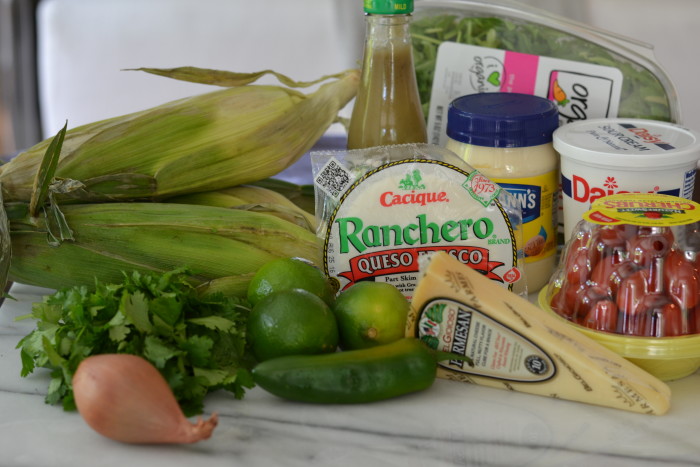 The salad part of this was inspired by our Mexican Street Corn recipe and it is totally amazing on its own, but piling it on top of the pollo asado takes it to the next level! You need 4 ears of the best corn you can find, arugula, cherry tomatoes, a shallot and a jalapeno. For the dressing, you will need some sour cream, good mayonnaise, green taco sauce, cilantro, lime juice and some parmesan cheese. I like to top the salad with some queso fresco, but you can just add more parmesan if you want to skip that.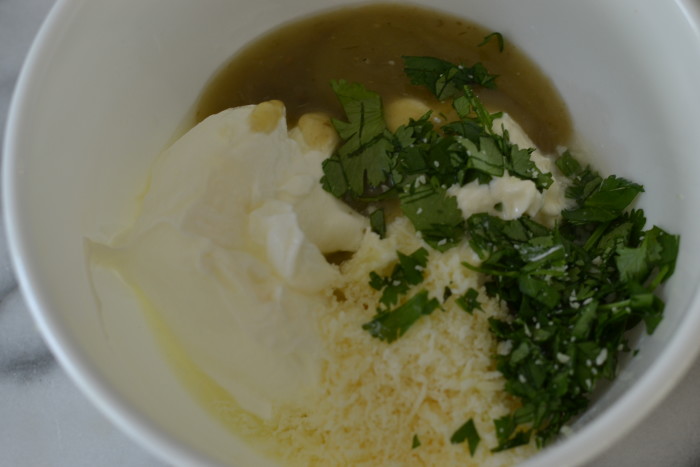 Combine the lime juice, sour cream, mayo, green taco sauce, parmesan and cilantro to a bowl and season with some salt.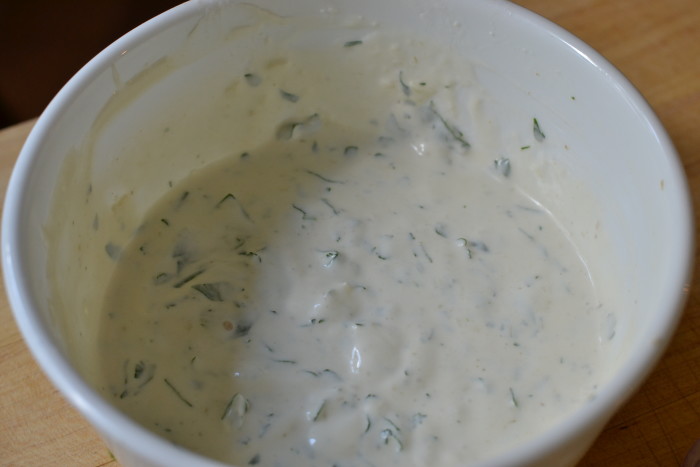 Mix everything together and place in the refrigerator while you make the rest of the salad.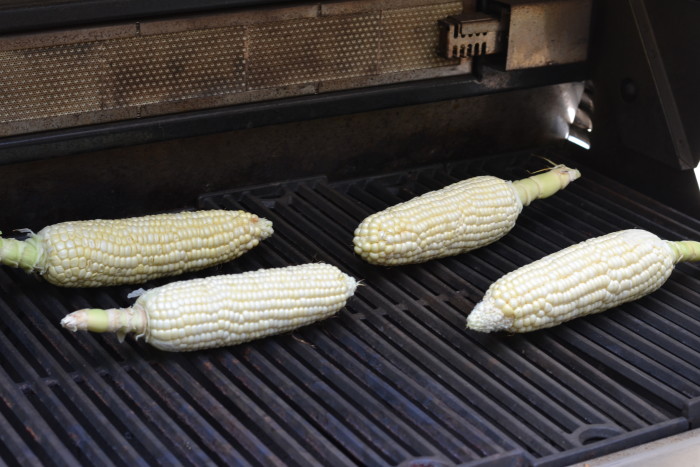 Remove the husks from the corn and place on a medium/high grill. Shut the lid and cook for about 15-20 minutes until you get good grill marks on all sides of the corn.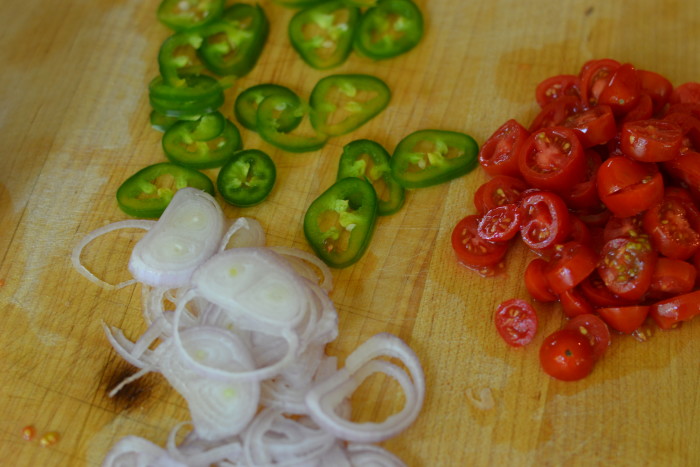 You can get creative with the other salad toppings, but I like to keep it simple and colorful. I thinly slice a shallot for a mild onion flavor, a jalapeno for some heat (remove the seeds for a milder taste) and slice some fresh cherry tomatoes for color and sweetness.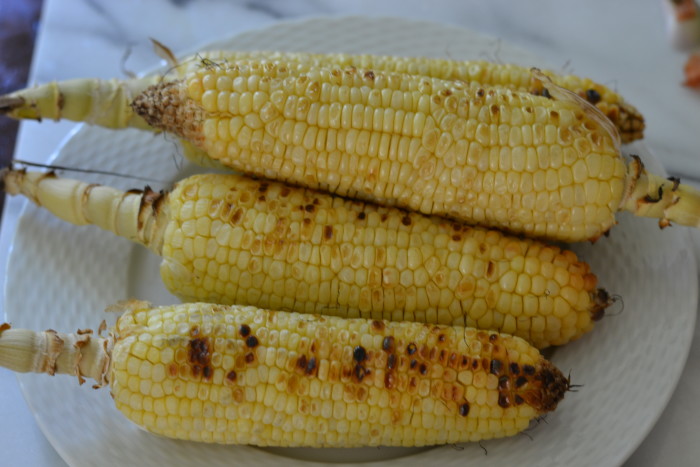 When the corn has some nice grill marks, let it cool a bit and then use a knife to remove it from the cob.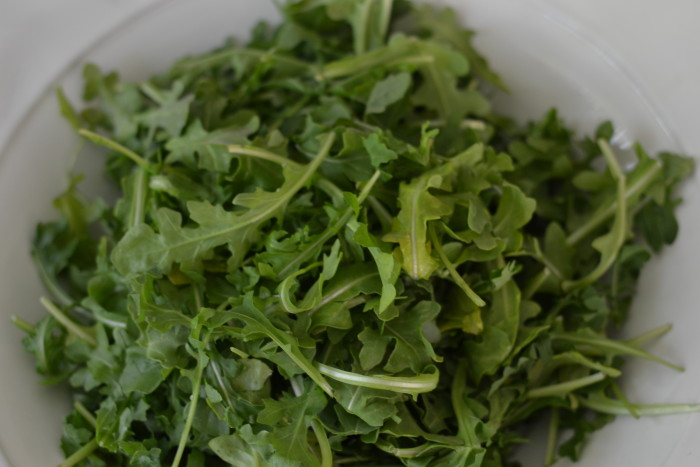 Start the salad with a big pile of arugula- I love the spiciness of this green and it perfectly compliments the dressing and the corn.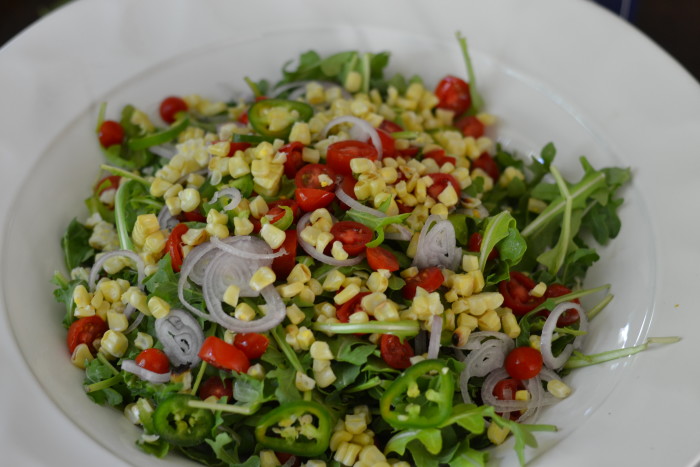 Next, toss in the grilled corn, shallots, jalapenos and cherry tomatoes.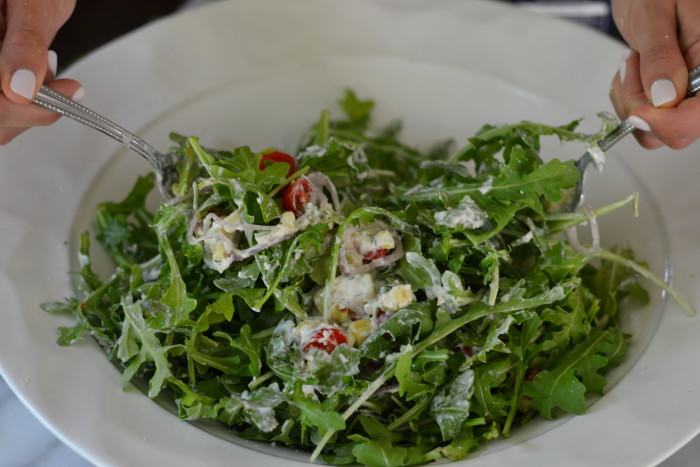 Pour the dressing on to the salad and toss everything together.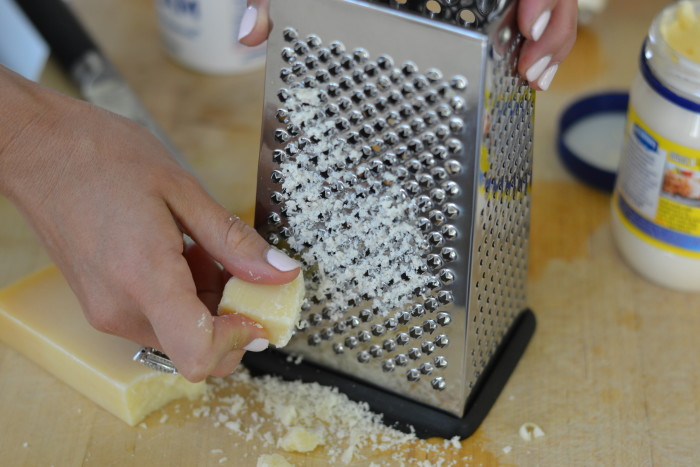 Grate the rest of the parm and crumble the queso fresco for the top of the salad.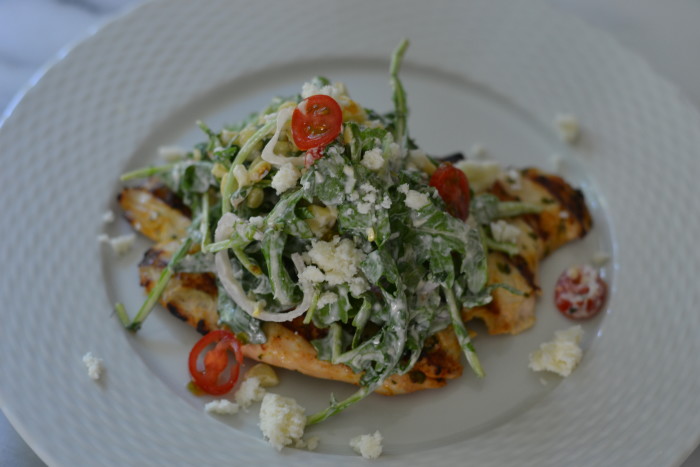 Pile the salad on top of the pollo asado and top with a few cherry tomatoes. Enjoy!
Ingredients
Pollo Asado

4 boneless skinless chicken breasts
1 dark Mexican beer like Negra Modelo
5 cloves garlic
1 cup fresh cilantro
1 jalapeno
3 limes
1 tablespoon Kosher salt
2 teaspoons cumin
2 teaspoons chili powder (Mexican chili powder if you can find it)
1 cup olive oil

Street Corn Salad Dressing

1/3 cup mayonnaise
1/3 cup sour cream
3 tablespoons parmesan cheese, freshly grated
3 tablespoons green taco sauce
3 tablespoons fresh cilantro, chopped
2 limes, juiced
1/4 teaspoon Kosher salt

Street Corn Salad

1 container arugula (about 5 cups)
1 cup cherry tomatoes, sliced into 4ths
1 jalapeno, thinly sliced
1 shallot, thinly sliced
Instructions
Pollo Asado

Make the marinade by adding the garlic, jalapeno, cilantro, beer, olive oil and lime juice into the food processor
Add the cumin, salt and chili powder and blend on high until smooth
Cover the marinade and set aside while you pound out the chicken
Place each chicken breast in between two pieces of parchment paper
Using a the flat side of a meat tenderizer (or a rolling pin or even the back of a sauté pan) pound out each chicken breast individually until they are about 1/4 inch thick
Put the chicken in a baking dish and pour the marinade over the chicken until it is almost completely covered
Cover the chicken and let it marinade for at least 1 hour and up to 3 (if doing more than 1 hour, put in the refrigerator, otherwise it can stay at room temp)
After the chicken has marinated, light the grill and get it to 500 degrees
Pat the chicken dry using a paper towel to remove the excess moisture
Season both sides of each chicken breast with some Kosher salt
Put the chicken on the 500 degree grill, shut the grill and let cook for 3 mins without flipping
Flip the chicken and repeat on the other side
When the chicken is done, remove it from the grill
Cover it with foil and let it rest while you make the salad

Street Corn Salad Dressing

Add the sour cream, mayo, lime juice, chopped cilantro, taco sauce and salt to a small mixing bowl
Combine using a fork or whisk, cover and set aside

Street Corn Salad

Remove the husks from the corn and cook on a medium/high grill for about 15-20 minutes until all sides of the corn have grill marks
Remove the corn from the grill and set aside while you prepare the other ingredients
Add the arugula, shallots, cherry tomatoes and jalapenos to a large salad bowl
Using a sharp knife, remove the corn from the husk and add it to the salad bowl
Pour the dressing over the salad and toss
Pile the mixed salad on top of the chicken breast and top with a little parm and queso fresco
http://martinfamilystyle.com/pollo-asado-salad/
Usually there is no need to visit apothecary every day you going to get medicaments. Nowadays, it is formidably to select of repute web-site. Let's talk about various medicines exists. Revia treating alcoholism addiction in adults, as part of a complete treatment program. Again it may also be used to treat other claim as determined by your soundness care purveyor. Cialis is a cost effective medicine for helping men to sustain an erection. What about cialis price and sexual dysfunctions? You may have heard about cheapest pharmacy for cialis A extended form of sexual malfunction among men is the erectile dysfunction. Such disorders commonly signal other diseases: low libido or erectile dysfunction can be the symptom a strong health problem such as core trouble. Why it happen? How common is erectile dysfunction? Generally the treatment options may include sexual dysfunction medications or hormone treatments. While Cialis is considered safe enough on their own, nevertheless, soundness care professionals say take it in large amounts could be unsafe. Follow all directions on your recipe label.