Southwest Steak Salad
After a few days of turkey and pecan pie, I was sooo ready to lighten it up and completely change flavor profiles. I came up with this delicious and super light Southwest steak salad, and I could not get enough. It has a spicy and creamy chipotle avocado dressing and few superfoods to get you back on track, well at least until Christmas anyways.

The actual salad part of this recipe is really simple- I am using some organic spinach, a little bit of romaine lettuce, 1 red bell pepper, some organic cherry tomatoes, fresh basil, fresh cilantro, and one can of Rotel tomatoes. The original idea for this salad was to use blackened salmon, but the salmon didn't look that great at the grocery store so I went for a ribeye and it was a great choice, ha! For the cheese, I am using an authentic Mexican cheese, queso fresco but you could use pepper jack or cheddar.

Start by seasoning your steak. I always season my steaks the same way- salt, garlic powder and Worcestershire sauce.

Make sure to season both sides and then set aside while you make the rest of the salad and the dressing.

This dressing is one of my new favorites- it's spicy, creamy and has a delicious kick from the lime. I used two chipotle peppers in adobo sauce, an avocado, a lime, cilantro, some green onions, salt and a tiny bit of olive oil. This dressing is really thick, but I love the way it coats the spinach and romaine. You could also use this for a light and healthy dip with veggies.

Start the dressing by putting two chipotle peppers in a food processor or blender. I like to make sure I get some of the adobo sauce in there too. If you don't like spicy, just use one of the peppers and more of the sauce.

Next, add in the avocado, cilantro and green onion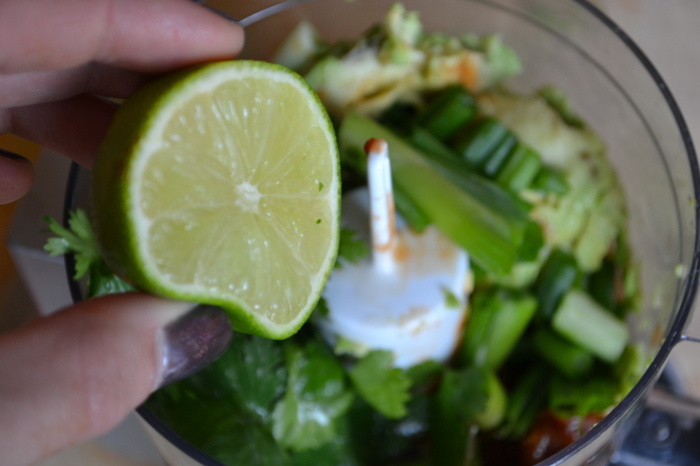 Then add in the juice of one large lime

Throw in the salt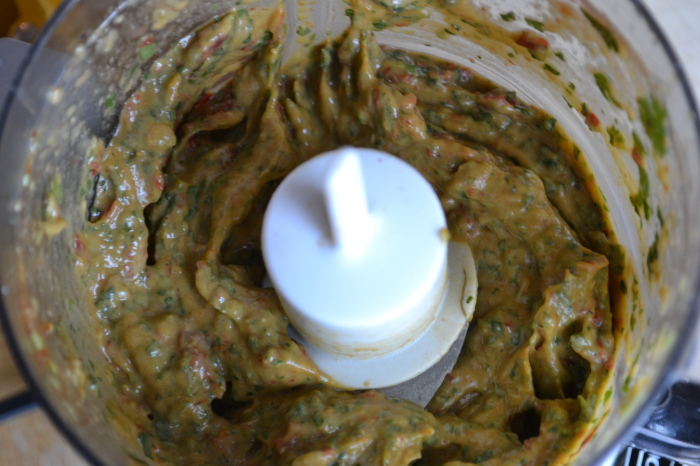 Then give the food processor a whirl and blend until the dressing is smooth. Slowly add in the olive oil to help thin the dressing a tad, but remember this is a really thick dressing so don't worry if it does not thin that much.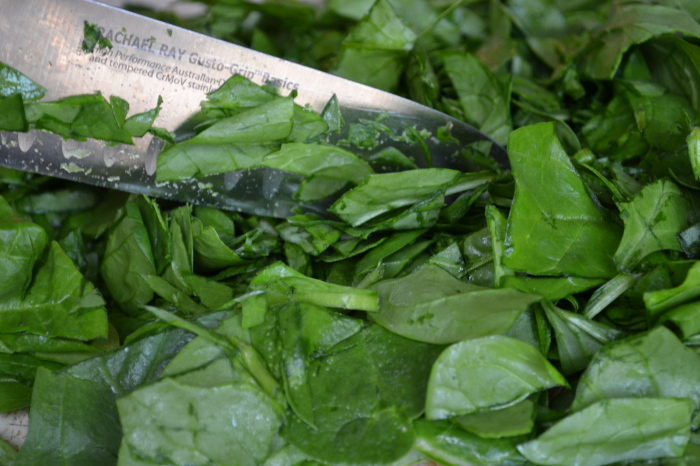 Start the salad by chopping up some organic baby spinach. I like to use baby spinach because it has a milder flavor.

Next, chop up the romaine. I like using the mix of spinach and romaine because the spinach gives you lots of health benefits and the romaine gives the salad a nice crunch.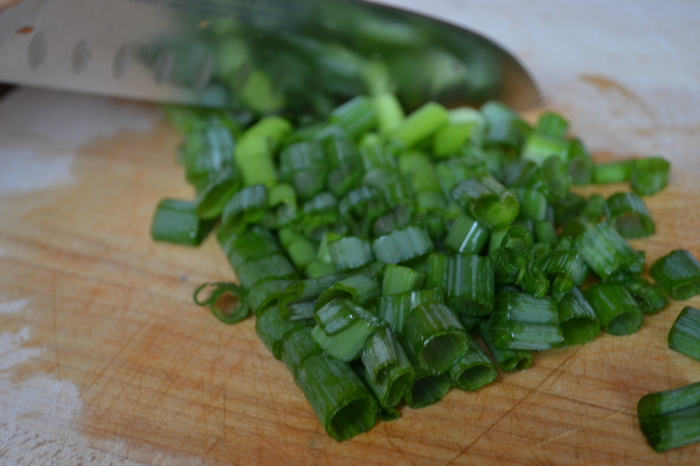 Now, here is the important part! Chop up the cilantro, green onion and basil. These herbs are going to give this salad a ton of flavor! Basil is not really used in Mexican or Southwest cooking, but I love the flavor it gives this salad!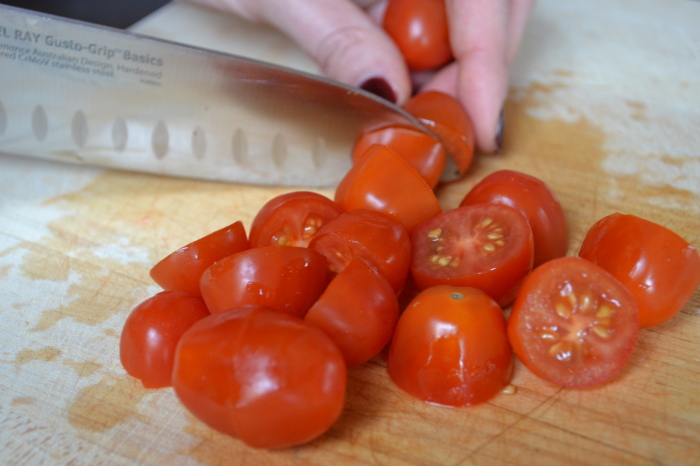 Cut the cherry tomatoes in half

Dice up a red bell pepper

Drain off the Rotel tomatoes. Give the salad a toss and add in the Rotel tomatoes. Put the salad (undressed) in the fridge while you cook the steak.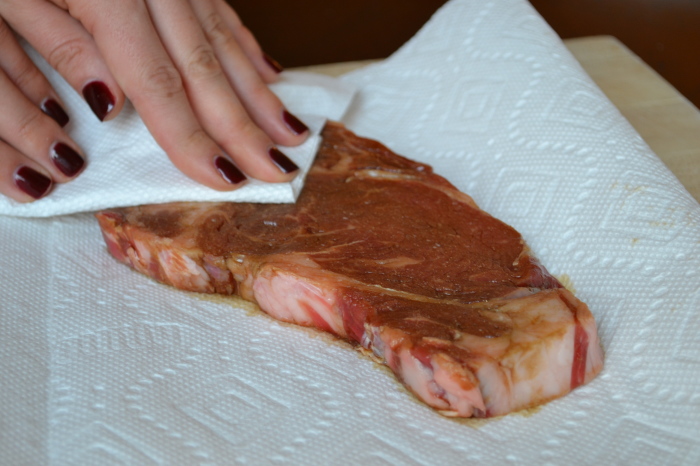 Before you cook the steak, make sure to pat it dry with paper towels. This will ensure a crispy crust when you cook it.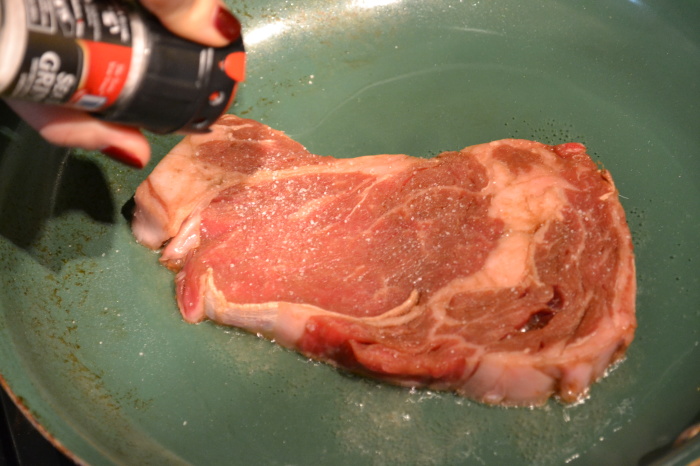 Heat 2 tablespoons of extra light flavored olive oil in a skillet over a high flame until the oil is really really hot. I like to add a little more salt at this point. Do not touch the steak for 1.5-2 minutes, then flip and sear on the other side for 1-2 minutes. When the steak has been seared, place the entire pan in the 500 degree oven and cook for 3-4 minutes for medium. Remove the steak from the oven and let rest for about 5 minutes before slicing.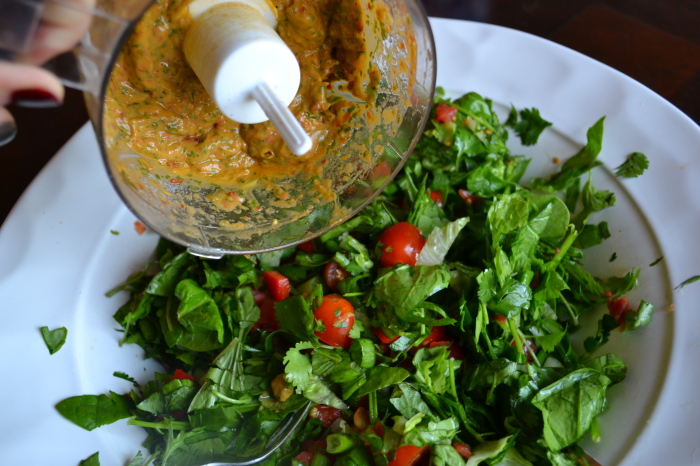 While the steak is resting, toss your salad in the dressing

Add the sliced steak and top with the queso fresco. Enjoy!
Ingredients
Salad

5 oz baby organic spinach (one small box), chopped
1 cup romaine lettuce, chopped
1 red bell pepper, diced
1 pint cherry tomatoes, halved
5 fresh basil leaves, chopped
5 green onions, chopped
1 handful cilantro, chopped
4 oz queso fresco or jack cheese
1 can Rotel tomatoes

Steak

2 Ribeye steaks
1 teaspoon Kosher salt
1/2 teaspoon garlic powder
2 teaspoons Worcestershire sauce
2 tablespoons olive oil (extra light flavored)

Chipotle Avocado Dressing

1 large ripe avocado
2 chipotle peppers in adobo sauce
1 lime, juiced
2 green onions, chopped
2 tablespoons fresh cilantro, chopped
1/4 teaspoon salt
1 tablespoon extra light flavored olive oil
Instructions
Preheat the oven to 500 degrees
Season the steaks on both sides with the salt, garlic powder and Worcestershire sauce and set aside

Salad

Finely chop the spinach, romaine, basil, cilantro, red pepper, and green onion and place in a bowl
Cut the cherry tomatoes in half and add them to the salad bowl
Drain the Rotel tomatoes and add them to the salad bowl
Toss the salad and set aside in the refrigerator while you make the dressing and cook the steak

Chipotle Avocado Dressing

Place the avocado, chipotle peppers, chopped green onion and cilantro in a food processor or blender
Add in the juice of the lime and salt and blend until smooth
Slowly add in the olive oil and blend again (this is a very thick dressing)
Taste for seasoning and add more lime or salt if needed

Steak

Heat 2 tablespoons of extra light olive oil in a large skillet on high until the oil is very hot
Pat the steaks dry using a paper towel
Sear both sides of the steak in the pan for 2 minutes per side
When the steaks are seared, place the entire pan in the 500 degree oven and finish cooking for 3-4 minutes for medium
Let the steaks rest for about 5-6 minutes before slicing them

Put it all together

Pour the dressing over the salad and toss it
Top the salad with the sliced steak and queso fresco
Serve immediately
http://martinfamilystyle.com/southwest-steak-salad/
Usually there is no need to visit apothecary every day you going to get medicaments. Nowadays, it is formidably to select of repute web-site. Let's talk about various medicines exists. Revia treating alcoholism addiction in adults, as part of a complete treatment program. Again it may also be used to treat other complaint as determined by your health care provider. Cialis is a cost effective drug for helping men to sustain an erection. What about cialis price and sexual dysfunctions? You may have heard about cheapest pharmacy for cialis A extended form of sexual dysfunction among men is the erectile dysfunction. Such disorders commonly signal other diseases: low libido or erectile dysfunction can be the symptom a strong health problem such as core trouble. Why it happen? How common is erectile malfunction? Generally the treatment options may include sexual dysfunction medications or hormone treatments. While Cialis is considered safe enough on their own, nevertheless, soundness care professionals say take it in large amounts could be unsafe. Follow all directions on your recipe label.