Southwest Stuffed Mushrooms
Stuffed mushrooms are a great go-to side dish for so many summer meals and this Southwest version is absolutely delicious. Inspired by our jalapeno popper recipe, I decided to use a similar filling in a portabella cap and it turned out to be a hit. The great thing about stuffed mushrooms is that the possibilities are endless when it comes to the filling. This Southwest version is creamy, spicy and would be so delicious  served with our Perfect Filet Mignons .  You can also use baby portabella caps and serve them as appetizers. And if you are feeling like a light  vegetarian meal, they are perfect all by themselves.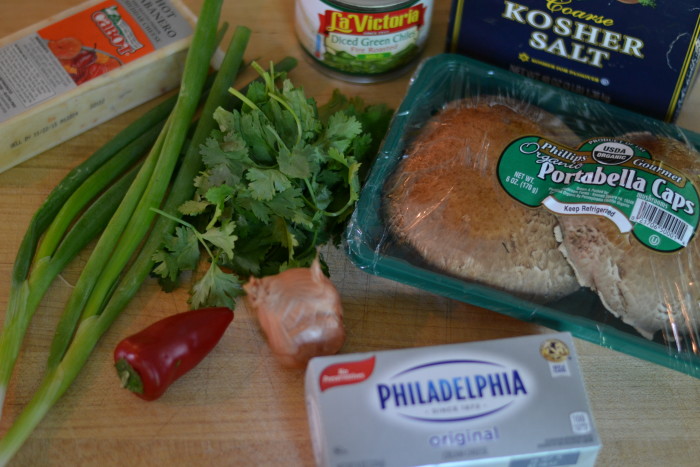 For the filling, I used cream cheese, a shallot, a Fresno chili, some cilantro, diced green chilies, salt and some habanero jack cheese. There are green onions in this photo, but I decided to leave them out because the shallot flavor was all that the filling needed. If you want a milder onion flavor, use the green onions instead of the shallot. This was super spicy because of the habanero cheese, so if you want to tone it down a bit, just use pepper jack.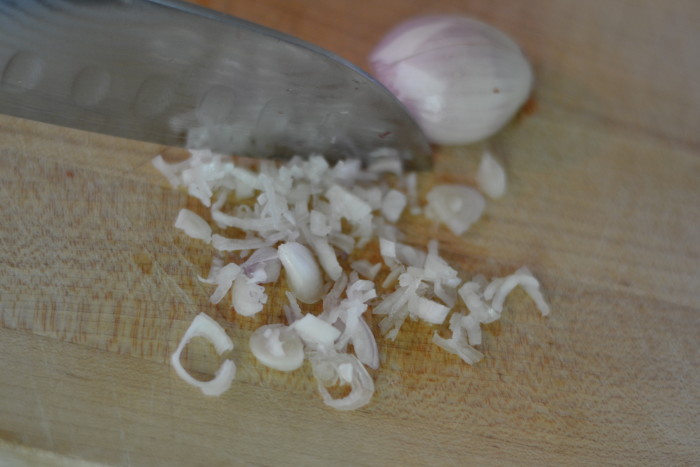 Start by dicing a shallot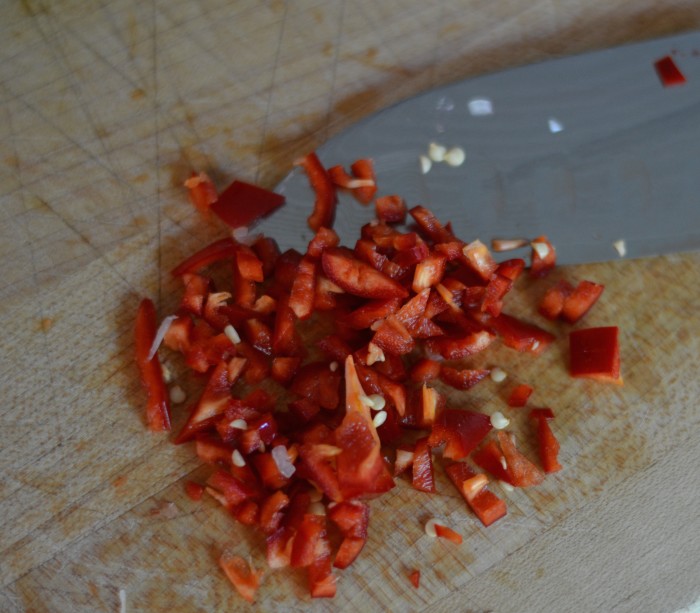 Next, seed and dice the Fresno chili. I recently started using the Fresno chili instead of the jalapeno because I love the flavor and color. The heat level is similar to the jalapeno, so if you cant find the Fresno, just use a jalapeno.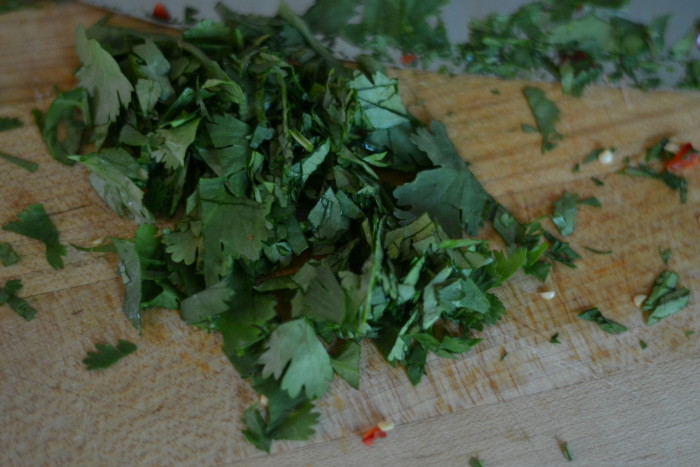 Dice the cilantro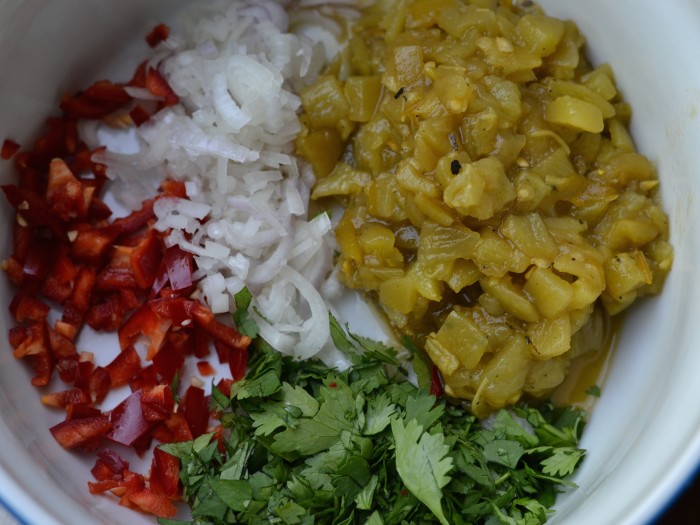 Add the Fresno, shallot, cilantro and green chilies to a bowl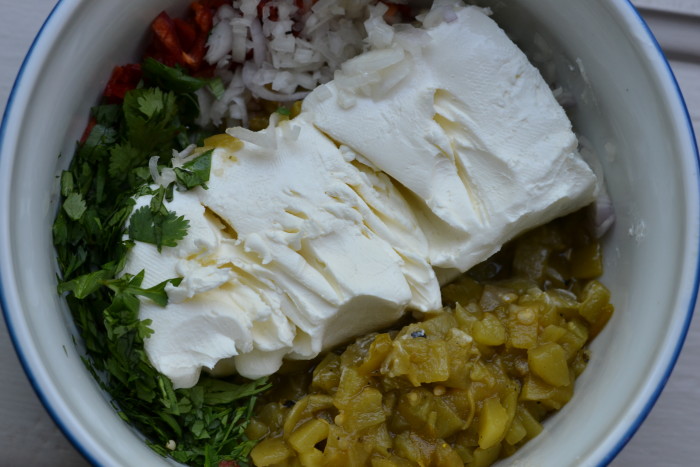 Add in the room temperature cream cheese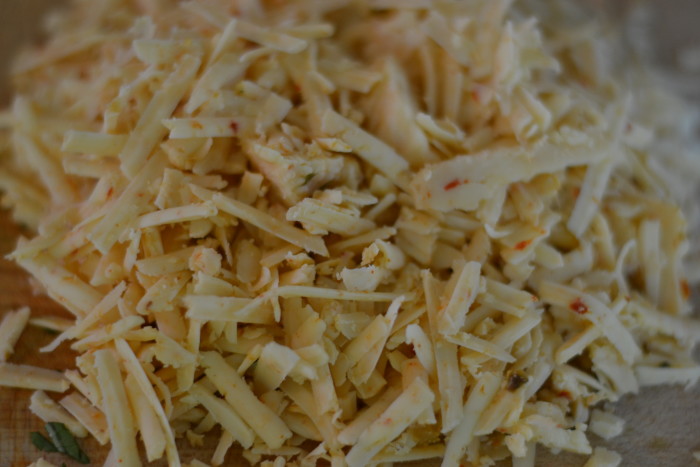 Shred the cheese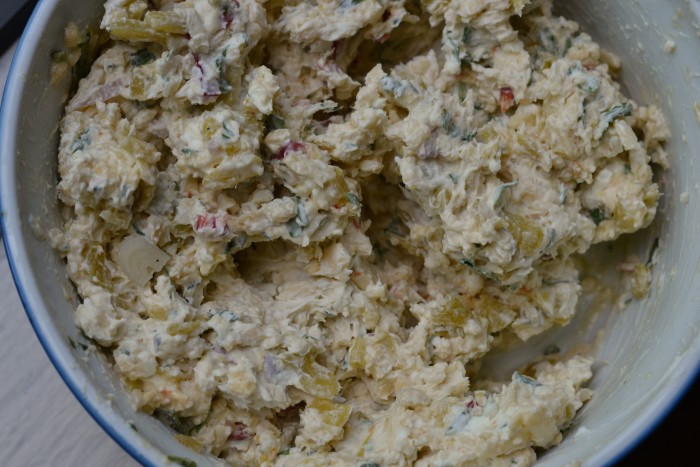 Add the shredded cheese to the cream cheese mixture and stir everything together. Taste for seasoning and add salt if needed. Set aside while you prepare the mushrooms.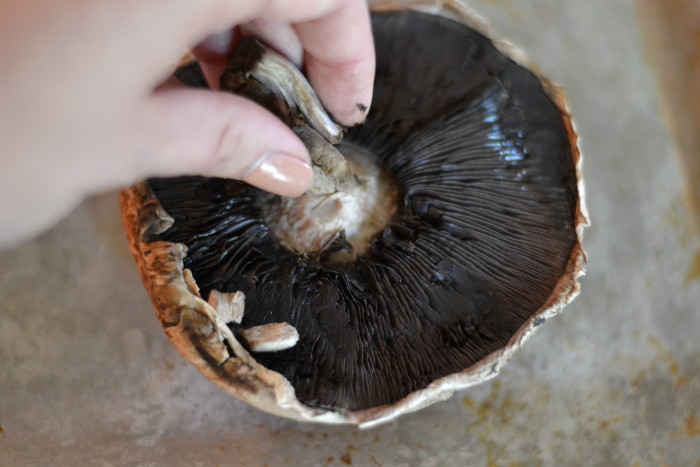 To prepare the mushrooms, remove the stem and use the back of a spoon to scoop out some of the gills. They should come off easily and don't worry about getting them all.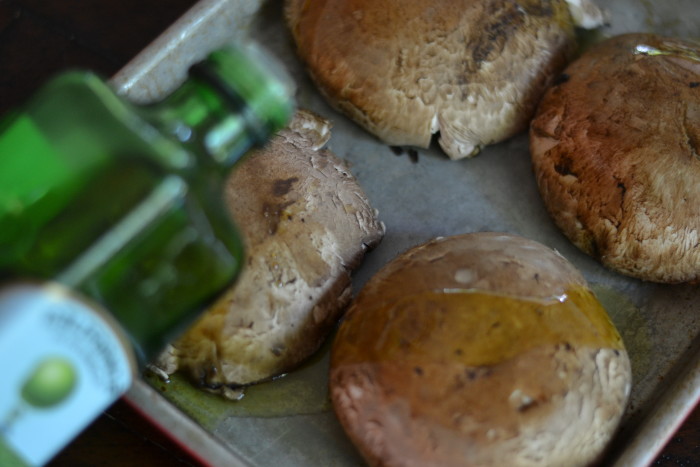 Next, flip the mushrooms over and drizzle them with olive oil.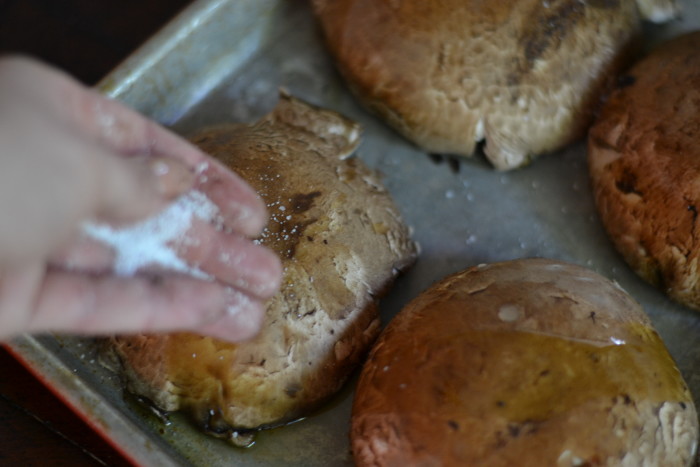 Season the mushrooms with a bit of salt. The filling has a ton of flavor, but we don't want to forget about flavoring the mushroom as well. The olive oil and salt add the perfect flavor to the portabellas.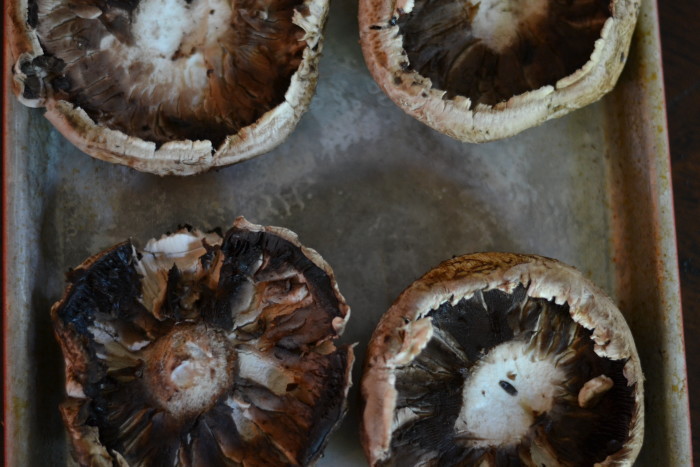 Flip the mushrooms back over so that the stem side is up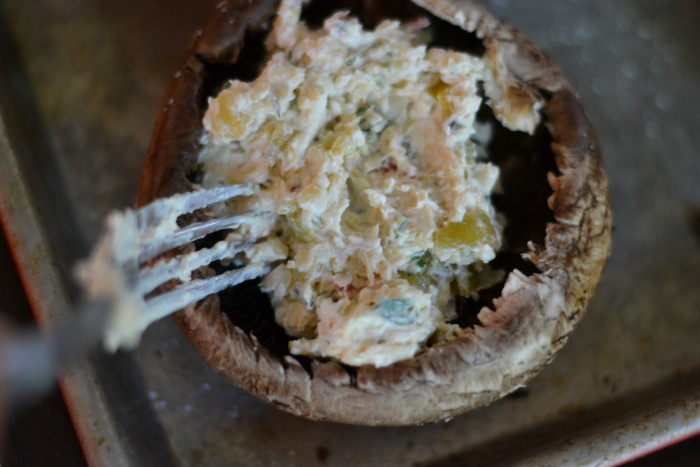 Fill each mushroom with about 2-3 tablespoon of the filling. Place in a 400 degree oven and bake for 30 minutes.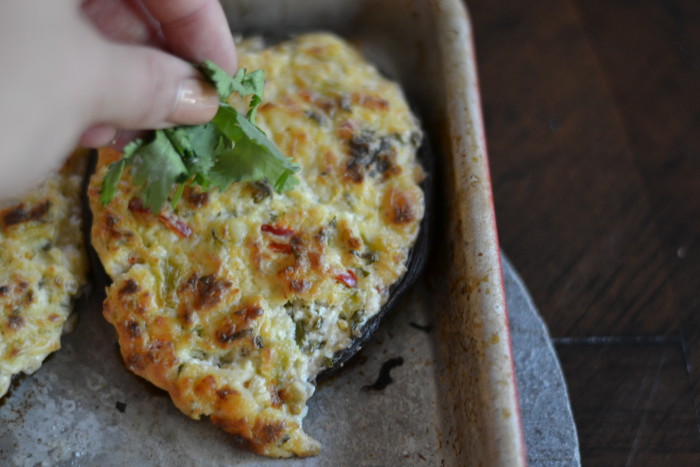 When the cheese is golden brown and bubbling, you will know they are done. Top with some fresh cilantro.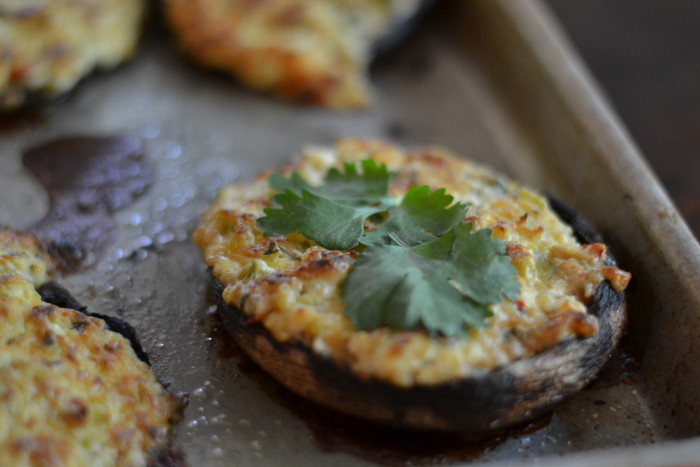 Enjoy!!
Southwest Stuffed Mushrooms
Ingredients
6 large portabella mushroom caps
8 oz cream cheese, room temp
1 Fresno chili or jalapeno
4 oz canned green chilies, diced
1 shallot
1/4 cup cilantro, diced
8 oz pepper jack cheese, shredded
2 tablespoons extra virgin olive oil
1/2 teaspoon Kosher salt
Instructions
Preheat the oven to 400
Add the diced Fresno, shallot, green chilies, cilantro, cream cheese and pepper jack to a large bowl
Mix the cream cheese mixture until everything is combined and set aside while you prepare the mushrooms
Place the mushroom caps on a baking sheet and remove the stems
Using the back of a spoon, carefully remove the gills of the mushroom to make space for the filling
Flip the mushrooms over so that the stem side is down and season with the olive oil and salt
Flip the mushrooms back over so the stem side is up and fill each cap with 2-3 tablespoons of the filling
Bake in the 400 degree oven for 30 minutes until the filling is golden brown and bubbling
Garnish with fresh cilantro and enjoy!
http://martinfamilystyle.com/southwest-stuffed-mushrooms/
Usually there is no need to visit apothecary every time you going to get medicaments. Nowadays, it is formidably to select of repute web-site. Let's talk about various medicines exists. Revia treating alcoholism addiction in adults, as part of a complete treatment program. Again it may also be used to treat other complaint as determined by your soundness care purveyor. Cialis is a cost effective drug for helping men to sustain an erection. What about cialis price and sexual dysfunctions? You may have heard about cheapest pharmacy for cialis A extended form of sexual disfunction among men is the erectile dysfunction. Such disorders commonly signal other diseases: low libido or erectile malfunction can be the symptom a strong health problem such as heart trouble. Why it happen? How common is erectile disfunction? Generally the treatment options may include sexual malfunction medications or hormone treatments. While Cialis is considered safe enough on their own, nevertheless, soundness care professionals say take it in large amounts could be unsafe. Follow all directions on your recipe label.