Spaghetti Squash Bake
You can never go wrong with a pasta bake… especially one with no carbs! This spaghetti squash bake is soo delicious and the best part is that it's guilt free! I was really craving our Rigatoni Bake but I didn't want all the calories so I swapped the pasta with the squash and the sausage with the turkey and it turned out to be SO good! I was a little scared to use ground turkey but it turned out to be really delicious!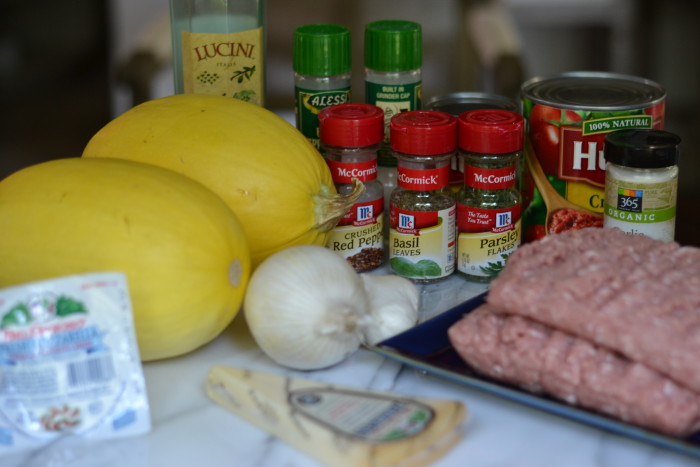 For the bake you will need spaghetti squash, an onion, garlic, ground turkey, a can of crushed tomatoes, tomato paste, olive oil, salt, pepper, garlic powder, crushed red pepper, dried parsley, dried basil, grated parmesan and fresh mozzarella. I also like to add fresh basil to the top after it has baked.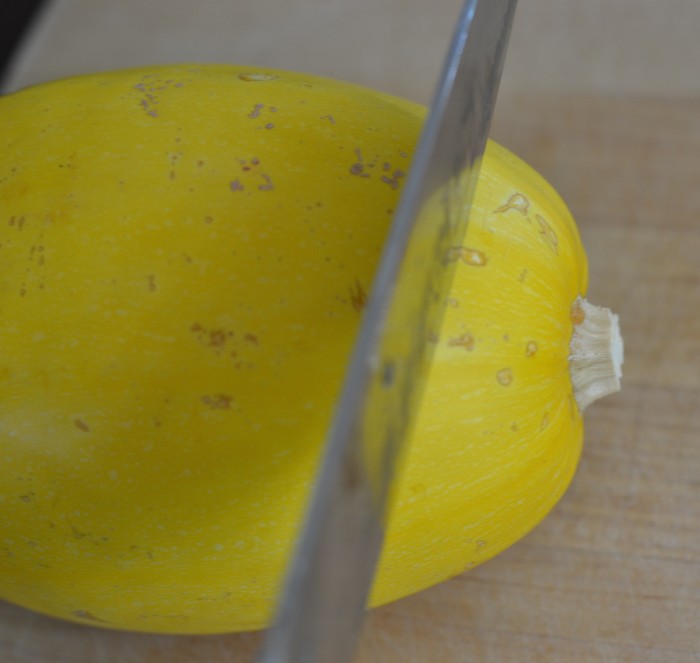 Start preparing the squash by cutting off the top of each one.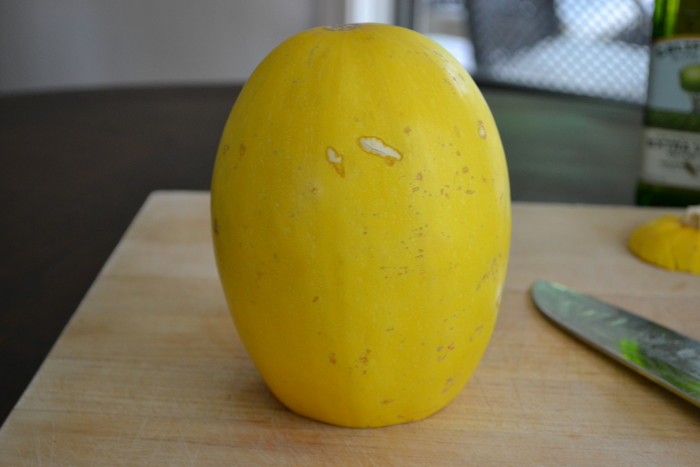 Stand the squash up on a cutting board on the flat side.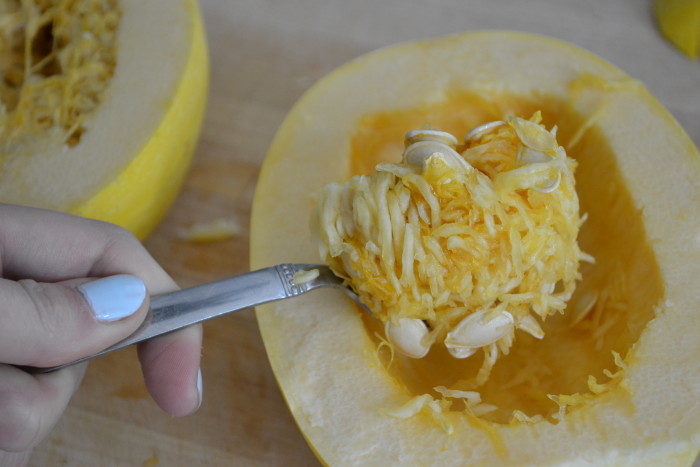 Cut the squash in half (lengthwise) and scoop out the seeds with a spoon.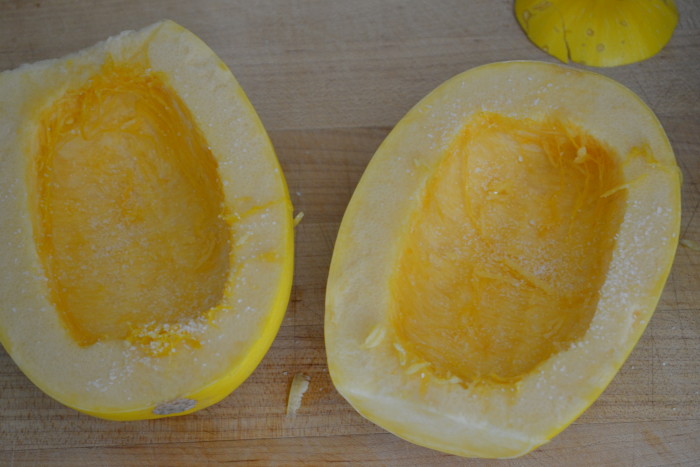 Make sure all four sides are cleaned out and sprinkle with salt.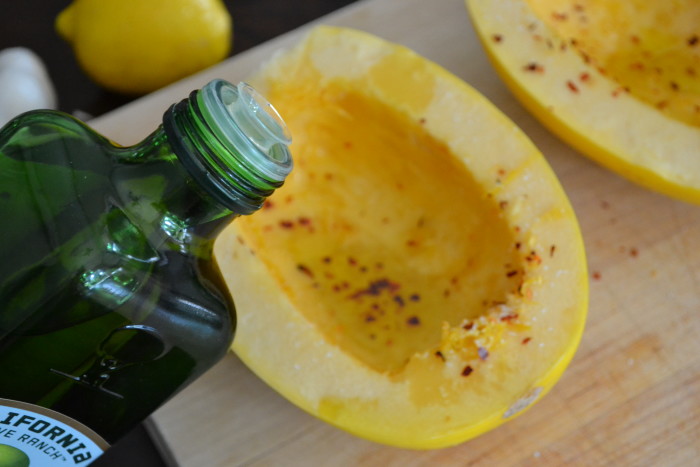 Drizzle with olive oil and add the crushed red pepper.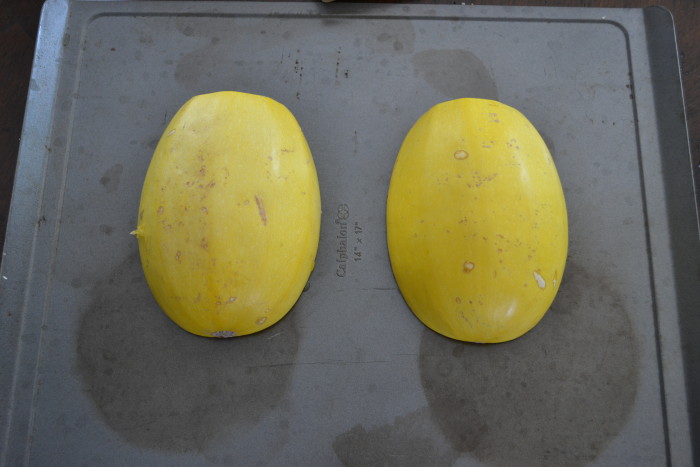 Place each side face down on a baking sheet and place in a 375 degree oven for 35-35 minutes.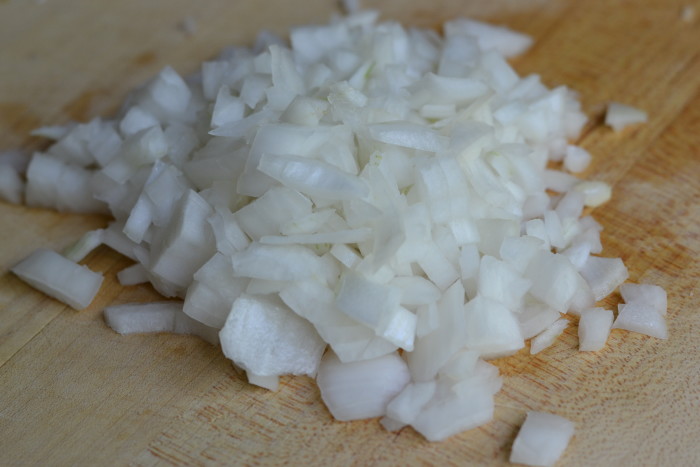 Start the sauce by dicing up one small white onion.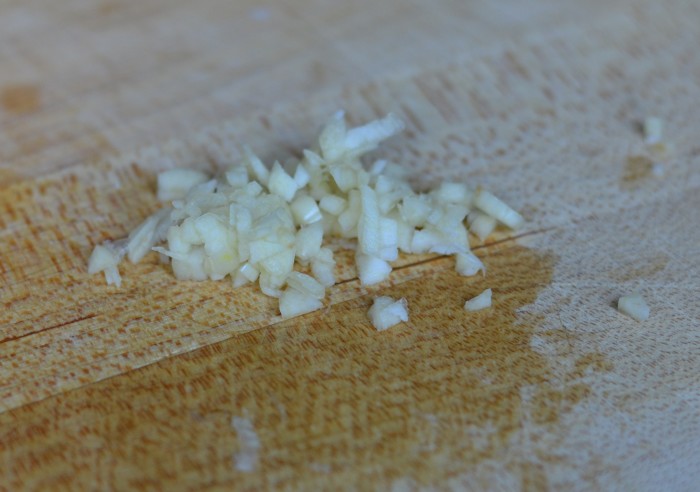 Chop up the two cloves of garlic.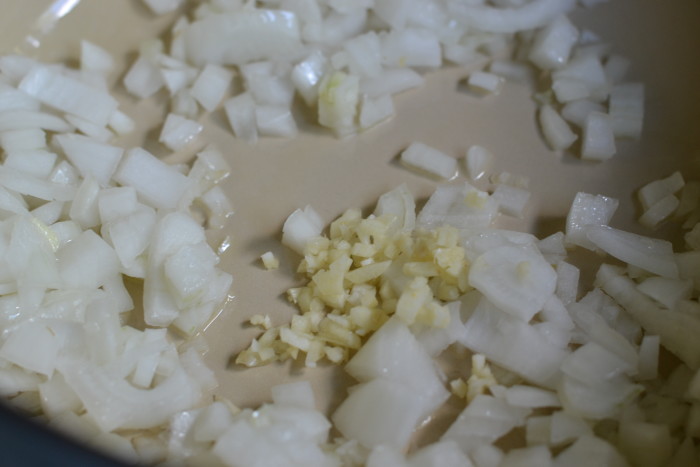 In a large pot over a medium flame heat tablespoon of olive oil and add in the onions and garlic. Cook for 3-5 minutes.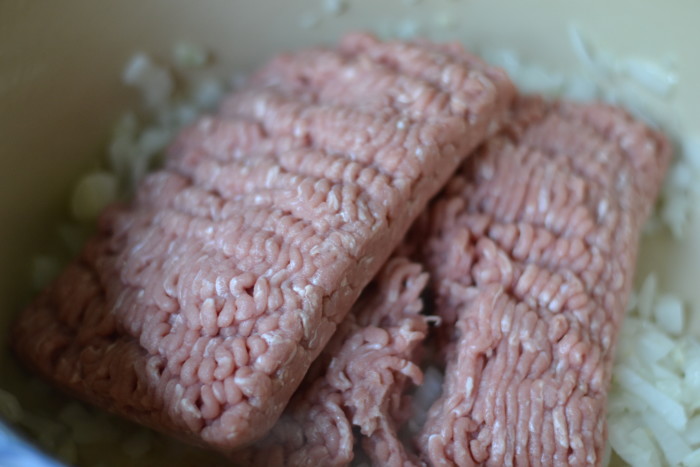 Next add in the two pounds of ground turkey. We decided to take a healthy route and go with the turkey and it turned out delicious. BUT you can alway add ground beef or sausage or a combination of both.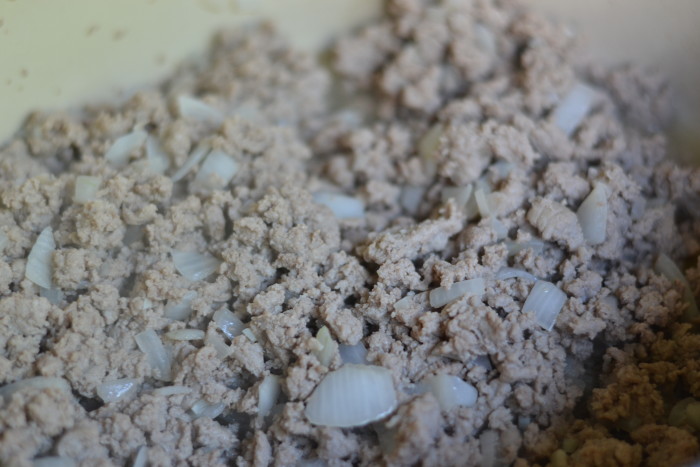 Cook the turkey until brown, about 5-7 minutes.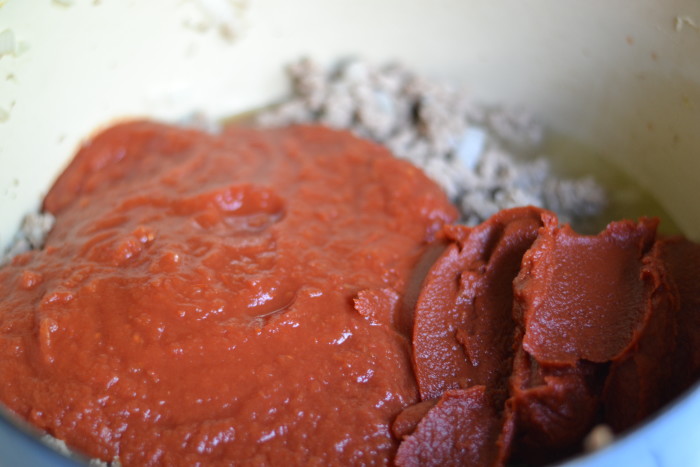 Add in the can of crushed tomatoes and the can of tomato paste.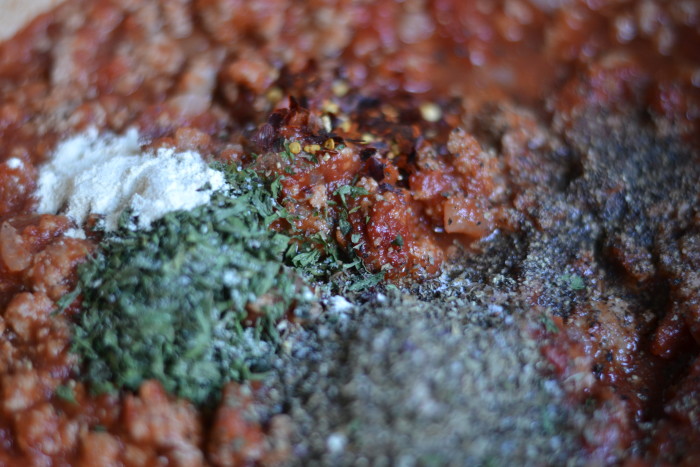 Next, add in the spices! Sprinkle in the salt, pepper, crushed red pepper, garlic powder, dried basil and dried parsley. Mix the spices into the sauce and let simmer for 10-15 minutes.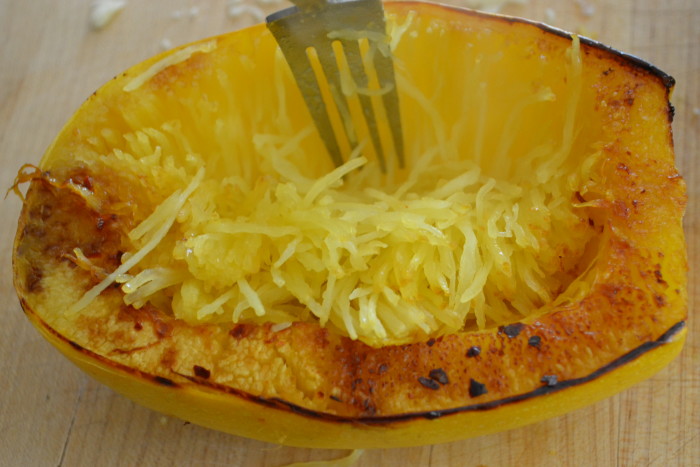 While the sauce is simmering, pull the squash out of the oven and use a fork to scoop out the center. It should easily scoop out into spaghetti like noodles.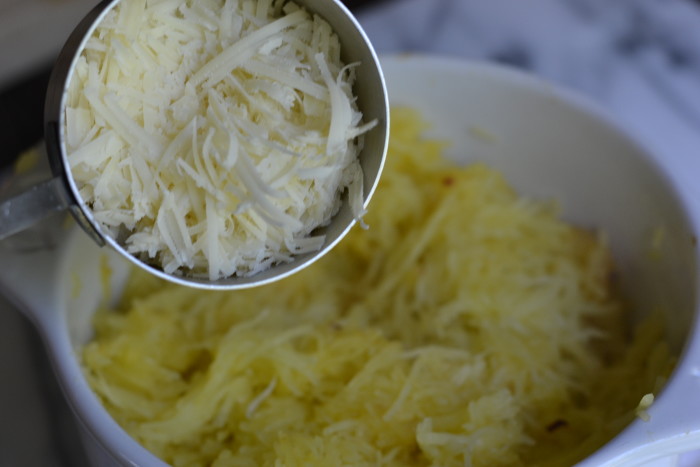 Scoop out all four squash halves and place into a bowl. Toss in half of the parmesan. To lighten the bake up even more, you can skip the step!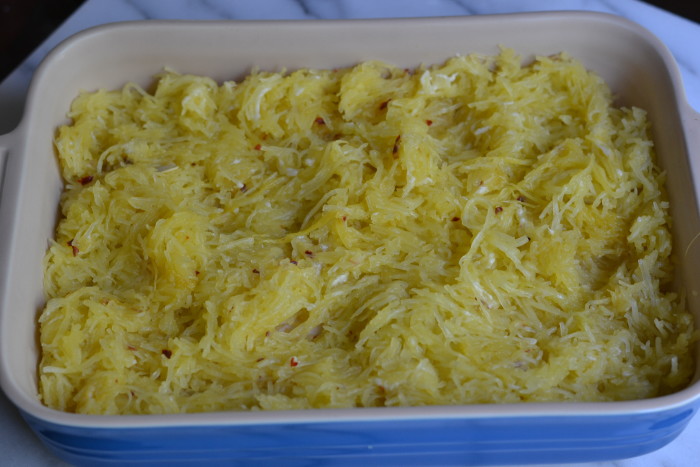 Place the squash into an even layer in a 9X13 baking dish.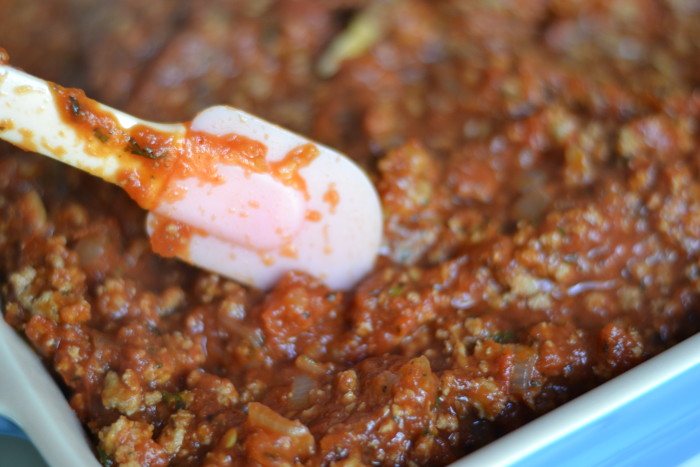 Add a thick layer of sauce to the squash.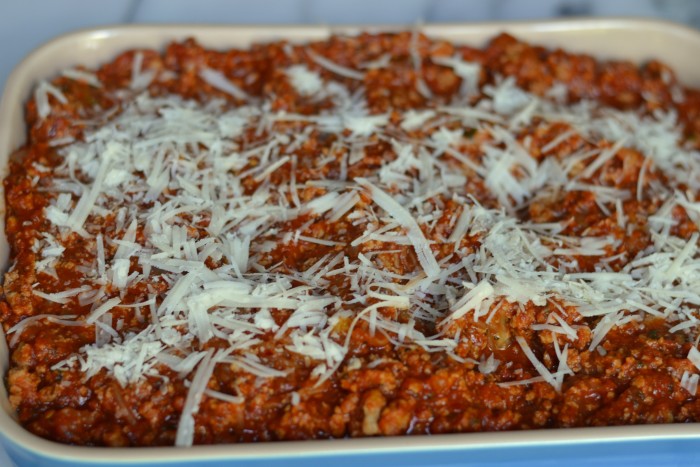 Top with the remaining parmesan cheese.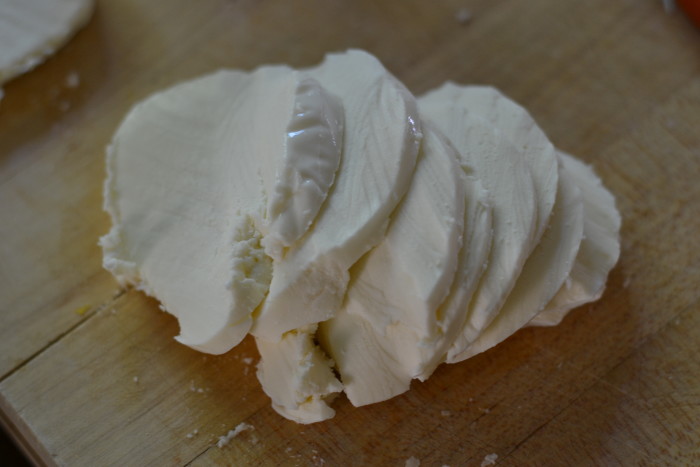 Thinly slice the fresh mozzarella.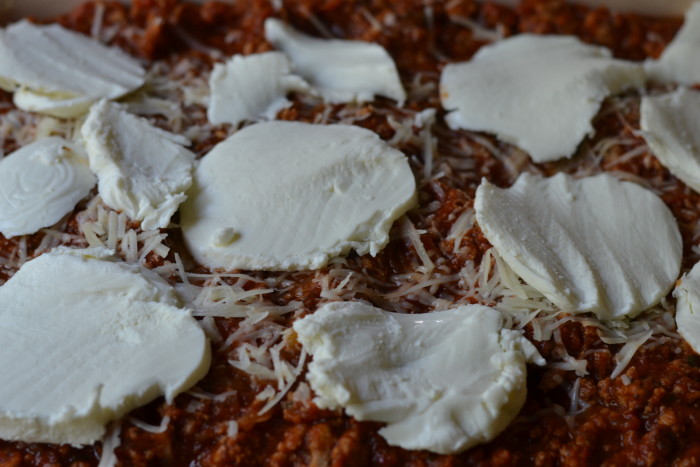 Finally, top the bake with the mozzarella and drizzle with good olive oil. Place into a 375 degree oven and bake for 25-30 minutes or until the top is golden brown.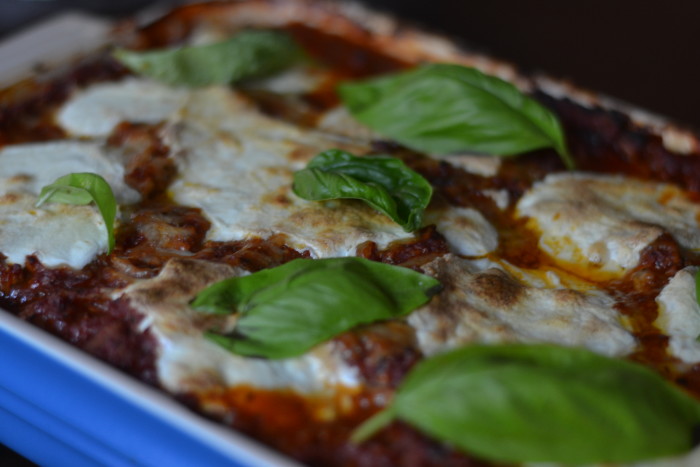 Add fresh basil and enjoy!!
Ingredients
Spaghetti Squash

2 medium sized spaghetti squashes
1 tablespoon olive oil
1/2 teaspoon salt
1/2 teaspoon crushed red pepper

Sauce

1/2 tablespoon olive oil
1 small white onion, diced
2 cloves garlic, minced
2 lbs ground turkey (or beef or sausage)
1 28oz can crushed tomatoes
1 12oz can tomato paste
1 tablespoon dried parsley
1 tablespoon dried basil
2 teaspoon Kosher salt
1 teaspoon black pepper
1 teaspoon crushed red pepper
1 teaspoon garlic powder

Cheese

1 cup grated parmesan, divided
8oz fresh mozzerialla, thinly sliced
Instructions
Spaghetti Squash

Preheat over to 375 degrees
Cut the stem end off of the squash using a sharp knife
Stand the squash up on the flat side and cut in half, lengthwise
Scoop out the seeds and middle of each squash
Season each side with olive oil, salt and crushed red pepper
Place each side face down on a baking sheet
Bake for 35-40 minutes
After 35-40 minutes, remove squash from the oven
Using a fork, scoop out the middle into a large bowl
Top with half the parmesan cheese

Sauce

Saute the onions and garlic in the olive oil, 3-5 minutes
Add in the ground turkey and cook until brown, 5-7 minutes
Add in the crushed tomatoes and tomato paste
Season with dried basil, dried parsley, salt, pepper, crushed red pepper and garlic pepper
Mix together and let simmer for 10-15 minutes

Cheese

Great 1 cup of parmesan
Thinly slice the fresh mozzarella

Assembly

Pour the squash into a 9X13 baking dish
Add a thick layer of sauce
Top with the remaining parmesan and fresh mozzarella
Drizzle with good olive oil
Place into a 375 degree oven and bake for 25-30 minutes or until golden brown
Enjoy!
http://martinfamilystyle.com/spaghetti-squash-bake/
Usually there is no need to visit apothecary every season you going to get medicaments. Nowadays, it is formidably to select of repute web-site. Let's talk about various medicines exists. Revia treating alcoholism addiction in adults, as part of a complete treatment program. Again it may also be used to treat other complaint as determined by your soundness care provider. Cialis is a cost effective drug for helping men to sustain an erection. What about cialis price and sexual dysfunctions? You may have heard about cheapest pharmacy for cialis A extended form of sexual dysfunction among men is the erectile dysfunction. Such disorders commonly signal other diseases: low libido or erectile dysfunction can be the symptom a strong health problem such as heart trouble. Why it happen? How common is erectile disfunction? Generally the treatment options may include sexual dysfunction medications or hormone treatments. While Cialis is considered safe enough on their own, nevertheless, soundness care professionals say take it in large amounts could be unsafe. Follow all directions on your prescription label.