Asian Cucumber Salad
My favorite nutritionist was home this past weekend from NYC for quick visit, so I decided to clean up the weekend menu to impress my little sis ;). I wanted a light and refreshing side dish to go with a simple grilled salmon, and I came up with this delicious and super fresh Asian Cucumber Salad. The flavors are complex but clean and it pairs perfectly with any grilled fish. Lauren approved, and the rest of the family devoured it. Give this one a try, I think it will be a new summer favorite.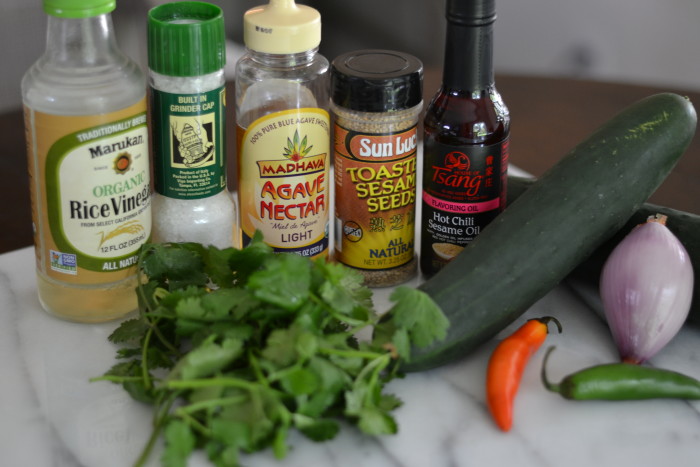 The ingredients are clean and simple and you should be able to find them all in the international section of your grocery store. You will need 2 large cucumbers, a shallot, 1 red Serrano pepper (green is fine if you cant find red), cilantro, rice vinegar, slat, agave nectar, toasted sesame seeds and hot chili sesame oil. I also added Ponzu sauce to the dressing (I forgot to put it in this picture).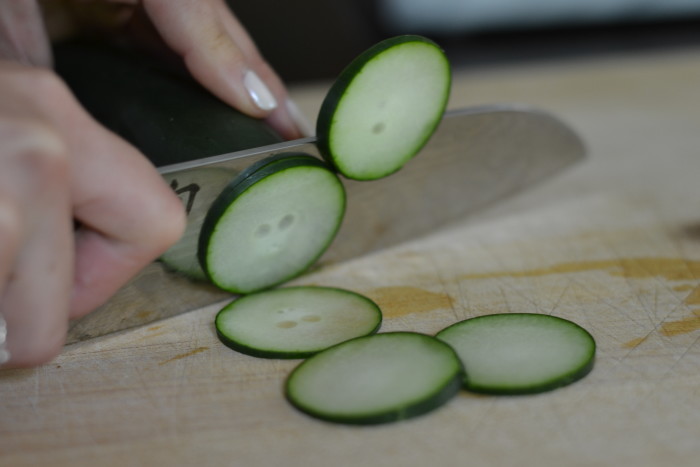 Start by thinly slicing the cucumbers.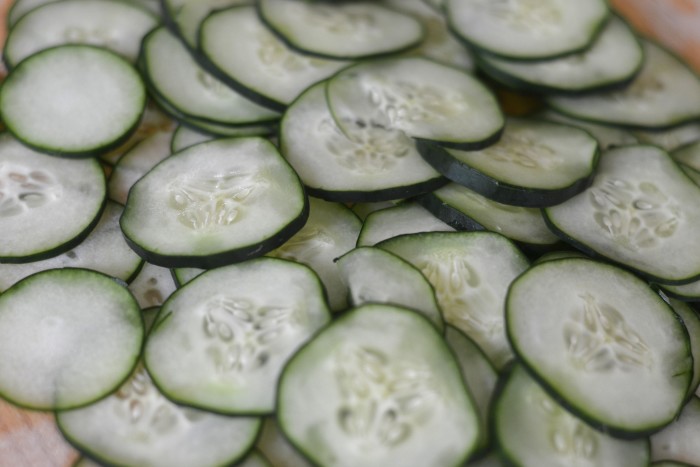 Using a mandoline slicer would be the best for this because the thinner the better, but if you don't have one, just do your best with a very sharp knife.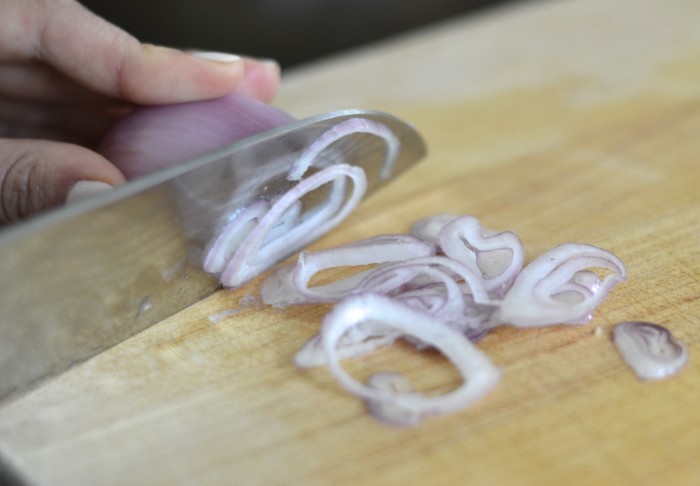 Next, thinly slice the shallot. I like to keep everything super thin on this recipe so if your knife skills are shaky, slow down and concentrate… or buy a mandoline slicer

Then thinly slice the Serrano peppers. I love the flavor of Serranos and sometimes you can find them in this beautiful red color, I could only find one so I also added a green one. The red gives this salad the perfect pop of color.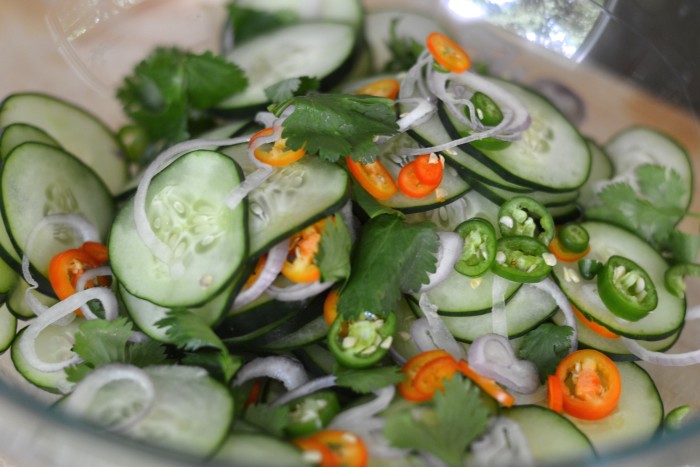 Then add in the cilantro. I usually chop cilantro, but for this recipe I just tear the leaves off. It looks beautiful and leaving the leaves whole allows you to really taste the flavor of the cilantro.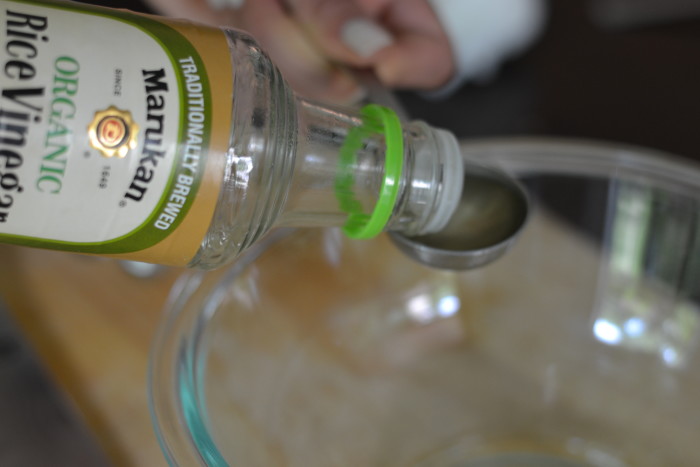 For the dressing, start by adding the rice vinegar. Rice vinegar is used in Asian cooking and gives this salad the perfect acidic flavor, if you cant find rice vinegar you could also use apple cider vinegar.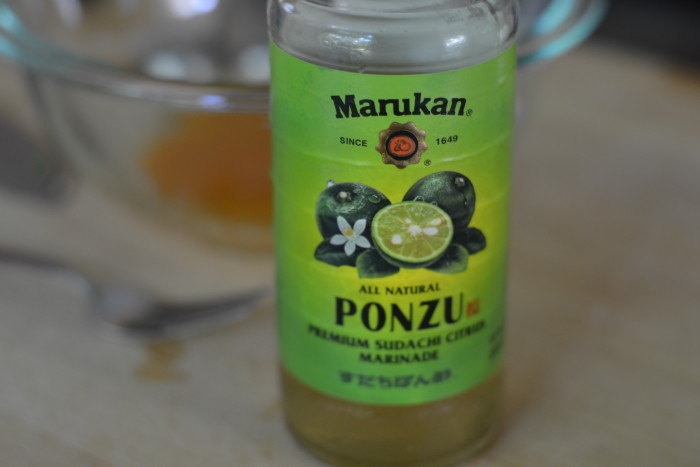 Next, add in the Ponzu sauce. Ponzu is absolutely delicious and if you haven't tried it, you will be addicted for sure. It is a citrus sauce from Japan and it goes so well with salads, sushi and grilled fish. If you buy the dark brown version (which is also delicious) just skip the salt in this recipe because it is mixed with soy.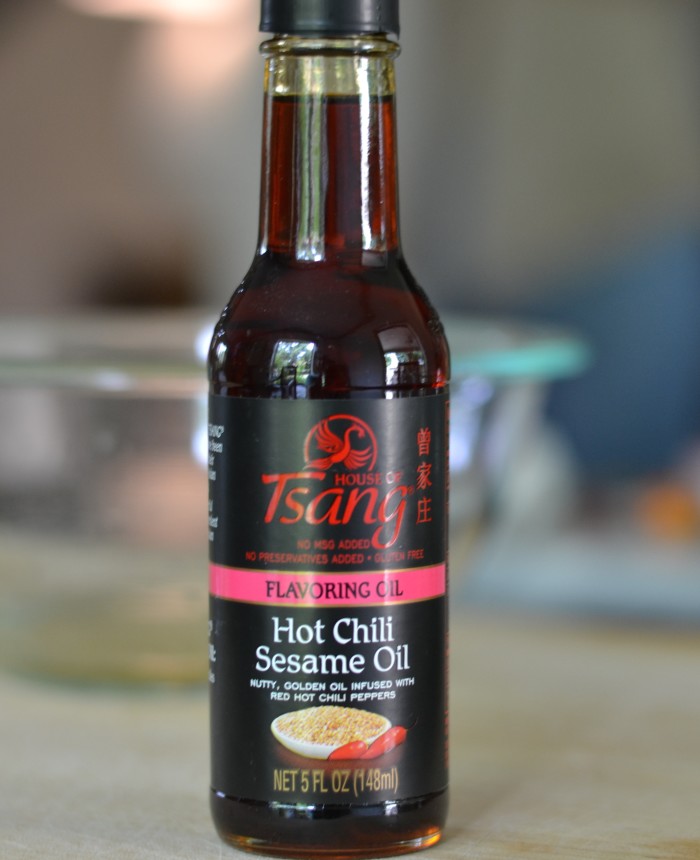 Then add the sesame oil. I like to get the hot chili flavor because it has a little heat. You can find this in the Asian section of your grocery store.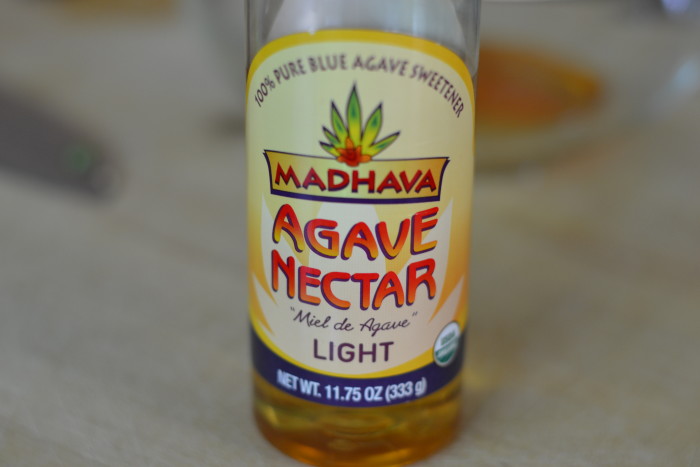 Add the agave nectar. Normally I would use honey or sugar in this recipe, but Lauren suggested I use the agave for a healthier sweetness and I absolutely loved the flavor.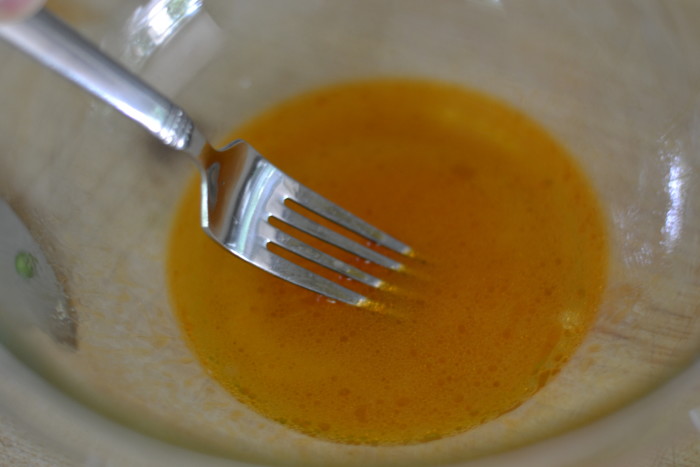 Use a fork to whisk the dressing together and then season with salt (if you use the clear Ponzu)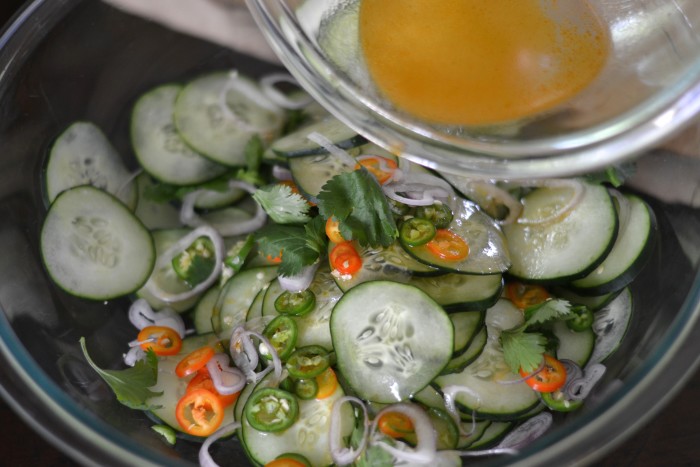 Pour the dressing all over the cucumber mixture and toss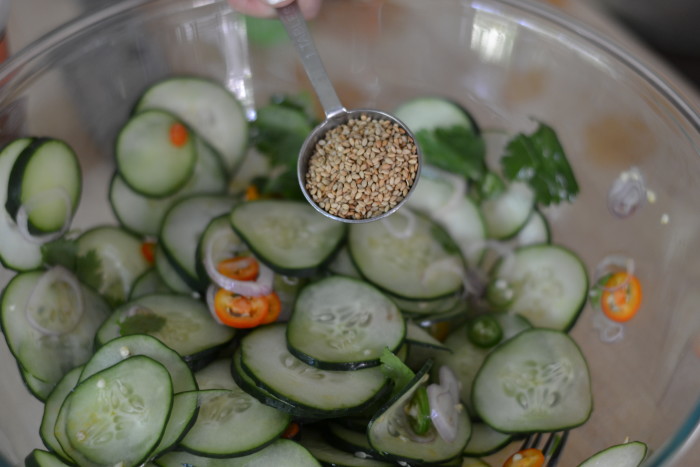 Add in the toasted sesame seeds, toss, cover with plastic wrap and let chill in the refrigerator for at least 1 hour before serving.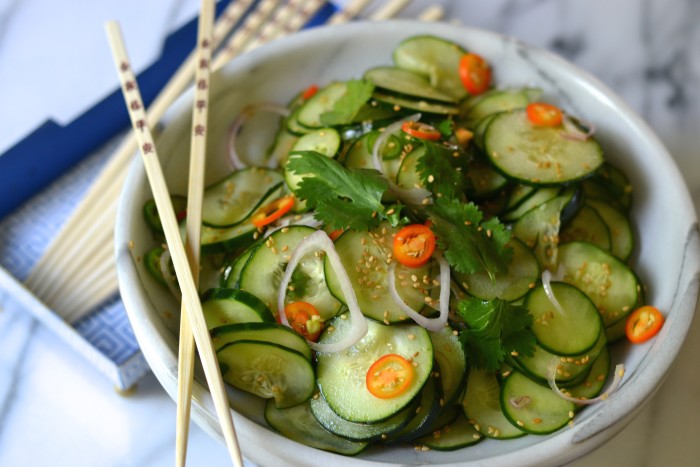 Serve as a super healthy lunch or alongside grilled fish and enjoy!
Ingredients
2 large cucumbers, sliced super thin
1 small shallot, sliced super thin
1 red Serrano pepper, sliced super thin (you can use a green Serrano if you cant find red)
2 tablespoons fresh whole cilantro leaves
1 tablespoon toasted sesame seeds
4 tablespoons rice wine vinegar
4 tablespoons Ponzu
1 tablespoon hot sesame oil
1 teaspoon Kosher salt
1-2 teaspoon agave nectar
Instructions
Add the thinly sliced cucumber, Serrano pepper, and shallot to a large glass bowl
Remove the cilantro leaves from the stem and add them to the bowl
In a separate bowl, combine the rice wine vinegar, Ponzu, sesame oil, salt, and agave nectar and whisk
Pour the dressing over the salad and toss
Add the sesame seeds, cover and place in the refrigerator and let chill for at least one hour before serving
Serve cold
http://martinfamilystyle.com/asian-cucumber-salad/
Usually there is no need to visit apothecary every time you going to get medicaments. Nowadays, it is formidably to select of repute web-site. Let's talk about various medicines exists. Revia treating alcoholism addiction in adults, as part of a complete treatment program. Again it may also be used to treat other complaint as determined by your health care purveyor. Cialis is a cost effective drug for helping men to sustain an erection. What about cialis price and sexual dysfunctions? You may have heard about cheapest pharmacy for cialis A extended form of sexual dysfunction among men is the erectile dysfunction. Such disorders commonly signal other diseases: low libido or erectile dysfunction can be the symptom a strong health problem such as heart trouble. Why it happen? How common is erectile disfunction? Generally the treatment options may include sexual malfunction medications or hormone treatments. While Cialis is considered safe enough on their own, nevertheless, soundness care professionals say take it in large amounts could be unsafe. Follow all directions on your prescription label.