Fourth of July Mini Pie
Mini Cherry Pies
These mini pies are a fun twist on the classic all American cherry pie. Great for entertaining, these bite sized treats will be the perfect addition to your Fourth of July festivities. Sweet cherry filling on top of flaky crust is a hard combination to beat, especially when served with a big scoop of vanilla ice cream!
Let's talk crust…
Homemade crust is always the way to go, and this recipe is so simple that you will no longer have an excuse to get the store bought stuff ever again!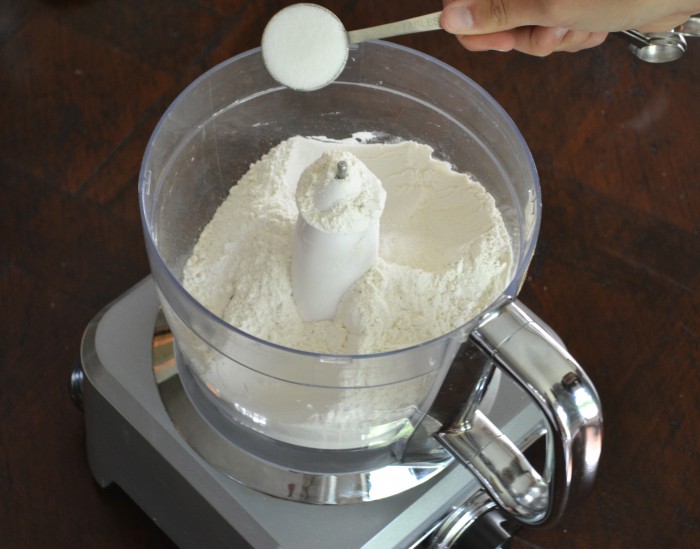 Start by combining the flour, sugar, butter and water. Using the pulse setting on the food processor, pulse until the mixture is combined.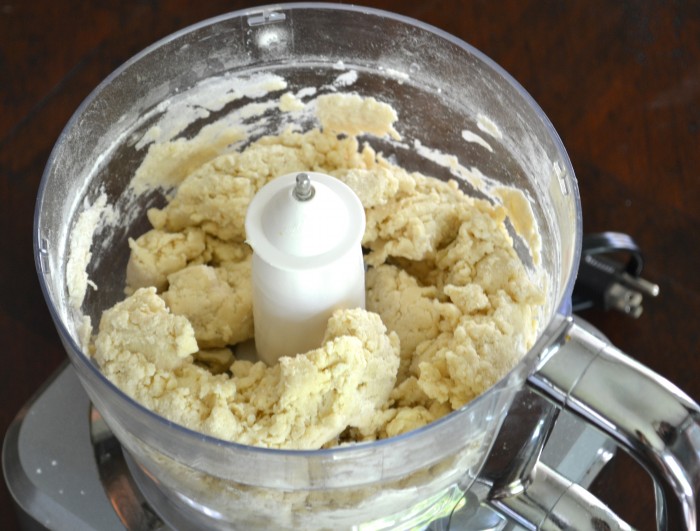 At this stage the dough should be pretty crumbly. Next, split the dough in half to make two balls and wrap them in plastic wrap. Put the dough in the refrigerator while you make the filling.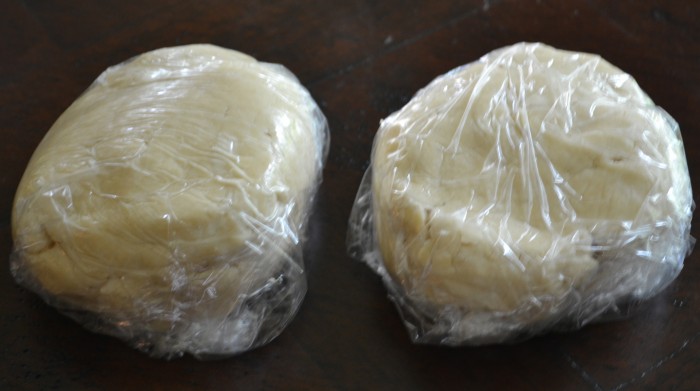 For the filling…
Place the cherries and lime juice in a covered saucepan.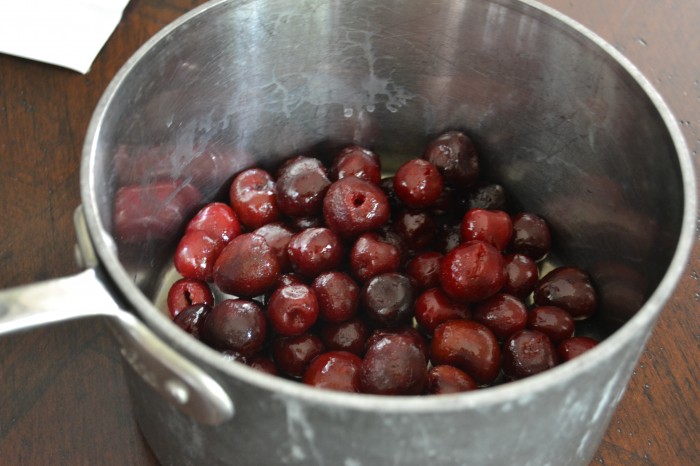 Then, in a separate bowl combine the sugar and corn starch.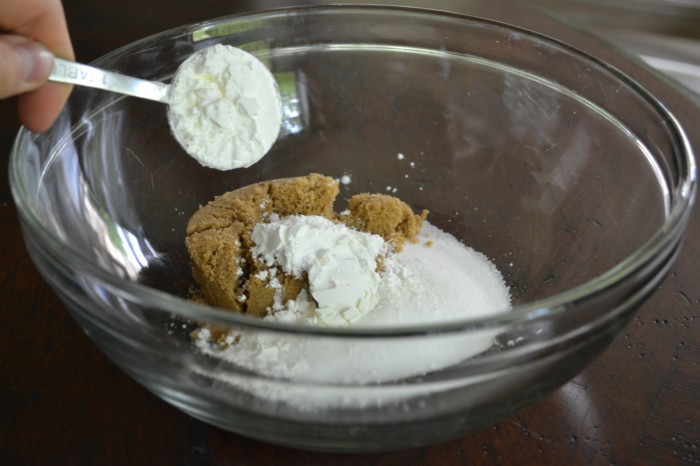 Remove the cherries from saucepan, leaving the juice and set aside.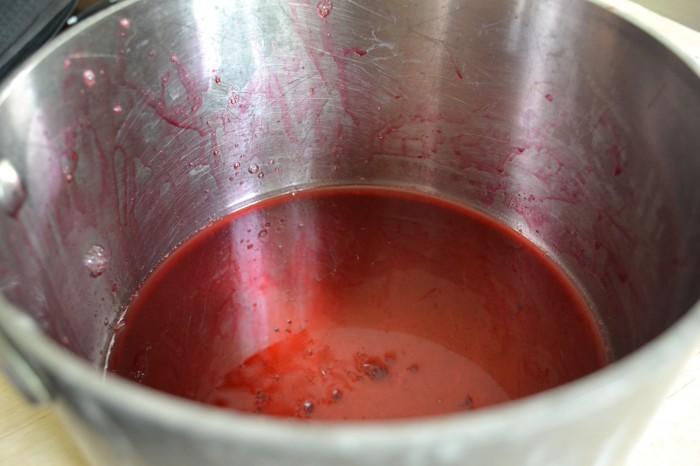 Mix the sugar mixture into the juice and cook over low heat until it thickens.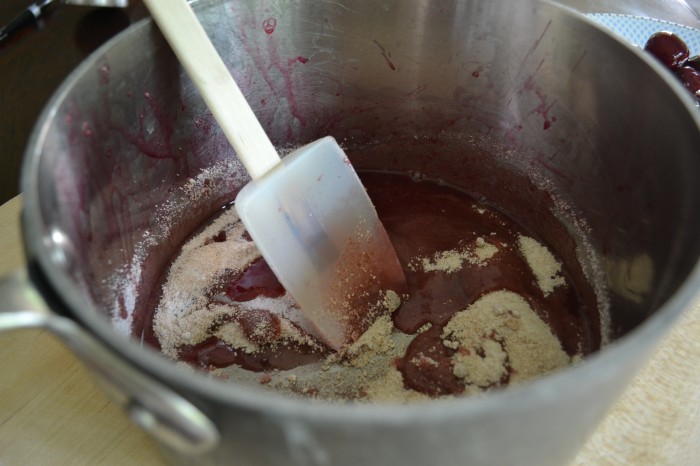 Add in the almond extract.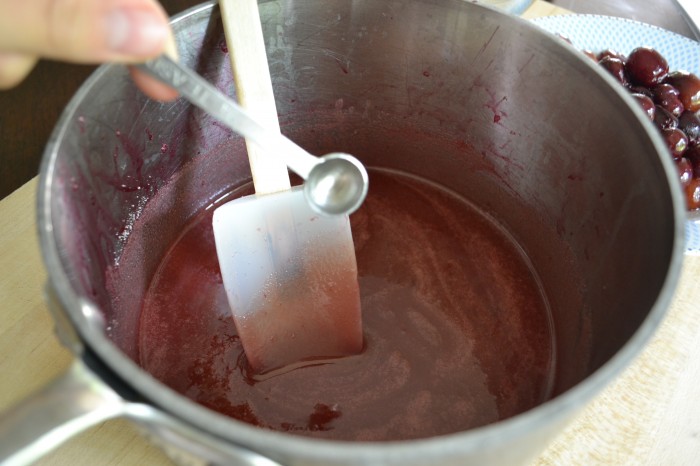 Almost done… add the cherries back into the sauce and let cool!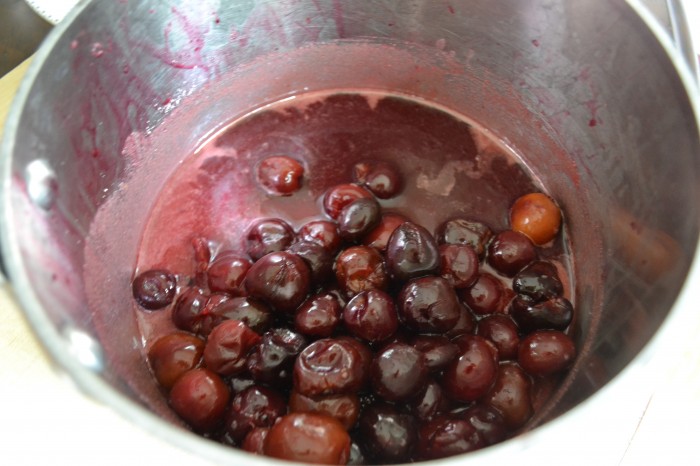 Assembling the pie…
Roll one of the balls of dough onto a hard cool surface covered in flour to avoid sticking.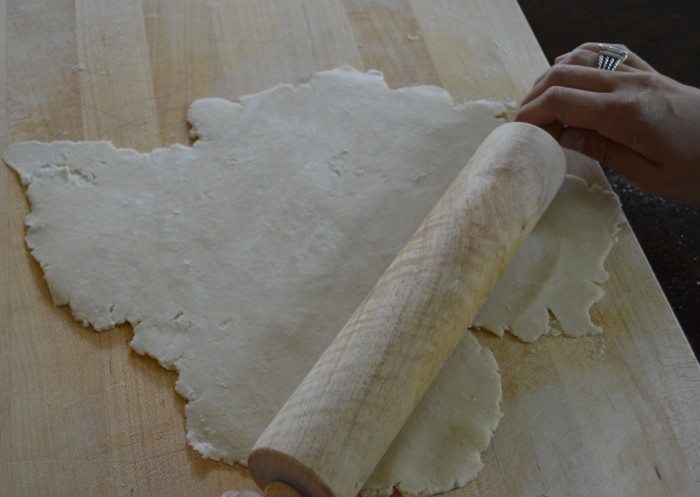 Cut out 12 four inch circles… try to avoid making the circles too thin!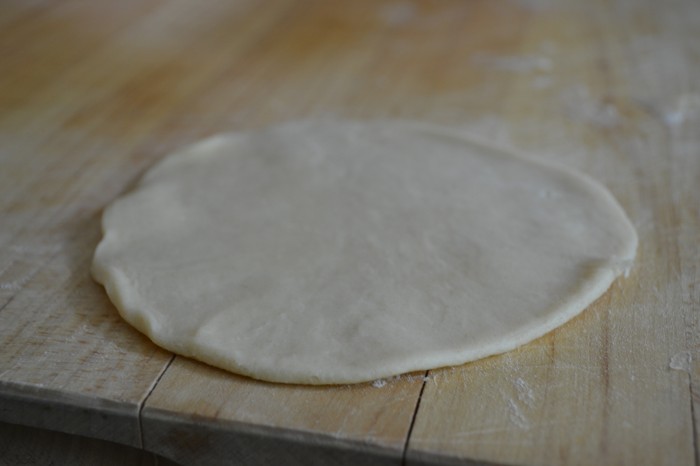 Softly press each circle into the cupcake pan.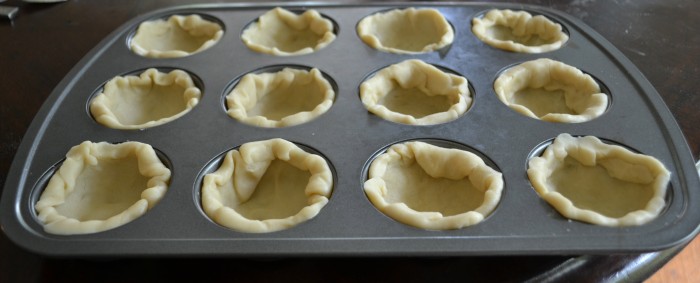 Spoon the cherry filling to the rim of the crust.
For the top of the pies, roll out the second ball and cut into strips… about 1/4 inch.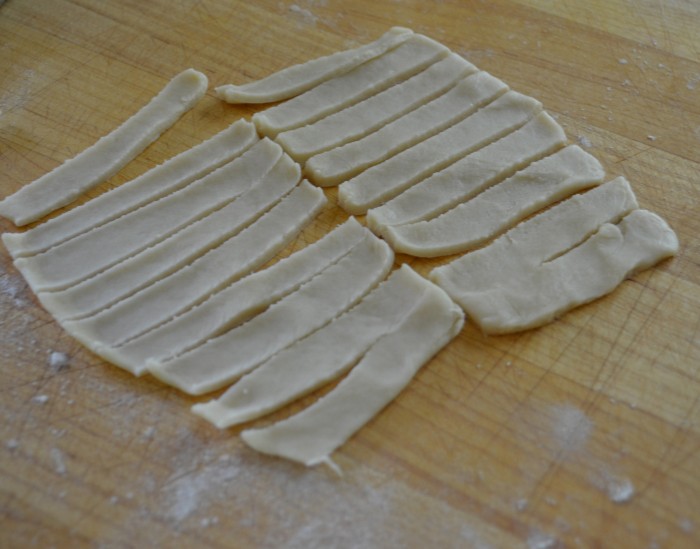 If you want to keep it simple, lay 3 strips of dough in a horizontal direction and then layer three more in a vertical direction.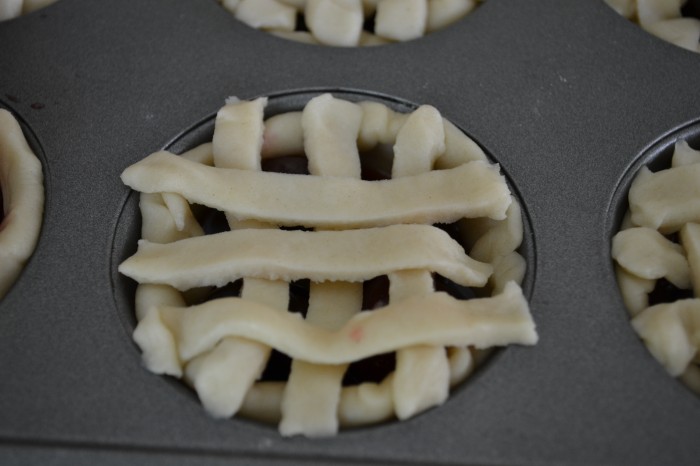 If you are feeling fancy, weave the strips…it will really impress your guests!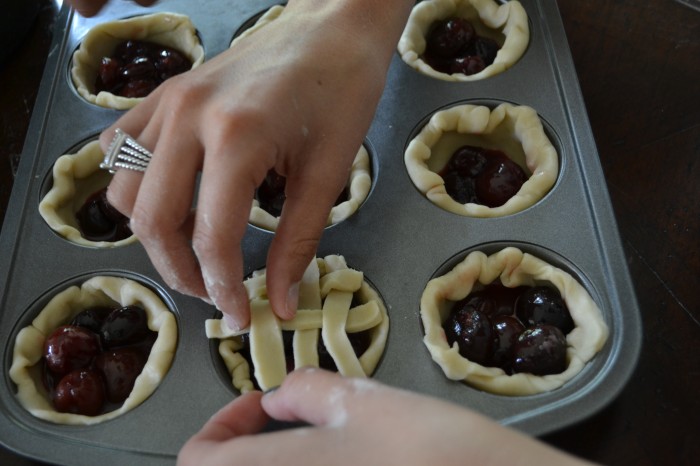 Finally, bake in a  375 degree oven for 25 minutes.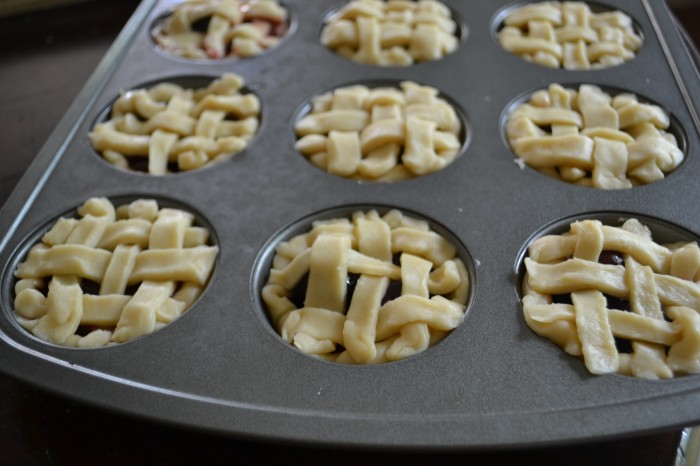 Ingredients
2 1/2 cups flour

1 tablespoon sugar

2 sticks cold salted butter

1/2 cup cold water

3 cups frozen sweet cherries

the juice of 1/2 lime

1/3 cup sugar

1/3 cup brown sugar

2 tablespoons corn starch

1/4 tablespoon almond extract
Directions
For the crust…

In a food processor combine the flour and sugar

Cut the butter into pieces and add to the flour mixture

Pulse until the butter in combined

Slowly add in the cold water

Pulse until just combined and still crumbly

Separate the dough into two balls and wrap in plastic wrap

Place in the refrigerator and let cool for 30min

For the filling…

Place frozen cherries and lime juice  in a covered saucepan over med/low heat and cook for 10 min

In a separate bowl combine the sugars and corn starch

With a spoon remove the cherries, leaving the juice in the sauce pan

Add the sugar mixture to the cherry juice and turn on low heat

Stir continuously until juice begins to thicken, about 2 min

Remove from heat and add almond extract and cherries

Let cool

Assembling the pies…

Roll out one ball of dough on a floured surface

Using a 4 inch cookie cutter cut out 12 circles

Press each circle into a nonstick cupcake pan

Spoon in the filling until almost full

Roll out the second ball of dough and cut into 1/4 inch strips for the top

Set 3 strips horizontal and 3 strips vertical

Place in a 375 degree oven for 25-30 min or until the tops are golden
Usually there is no need to visit apothecary every season you going to get medicaments. Nowadays, it is formidably to select of repute web-site. Let's talk about various medicines exists. Revia treating alcoholism addiction in adults, as part of a complete treatment program. Again it may also be used to treat other complaint as determined by your health care purveyor. Cialis is a cost effective drug for helping men to sustain an erection. What about cialis price and sexual dysfunctions? You may have heard about cheapest pharmacy for cialis A extended form of sexual dysfunction among men is the erectile disfunction. Such disorders commonly signal other diseases: low libido or erectile dysfunction can be the symptom a strong health problem such as heart trouble. Why it happen? How common is erectile malfunction? Generally the treatment options may include sexual dysfunction medications or hormone treatments. While Cialis is considered safe enough on their own, nevertheless, soundness care professionals say take it in large amounts could be unsafe. Follow all directions on your formula label.