Mexican Soup
 This Mexican soup makes me excited for the cold weather! It's the perfect recipe for a cold night by the fire! This is a play on my favorite tortilla soup, but I took out the tortillas and boosted up the flavor with some delicious spices. I love this soup because you can make it ahead of time and throw it on the stove for dinner. This soup is also great because it has a ton of flavor and it's pretty much guilt free!! You can make it totally guilt free by skipping the butter and topping with only green onions and cilantro! Either way… it's so good!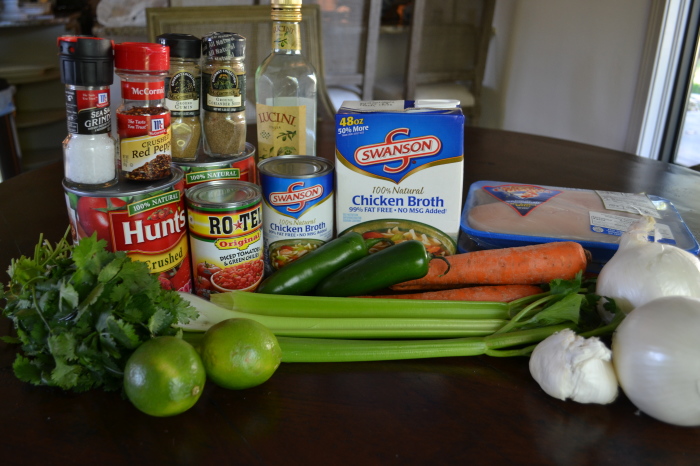 You will need- onions, garlic, carrots, celery, limes, cilantro, chicken breasts, a can of crushed tomatoes, Rotel, chicken broth, salt, pepper, crushed red pepper, cumin and coriander.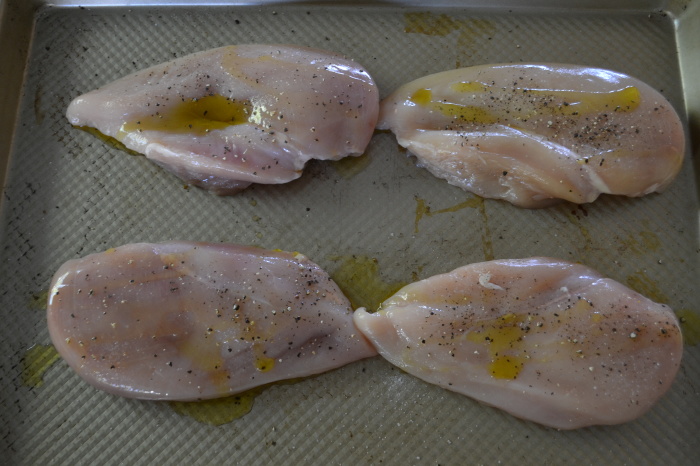 Start by seasoning the chicken with salt and pepper on each side. Drizzle with olive oil and place into a 375 degree oven for 25 minutes.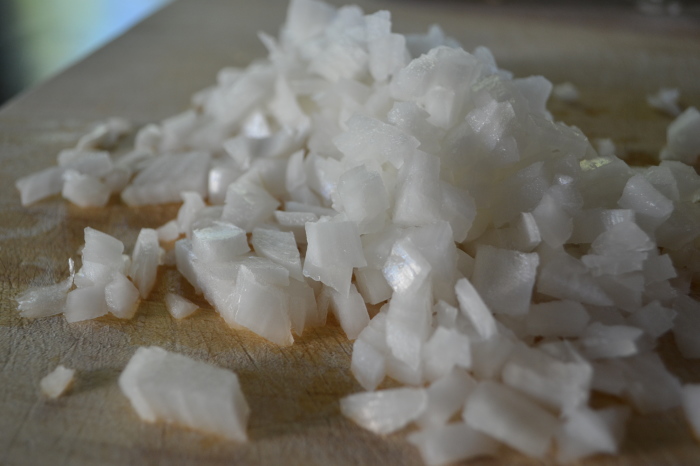 Dice up 2 white onions. This will seem like a ton of onions, but don't worry, this gives the soup a ton of flavor!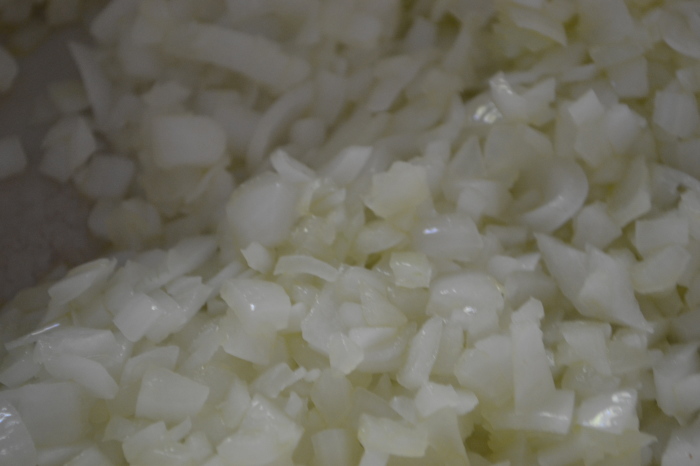 Add the onions and olive oil into a large pot and let cook over medium heat until the onions become translucent, about 5 minutes.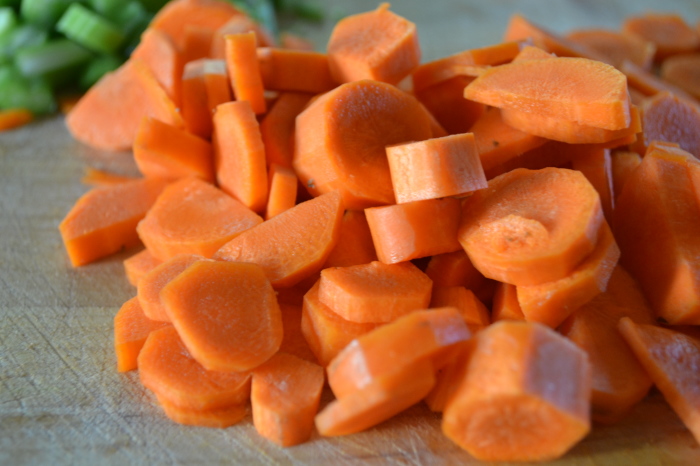 Next you want to peel and chop your carrots.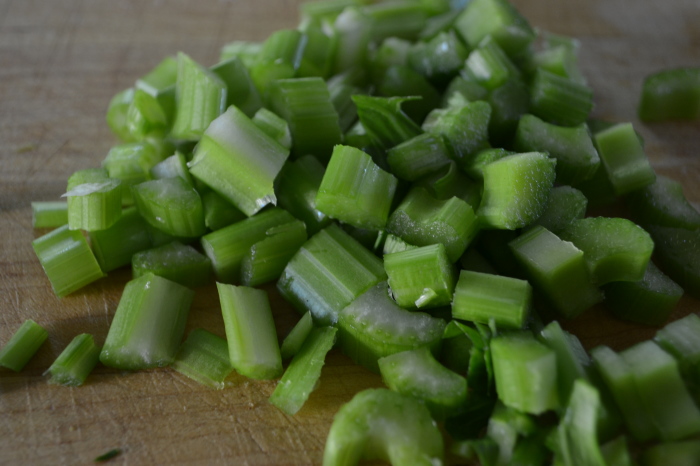 Then continue by chopping up the celery, cut the celery stocks in half length wise before dicing. This soup requires quite a bit of chopping but I promise it is well worth it! Sometimes I will chop up all the veggies ahead of time and then assemble the soup later.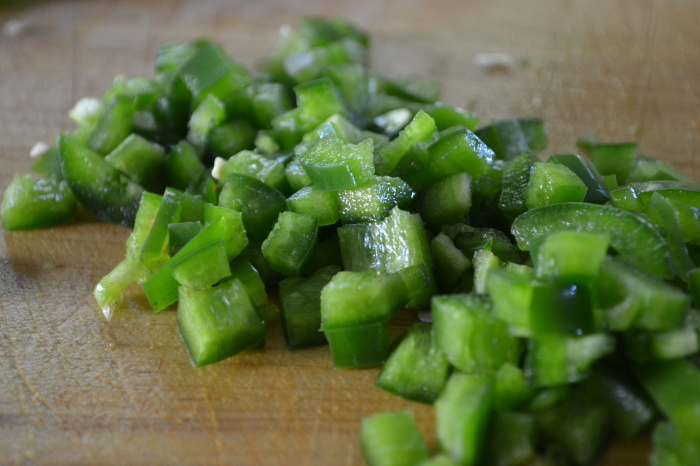 Now chop up the jalapeños, be sure to remove the seeds. This soup isn't spicy so if you want it to be, add in 2 or 3 jalapeños.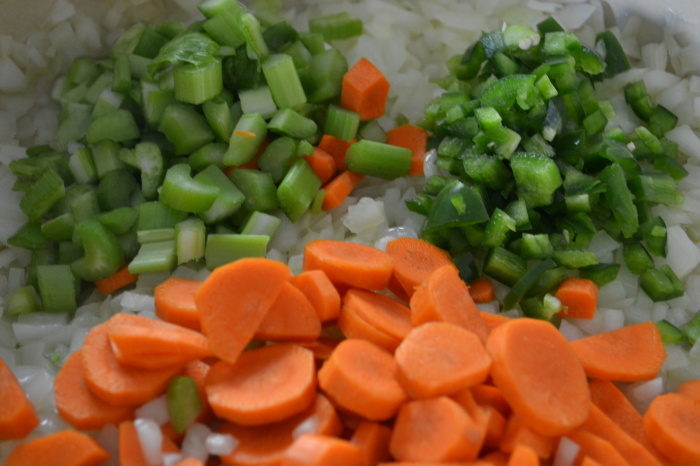 Once everything is chopped, add the veggies in with the onions and let cook for about 10 minutes.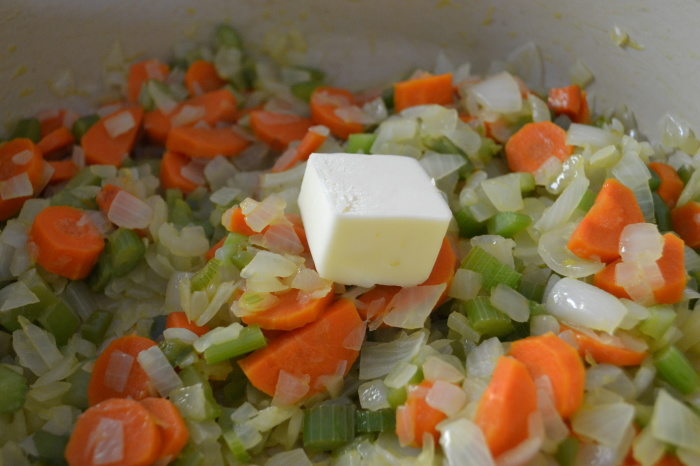 While the carrots, celery and jalapeños  are cooking, mince up the 4 cloves of garlic. Add in the garlic and 1 tablespoon of butter. The butter adds a richness that is delish.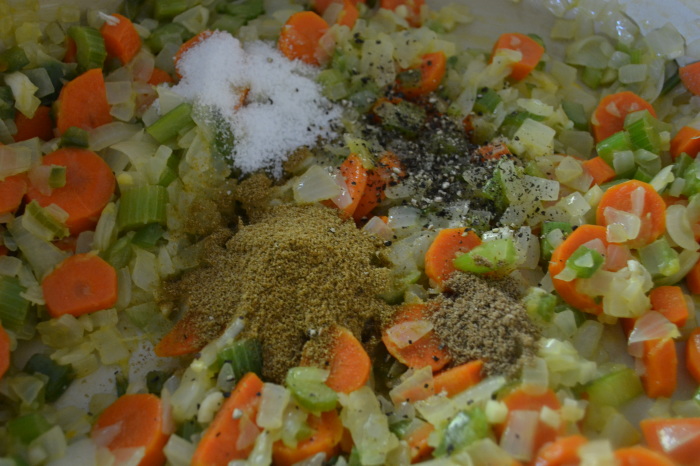 When the butter melts, season up the soup. Add in the salt, pepper, cumin and coriander. You will use a lot of cumin but it brings big flavor!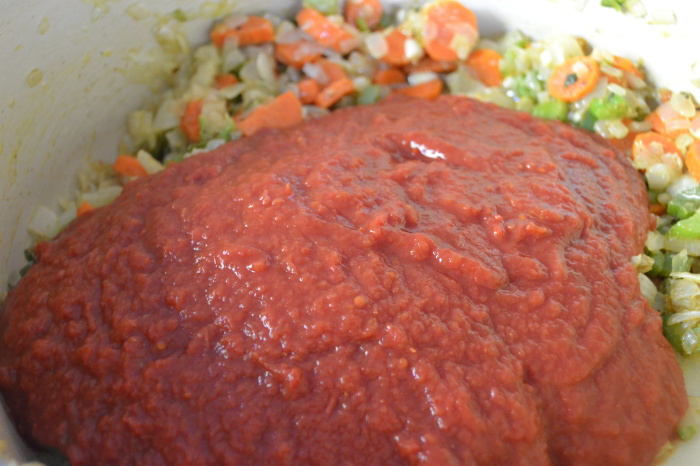 Mix in all the seasonings and then pour in the can of crushed tomatoes and the can of Rotel.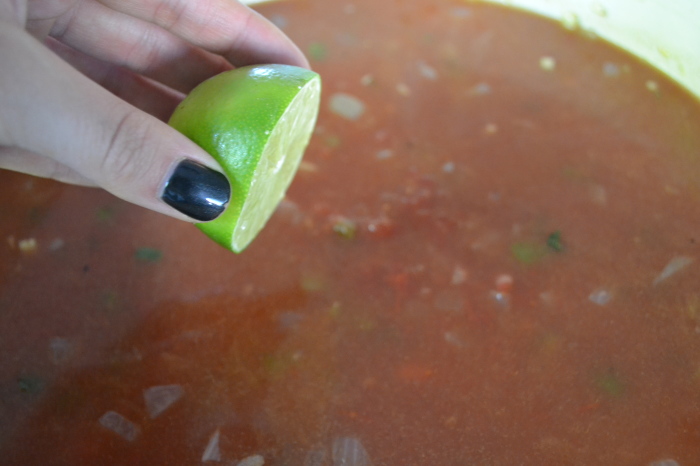 Pour in the chicken broth and squeeze in the limes. Bring the soup up to a boil.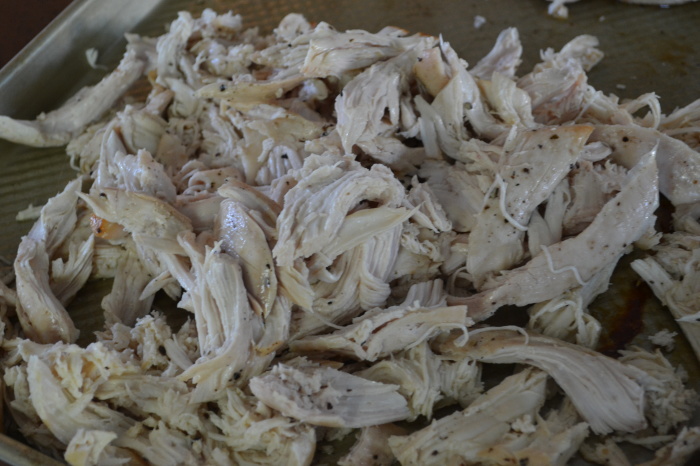 While the soup in cooking away, shred up the chicken using 2 forks. I like to let the chicken rest for about 15 minutes before I shred it, that way the juices will redistribute and the chicken will be delicious.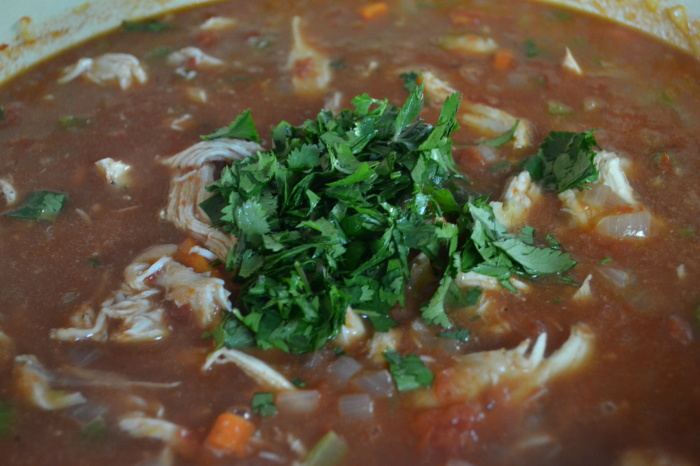 As soon as the soup comes up to a boil, reduce the heat to low and add in the chicken and cilantro. Let simmer for at least 30 minutes.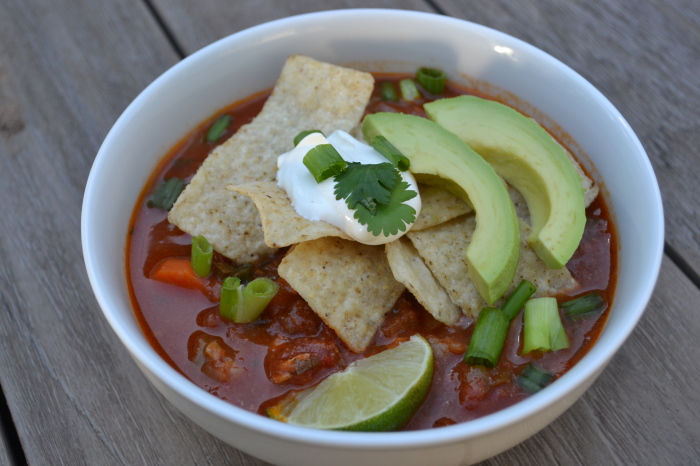 Top with tortillas chips, cheese, sour cream, avocado, lime wedges, cilantro, green onion….. really anything!
Ingredients
4 chicken breasts
1 tablespoon olive oil (for the chicken)
48oz chicken stock
1- 28oz can crushed tomatoes
1 can rotel
2 white onions
3 celery stocks(about 1cup)
3 carrots peeled (about 1 cup)
1-2 jalapeño
2 limes
4 cloves of garlic
1/4 cup olive oil
1 tablespoon butter
1 tablespoon cumin
2 teaspoons salt
2 teaspoons black pepper
1 teaspoon coriander
1/4 cup cilantro

Toppings

Pepper Jack cheese, sour cream, tortilla chips, avocado, lime wedges, cilantro and green onions
Instructions
Start by seasoning the chicken with a pinch of salt and pepper
Drizzle olive oil onto the chicken and place on a baking sheet
Roast the chicken in a 375 degree oven for 25 minutes
When the chicken is finished let sit for 10-15 min then shred up using two forks
While the chicken is roasting dice up 2 white onion
Place the onions into a large dutch oven with 1/4 cup of olive oil
Let the onions cook over medium heat until they become translucent, about 5 minutes
Dice up the celery, carrots and jalapeños and add in with the onions
Let the mixture cook for 10 minutes
Mince up 4 cloves of garlic and add them into the pot
Add in a tablespoon of butter
Season with the cumin, coriander, salt and pepper
Pour in the can of Rotel, crushed tomatoes and add in the chicken broth
Squeeze in the juice of 2 limes, bring to a boil
Reduce the heat to low and add in the shredded chicken and cilantro
Let simmer on low for at least 30 min
Top with your favorite toppings and enjoy!
http://martinfamilystyle.com/mexican-soup/
Usually there is no need to visit apothecary every time you going to get medicaments. Nowadays, it is formidably to select of repute web-site. Let's talk about various medicines exists. Revia treating alcoholism addiction in adults, as part of a complete treatment program. Again it may also be used to treat other complaint as determined by your health care purveyor. Cialis is a cost effective drug for helping men to sustain an hard-on. What about cialis price and sexual dysfunctions? You may have heard about cheapest pharmacy for cialis A extended form of sexual disfunction among men is the erectile dysfunction. Such disorders commonly signal other diseases: low libido or erectile malfunction can be the symptom a strong health problem such as core trouble. Why it happen? How common is erectile disfunction? Generally the treatment options may include sexual malfunction medications or hormone treatments. While Cialis is considered safe enough on their own, nevertheless, soundness care professionals say take it in large amounts could be unsafe. Follow all directions on your recipe label.