Pigs in Puff
Everyone knows that the star guest at any dinner party is the person who brings the big platter of pigs in a blanket. Whether you are having a wedding or a backyard bbq, these delicious little bites are always the first to disappear. This year we added our version of pigs in a blanket to our Easter appetizer lineup, and just as suspected, they didn't last long. I love this recipe because you can make them super casual and serve them with the classics- ketchup and mustard, or you can glam them up a bit and get creative with the dipping sauces and presentation. For our Easter lunch, we went with a modern arrangement and a delicious and spicy Sriracha dipping sauce.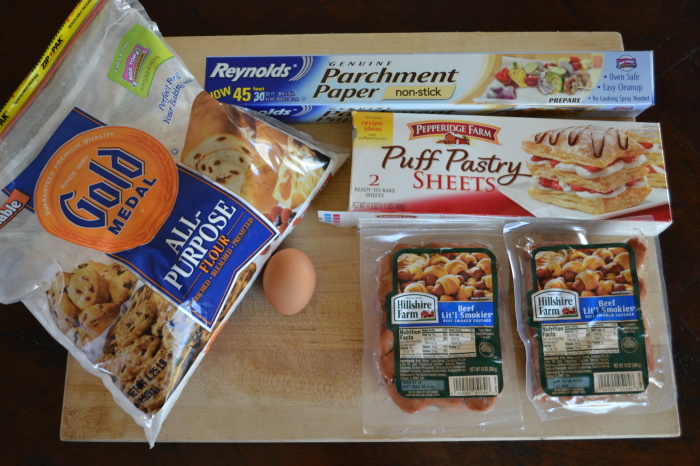 You will need some all-purpose flour, 1 large egg, two packs of fully cooked mini sausages (about 40), 4 sheets of puff pastry (two boxes.. only one box made this pic, opps) and some parchment paper. You can use biscuit or roll dough for these too, but the puff pasty gives them a much lighter flavor and we think it makes a big difference.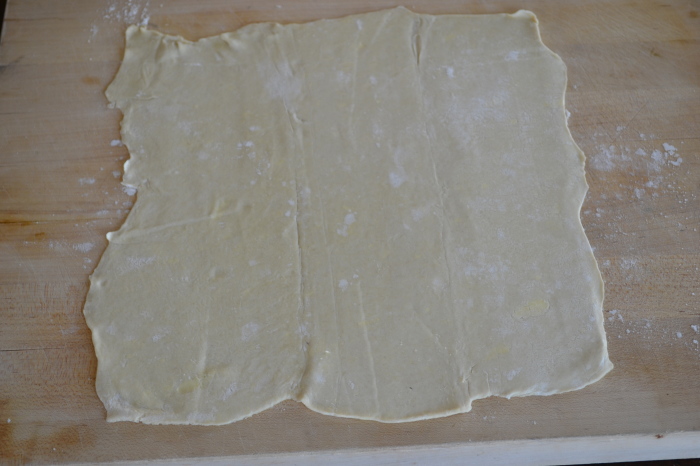 Start by rolling out the thawed puff pastry. Make sure to flour a large flat surface and gently roll out the puff pasty just enough to be able to get seven slices lengthwise and three horizontal slices.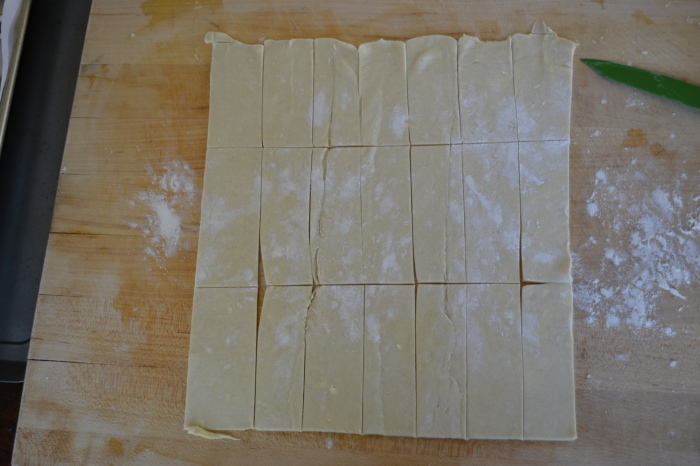 Using a pairing knife or pizza cutter, cut the puff pastry into strips. Make 7 vertical slices and 3 horizontal slices.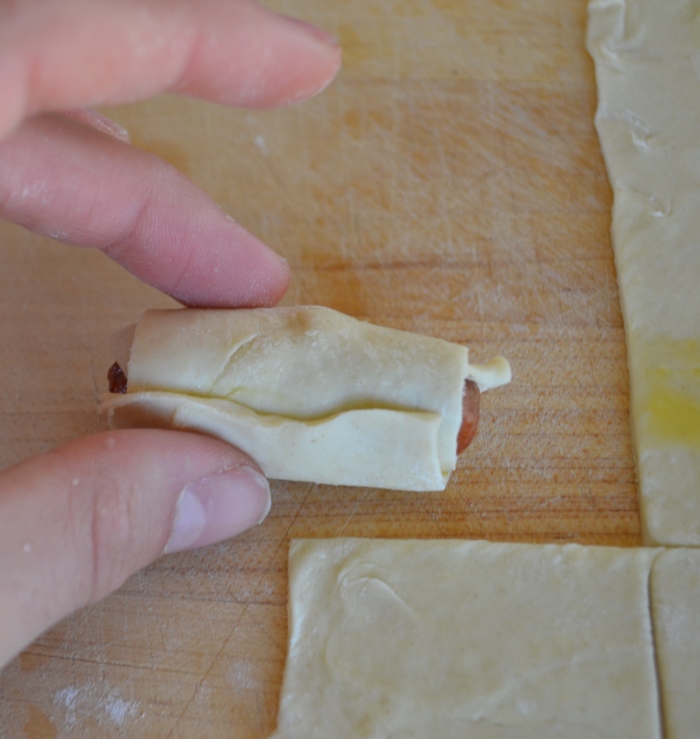 Carefully wrap each mini sausage with the puff pastry and place them, seem side down, on a parchment paper lined baking sheet.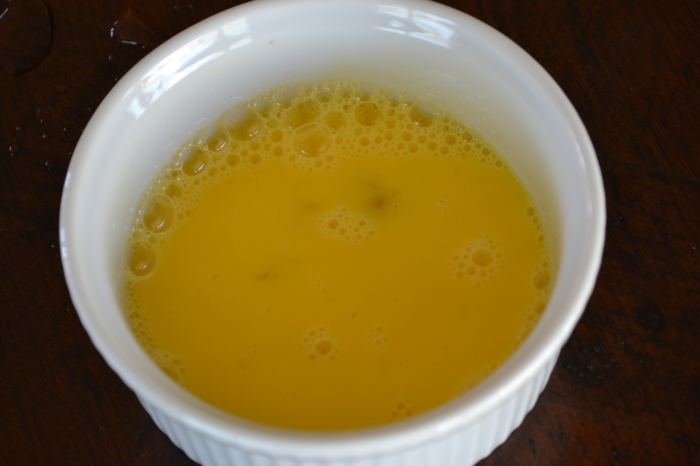 Make an egg wash by beating one large egg in a small bowl and adding a splash of water.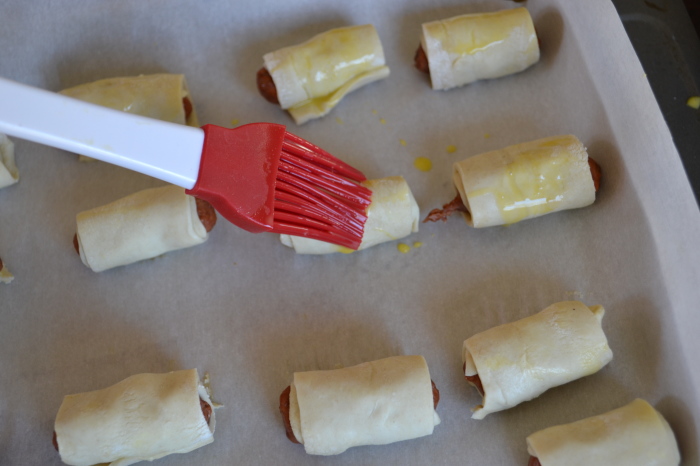 Brush the top of each sausage with a small amount of the egg wash.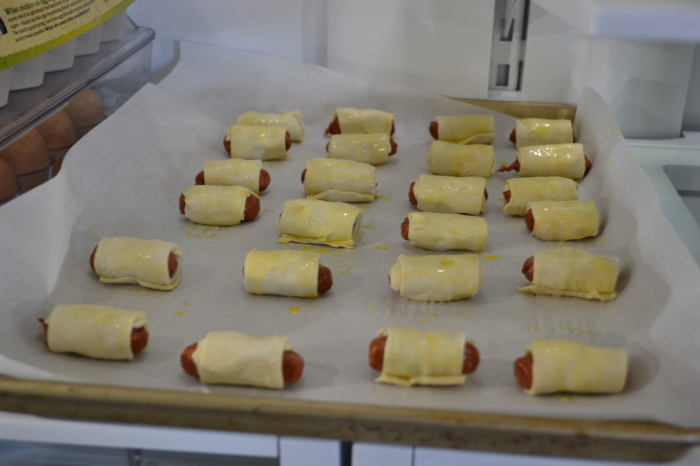 Place your first batch in the refrigerator for 15 min while you make your second tray. Letting the puff pastry cool before baking makes it light and flakey.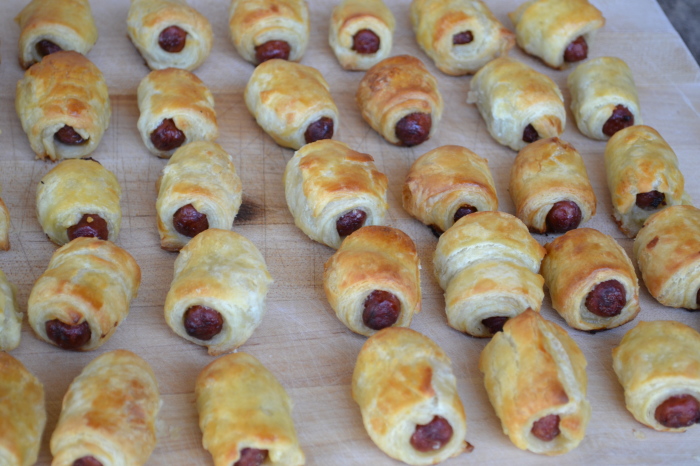 Bake at 450 for 15 minutes until the tops are golden brown and the puff pastry is cooked.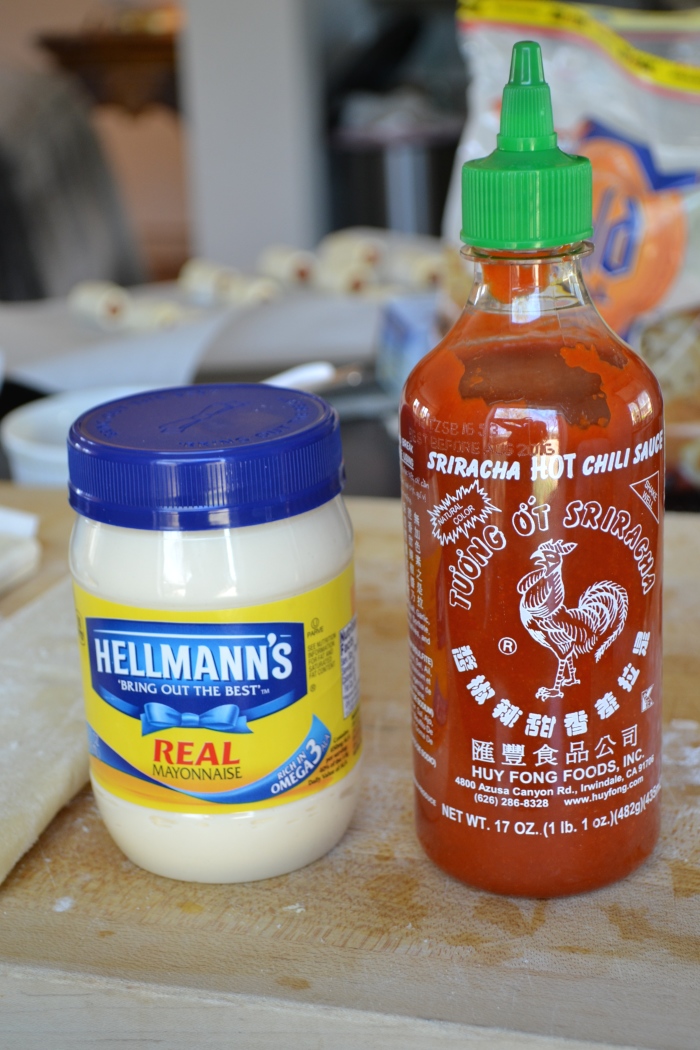 For the creamy Sriracha dipping sauce, you will need some mayonnaise and some Sriracha sauce- so simple! Sriracha is spicy chili sauce that has a ton of flavor. If you don't like spicy, you may want to rethink this sauce or add about half of the amount in the recipe.
Simply mix the mayo and Sriracha together and refrigerate while the pigs are cooking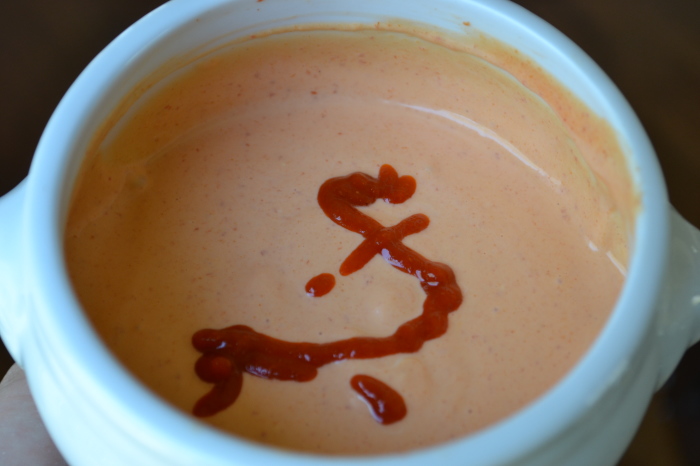 Then get super fancy and throw some abstract art on the sauce before serving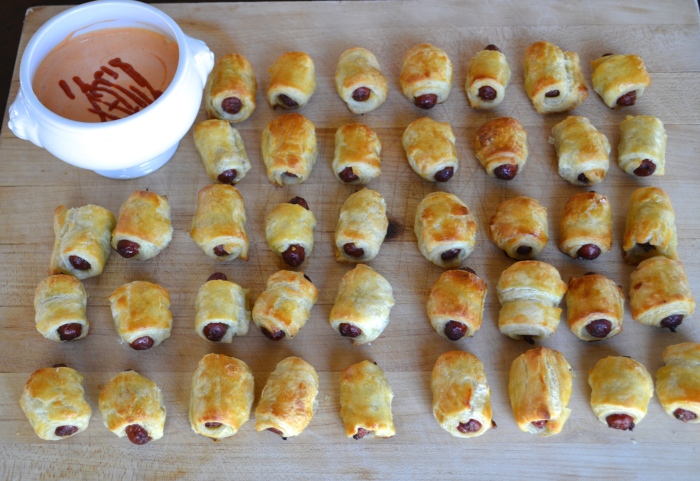 We served ours right on the cutting board for a rustic and playful feel, but the sky is the limit when it comes to arranging these little guys.
Enjoy!
Ingredients
Pigs in Puff

All-purpose flour- for surface
4 sheets of puff pastry
35-40 fully cooked mini sausages
1 large egg, beaten

Creamy Sriracha Dipping Sauce

2/3 cups mayonnaise
1/3 cup Sriracha sauce
Instructions
Pigs in Puff

Preheat the oven to 450
Remove the puff pastry from the freezer and allow it to thaw
Dust a cold flat surface with some all-purpose flour
Using a rolling pin, roll out the puff pasty just enough to get 7 vertical slices and 3 horizontal slices
Use a pairing knife or pizza cutter, to cut the puff pastry into strips (7 vertical cuts and 3 horizontal cuts)
Carefully wrap the puff pastry strips around each mini sausage
Lay the sausage seem side down on a baking sheet lined with parchment paper
Brush a thin layer of the beaten egg over the top of each puff wrapped pig
Bake for 15 minutes until the puff pasty is cooked and golden brown

Creamy Sriracha Dipping Sauce

Mix the mayo and Sriracha sauce together in a bowl and refrigerate while the pigs in puff cook
http://martinfamilystyle.com/pigs-in-puff/
Usually there is no need to visit apothecary every period you going to get medicaments. Nowadays, it is formidably to select of repute web-site. Let's talk about various medicines exists. Revia treating alcoholism addiction in adults, as part of a complete treatment program. Again it may also be used to treat other appeal as determined by your soundness care purveyor. Cialis is a cost effective medicine for helping men to sustain an erection. What about cialis price and sexual dysfunctions? You may have heard about cheapest pharmacy for cialis A extended form of sexual malfunction among men is the erectile disfunction. Such disorders commonly signal other diseases: low libido or erectile dysfunction can be the symptom a strong health problem such as heart trouble. Why it happen? How common is erectile dysfunction? Generally the treatment options may include sexual dysfunction medications or hormone treatments. While Cialis is considered safe enough on their own, nevertheless, heartiness care professionals say take it in large amounts could be unsafe. Follow all directions on your recipe label.