Pork Carnitas
Tomorrow is Cinco De Mayo and this pork carnitas recipe is the perfect dish for any fiesta. I love this recipe because you can throw everything in a pot, walk away and serve a huge crowd. I know this will be a go to fiesta recipe for anyone who tries it. The best part about this pork is that it is so flavorful on its own, you don't have to worry about making a million sauces and toppings. I am keeping it super simple and  serving it on a corn tostada with fresh pico, but the possibilities are endless. Also this recipe can easily be made in a slow cooker.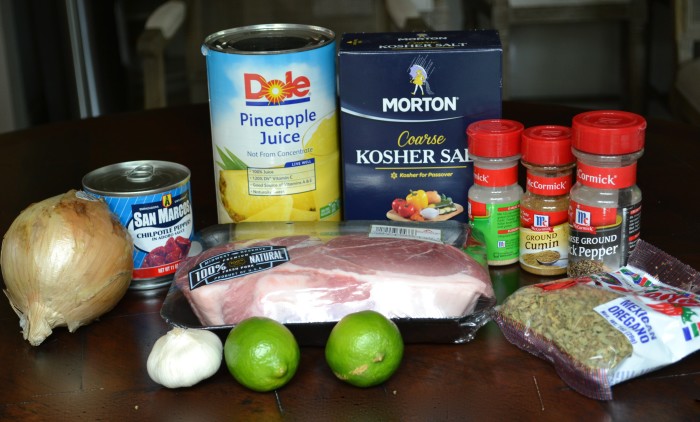 You will need a 2.5-3lb pork butt, 1 white onion, some garlic, 2 limes, 360z of pineapple juice, 1 can of chipotle peppers in adobo sauce, salt, pepper, garlic powder, cumin and Mexican oregano. You should be able to find Mexican oregano in the International food section of the grocery store, but if not- use regular oregano.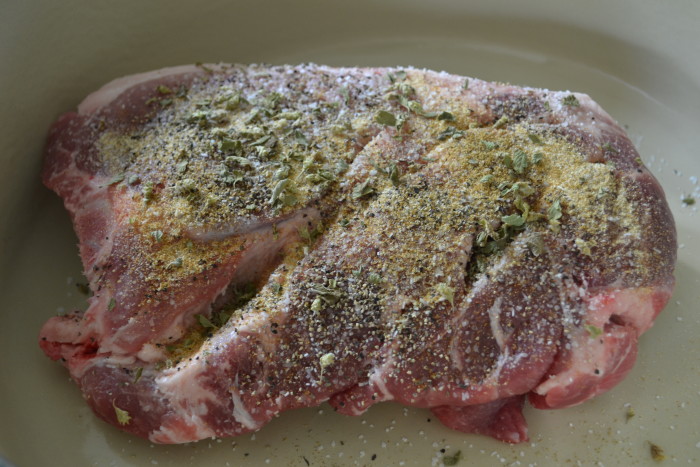 Start by seasoning the pork with the salt, pepper, garlic powder, cumin and Mexican oregano. Be sure to season all sides of the pork. I like to press the seasoning into the pork, just to be sure everything is seasoned.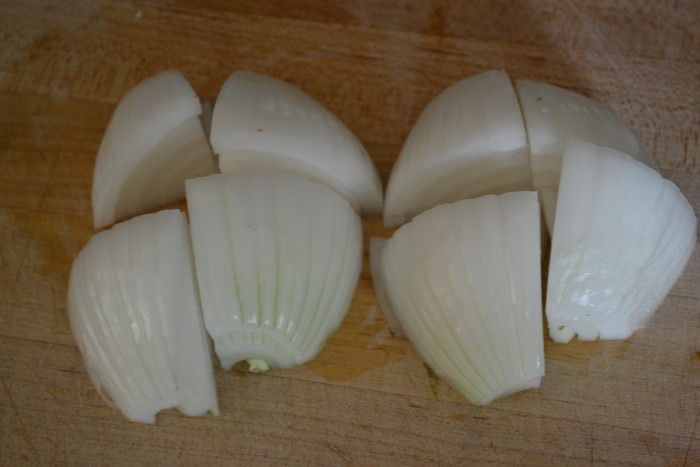 Next, cut up the onion. I slice it in half, and then quarter each half. This will give you large chunks that will be delicious in the sauce.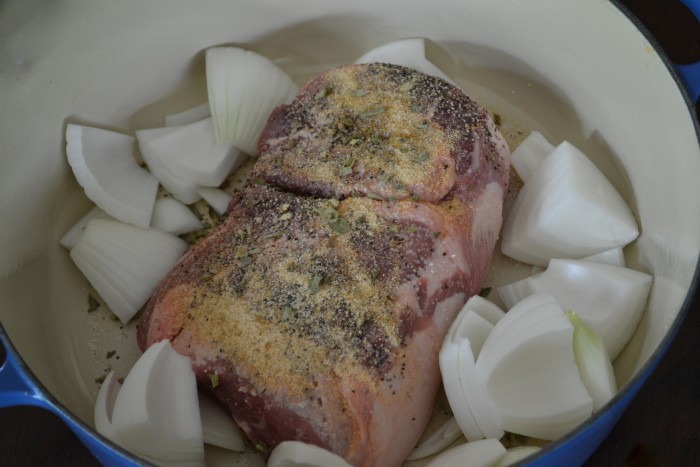 Add the onions to the pot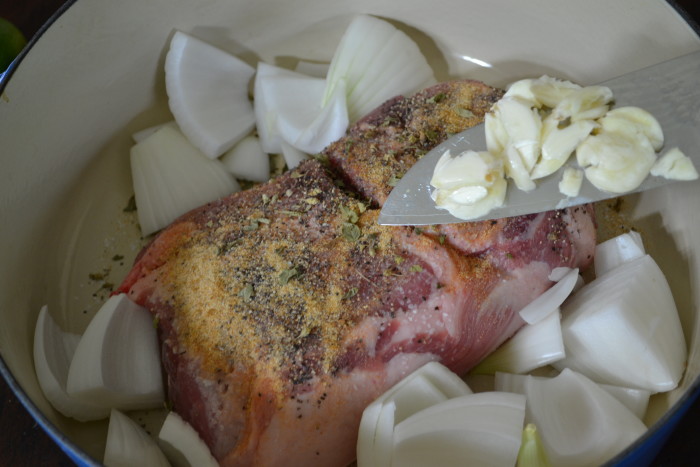 Next add in the garlic. I used 5 cloves and just peeled it and gave it a little smash with the back of my knife before adding it in.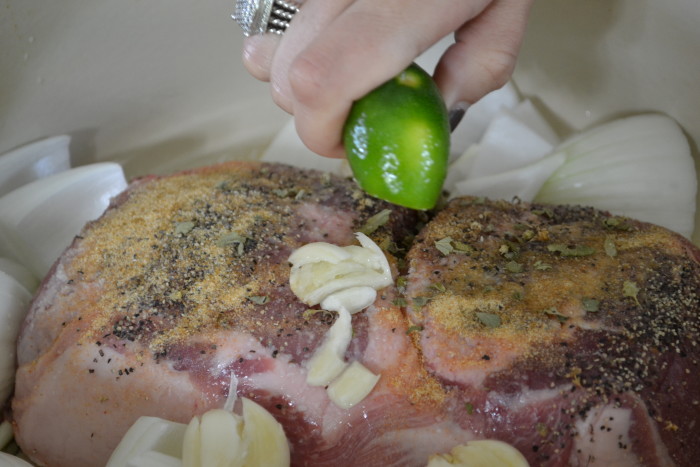 Add in the juice of 2 limes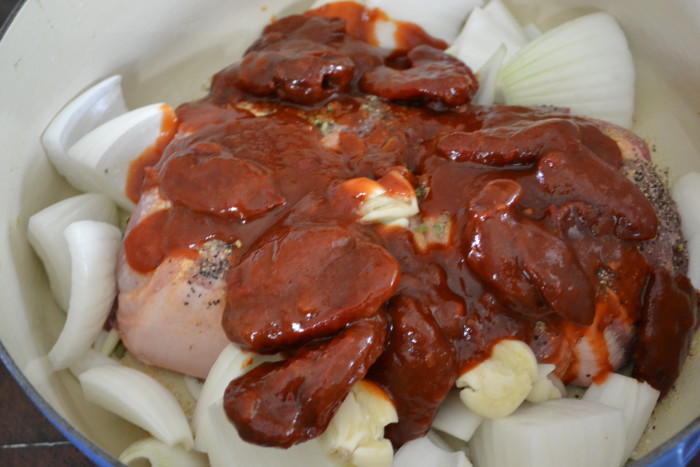 Next, dump in the entire (I know it sounds crazy) can of chipotle peppers and adobo sauce. This will give the pork a great smoky flavor and the pork will not be that spicy. Now, the sauce on the other hand is VERY spicy, but it gives the pork the perfect little kick at the end and you can control how much you want to put on the meat.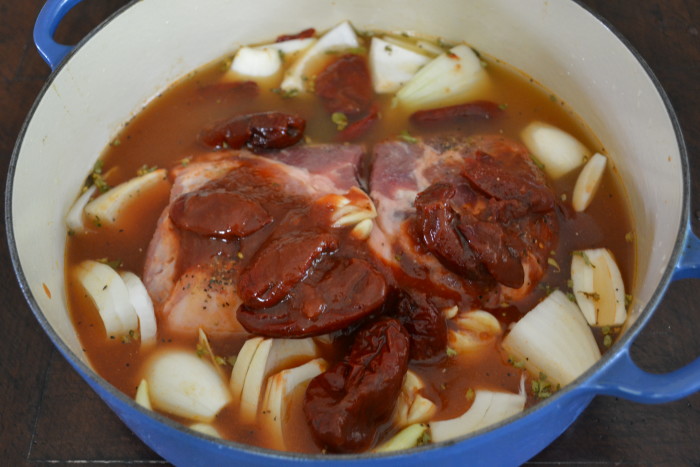 Next pour in the pineapple juice. You want to add in just enough to almost cover the pork. The pineapple juice balances the smoky and spicy flavors of the chipotle peppers and gives the pork a slightly sweet flavor that is so perfect for this dish. Cover the pot and place it in the oven for 3 hours.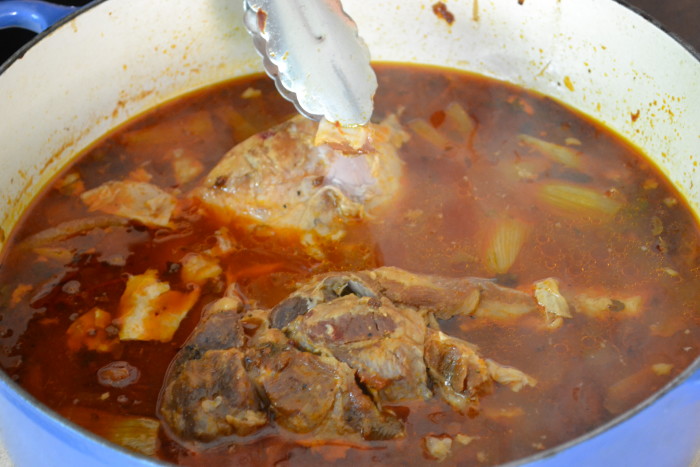 After about 3 hours, turn the pork one time with tongs and put the lid back on and finish cooking for another 2-3 hours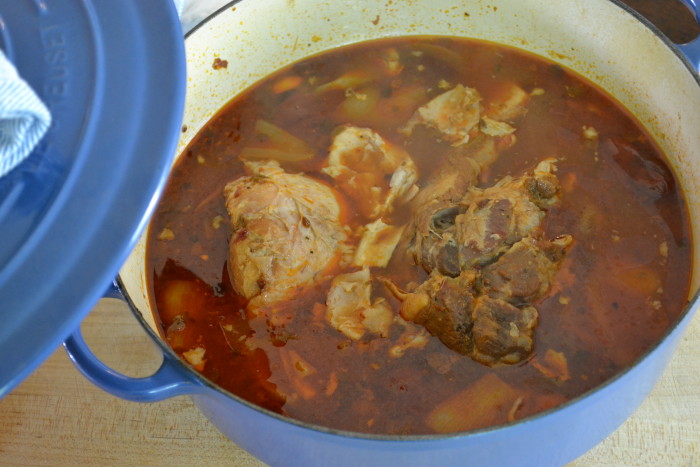 After a total of 5-6 hours the pork will be done. To make sure, just see if it falls apart when you poke it with a fork.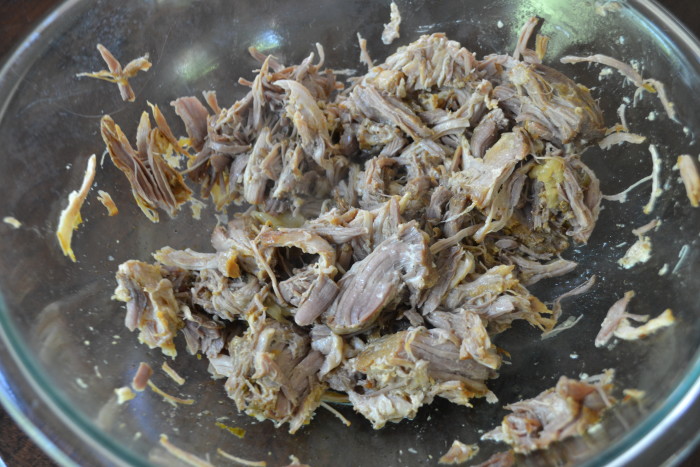 Remove the pork from the pot and place in a separate bowl. Place the pot with the sauce on the stovetop over a high flame and cook until the liquid has reduced by half. Before you shred the pork, remove any fat. Shred using two forks.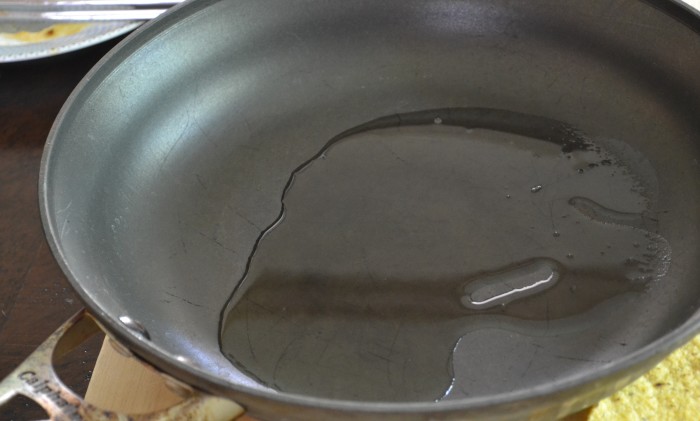 Heat two tablespoons of light colored oil in a large skillet over a high flame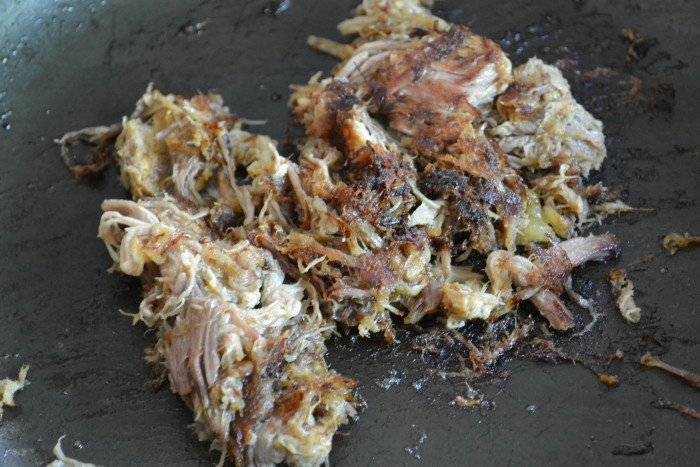 Put some of the pork in the skillet and sear until the edges become really crispy. Make sure to stay close, the sugar in the pineapple juice will burn quickly.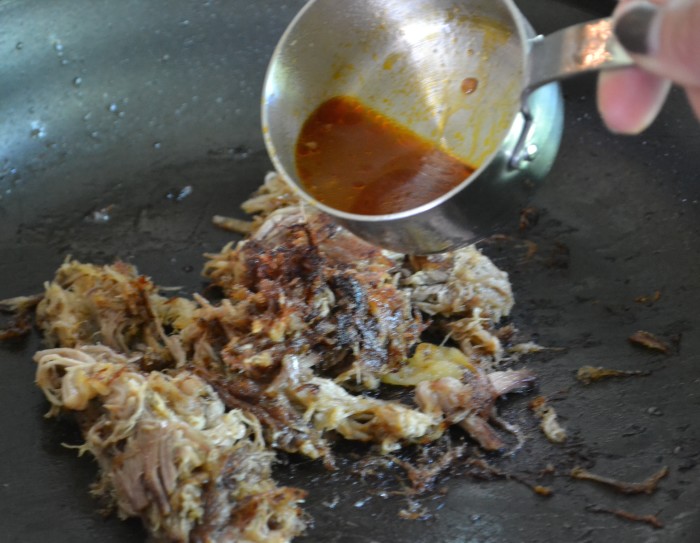 Finally, add in a little of the sauce (making sure not to get a pepper) right over the crispy pork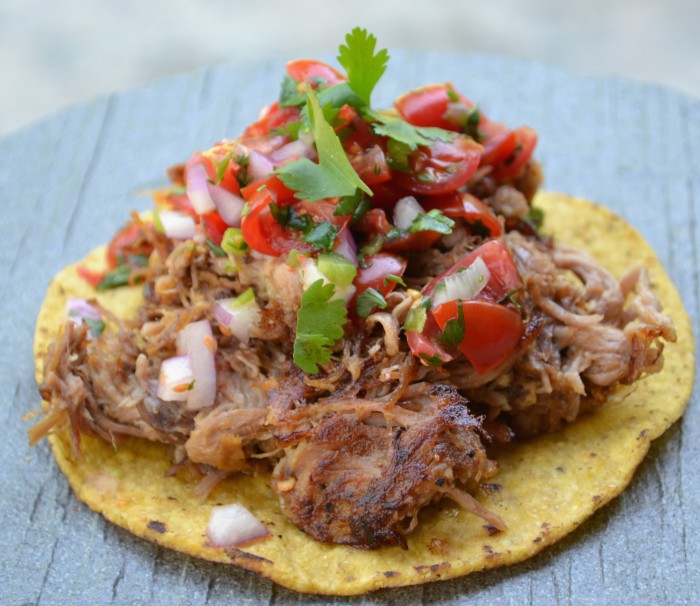 Serve on a corn tostada with pico or salsa. Enjoy!
Ingredients
2.5-3lb Pork Butt
1 large white onion, cut into large chunks
5 cloves garlic, smashed
11oz can chipotle & adobo sauce
36oz pineapple juice
2 limes, juiced
1/2 tablespoon kosher salt
1/2 tablespoon black pepper
1/2 tablespoon garlic powder
1 teaspoon Mexican oregano
Corn tostadas for serving
Instructions
Preheat the oven to 250 degrees
Place the pork butt in a large Dutch oven
Season both sides with the salt, pepper, garlic, Mexican oregano and cumin
Add the onion and garlic to the pot
Pour in the whole can of chipotle peppers with the sauce
Add in the pineapple juice and lime juice
Cover and cook for 5 hours until the meat falls apart (turn once at about 3 hours)
Remove the pork from the pot and place in a separate bowl
Remove any fat and shred using two forks
Place the pot with the cooking liquid over a high flame on the stovetop and cook until the mixture has reduced by half (about 20 minutes)
Heat two tablespoons of extra light flavored olive oil in a large skillet over a high flame
Add the pork to the skillet and cook for about 2-3 minutes on each side until it has a crispy crust
Reduce the heat to medium and add a about 1/4 cup of the reduced cooking liquid to the meat (make sure not to get a chipotle pepper...its sooooo spicy)
Serve on a corn tostada with pico or salsa
Enjoy
Notes
If cooking in a slow cooker, cook on high for 5 hours.
http://martinfamilystyle.com/pork-carnitas/
Usually there is no need to visit apothecary every when you going to get medicaments. Nowadays, it is formidably to select of repute web-site. Let's talk about various medicines exists. Revia treating alcoholism addiction in adults, as part of a complete treatment program. Again it may also be used to treat other appeal as determined by your soundness care purveyor. Cialis is a cost effective remedy for helping men to sustain an hard-on. What about cialis price and sexual dysfunctions? You may have heard about cheapest pharmacy for cialis A extended form of sexual dysfunction among men is the erectile dysfunction. Such disorders commonly signal other diseases: low libido or erectile dysfunction can be the symptom a strong health problem such as heart trouble. Why it happen? How common is erectile disfunction? Generally the treatment options may include sexual dysfunction medications or hormone treatments. While Cialis is considered safe enough on their own, nevertheless, health care professionals say take it in large amounts could be unsafe. Follow all directions on your prescription label.