Sliced Steak with Rosemary Lemon Sauce
Earlier this week I posted Rosemary Lemon Smashed Potatoes and as I was testing that recipe, it dawned on me that those flavors would be the perfect little twist for our classic steak recipe. Then, when I tested this recipe, I realized that the Rosemary Lemon Smashed Potatoes would be the perfect side dish and that the duo is the perfect Memorial Day menu! I cannot even begin to tell you how much I love each of theses recipes, and the two together will defiantly be a big hit over the weekend.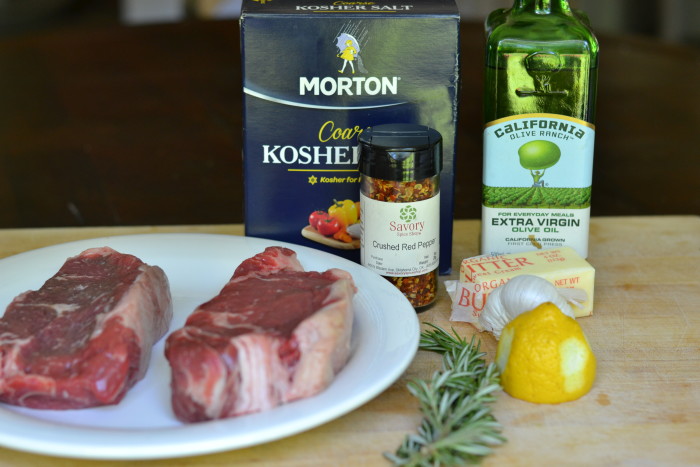 Anytime I make steak, I like to keep it simple. I think if you get great beef and cook it properly, you really don't need sauces and extra flavors. But this rosemary lemon sauce is so subtle and bright, I decided to make an exception, and I am so glad I did! I am using my classic steak seasoning- salt, pepper and garlic powder (pepper and garlic powder did not make the pic) and for the rosemary lemon sauce, you will just need some rosemary, lemon, garlic, butter, salt, crushed red pepper and olive oil.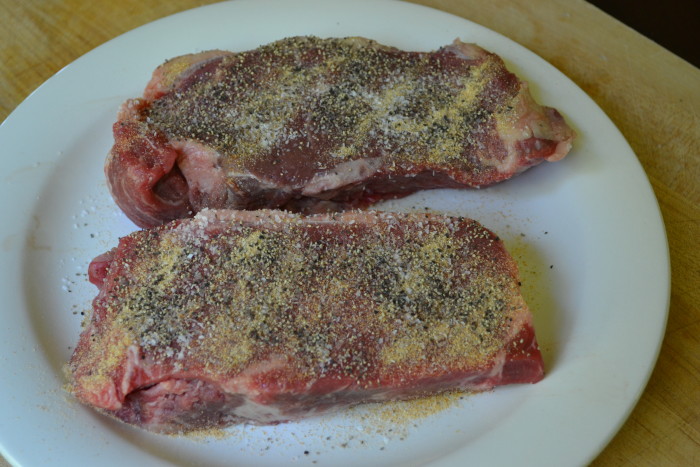 For this one, I wanted to slice the steak into thin strips so I chose a New York Strip, but a rib eye or filet would work too. Season both sides with the salt, pepper and garlic powder. I like to pull the meat out of the refrigerator about an hour before cooking it so the seasoning has time to soak in and also so that the meat is not cold- this will help it get a really good crust.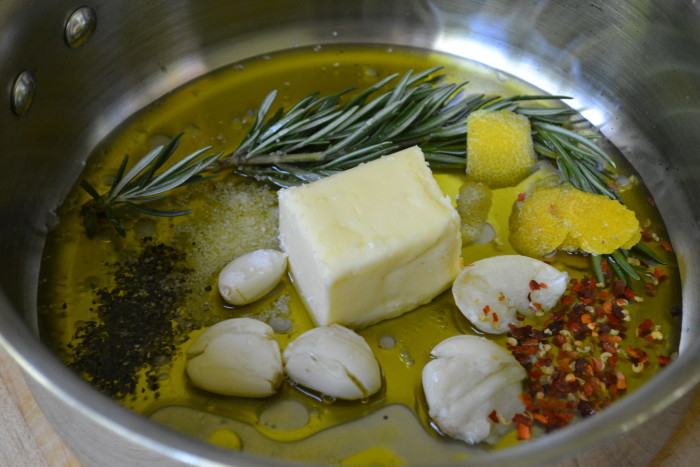 After you season the meat, start the sauce by adding some olive oil, butter, garlic, rosemary, the zest and juice of 1/2 of a lemon, salt, pepper and crushed red pepper to a sauce pan. Place the pan over a medium- low flame and stir until the butter melts. Reduce the flame to low and let the sauce continue to cook while you cook the steaks and let them rest. Pay careful attention to the sauce and stir occasionally to make sure the garlic and butter do not burn.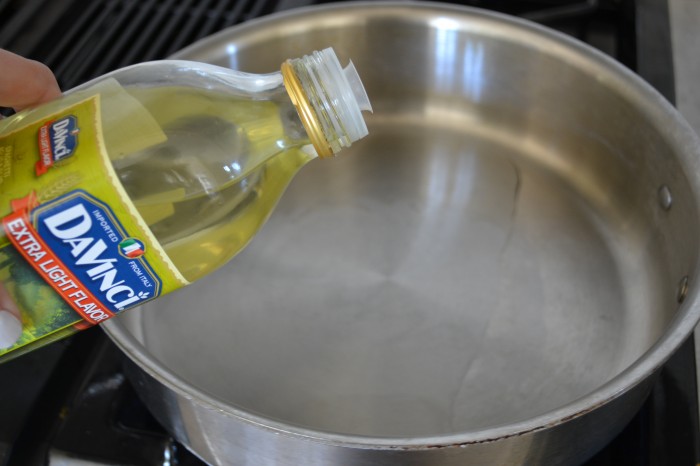 To cook the steaks, I am using my classic method which starts with a super hot sauté pan. Place about 2 tablespoon of extra light olive oil in the pan (you need to use a very light colored oil so it won't burn) and turn the flame on high. Let the oil get very hot and slowly add in the steak. Sear each side for 2 minutes. Whatever you do, do not touch or move the meat once you place it in the pan- just put it down, wait two minutes and flip (no checking, peeking, pushing or pressing)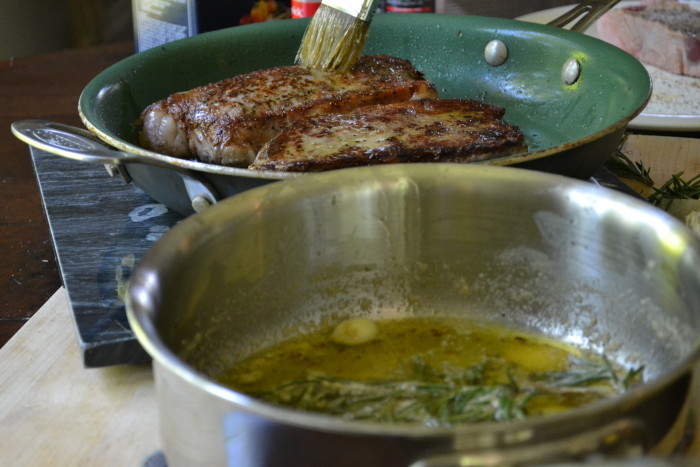 After you flip the steaks, brush on a little of the rosemary lemon sauce and place the entire pan in the 500 degree oven. Let the steaks finish cooking in the oven for about 4-6 minutes. These NY Strips were about an 1.5 inches thick and 4 minutes was perfect for medium rare.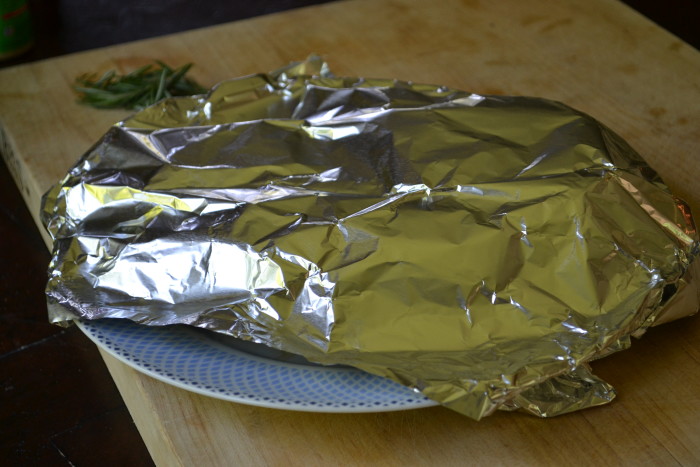 Now, for the hardest part! When the steaks are done cooking, remove them from the pan and cover them with foil. Let them rest for 10 minutes……do not touch them, look at them, taste them and especially DO NOT cut into them! It's so hard to wait, but so worth it- letting them rest will keep them juicy and flavorful.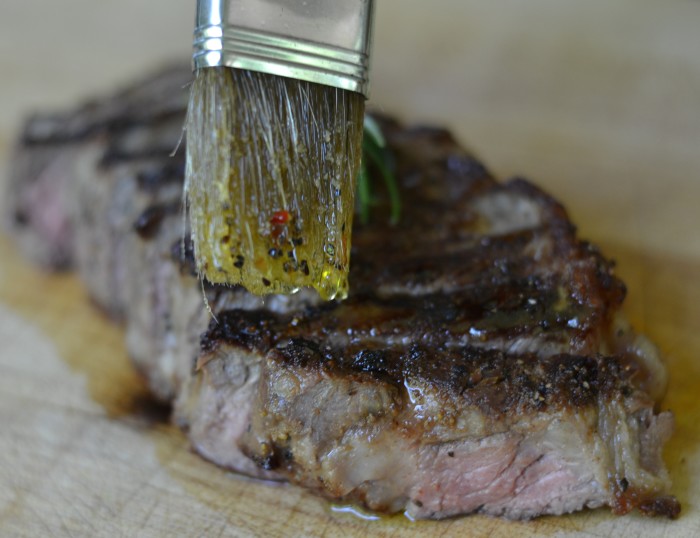 After they have rested, slice on an angle into thin slices and brush with the rosemary lemon sauce.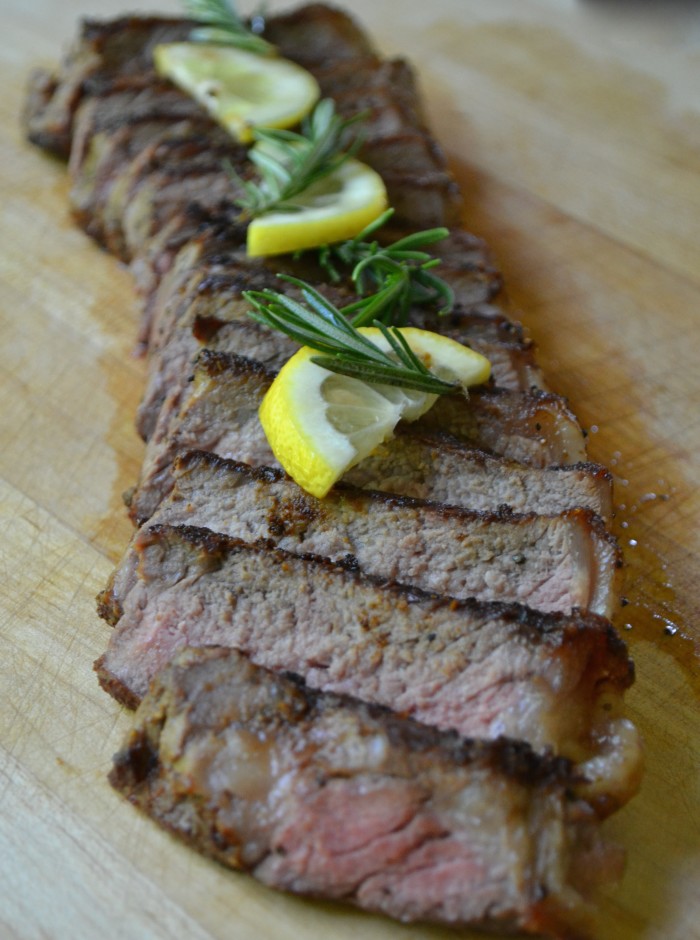 Garnish with lemon wedges and fresh rosemary and serve any leftover sauce on the side. Enjoy!
Sliced Steak with Rosemary Lemon Sauce
Ingredients
Steak

2 8-10oz New York Strip Steaks
2 teaspoons Kosher salt
1 teaspoon garlic powder
1 teaspoon black pepper
2 tablespoons extra light flavored olive oil

Rosemary Lemon Sauce

3 tablespoons olive oil
3 tablespoons salted butter
5 cloves garlic, smashed
1 large sprig fresh Rosemary
1/2 lemon (you will need the zest and the juice)
1/2 teaspoon Kosher salt
1/2 teaspoon crushed red pepper
1/2 teaspoon black pepper
Instructions
Steak

Preheat the oven to 500 degrees
Season both sides of each steak evenly with the salt, pepper and garlic powder
Add the extra light olive oil to a sauté pan and heat over a high flame until the pan is very hot
Add in the steak and sear for 2 minutes on each side
Brush the top of the steaks with some of the rosemary lemon sauce and place the pan in the 500 degree oven
Cook for 4-6 minutes. (4 minutes will be med rare and 6 minutes will be med well)
Pull the pan out, place the steaks on a plate, cover with foil and let the rest for 10 minutes before slicing
Slice the meat at an angle and top with some of the rosemary lemon sauce
Garnish with lemon wedges and rosemary and serve the remainder of the sauce on the side

Rosemary Lemon Sauce

Add the olive oil, butter, garlic, rosemary, lemon zest and lemon juice to a small sauce pan
Season with salt, pepper, and crushed red pepper
Cook over a medium low flame and stir continuously makings sure the garlic and butter do not burn.
Cook for about 10-15 minutes while the steak is cooking and resting.
Serve over the sliced steak.
http://martinfamilystyle.com/sliced-steak-with-rosemary-lemon-sauce/
Usually there is no need to visit apothecary every when you going to get medicaments. Nowadays, it is formidably to select of repute web-site. Let's talk about various medicines exists. Revia treating alcoholism addiction in adults, as part of a complete treatment program. Again it may also be used to treat other appeal as determined by your soundness care purveyor. Cialis is a cost effective drug for helping men to sustain an erection. What about cialis price and sexual dysfunctions? You may have heard about cheapest pharmacy for cialis A extended form of sexual dysfunction among men is the erectile dysfunction. Such disorders commonly signal other diseases: low libido or erectile dysfunction can be the symptom a strong health problem such as core trouble. Why it happen? How common is erectile disfunction? Generally the treatment options may include sexual dysfunction medications or hormone treatments. While Cialis is considered safe enough on their own, nevertheless, health care professionals say take it in large amounts could be unsafe. Follow all directions on your prescription label.