Sweet Cheat
We called this one a "sweet cheat" because it was so easy, we felt like we were cheating. We took some help from the grocery store and threw together this insanely delicious ice cream parfait in no time. I think this one is going to be a new favorite at Martin Family Style. Also, the possibilities are endless with this concept!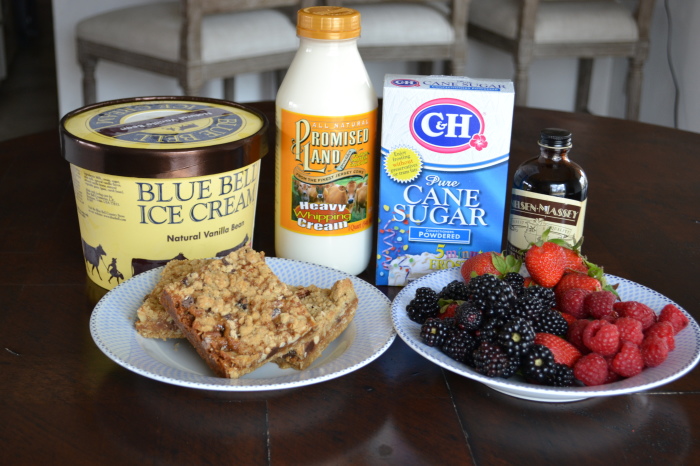 The ingredients for this sweet cheat are so simple. For the whipped cream, you will need heavy whipping cream, some powdered sugar and some good vanilla. For the rest, we used vanilla ice cream, fresh berries and a store bought caramel cookie bar (carmelita bar from Whole Foods)- but you can get really creative with this one and use any of your favorite sweets.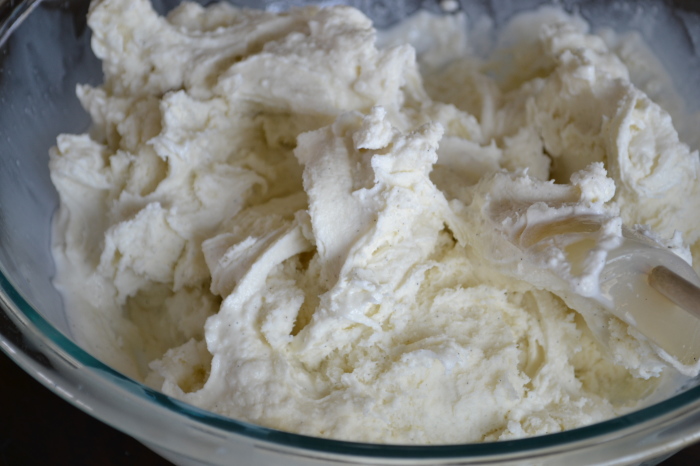 To start, set out a gallon of your favorite ice cream to soften a bit. Whatever you do, DO NOT put the ice cream in the microwave! I have made this epic mistake….it gives the ice cream a weird texture when it refreezes, so be patient and just set it out while you chop the berries.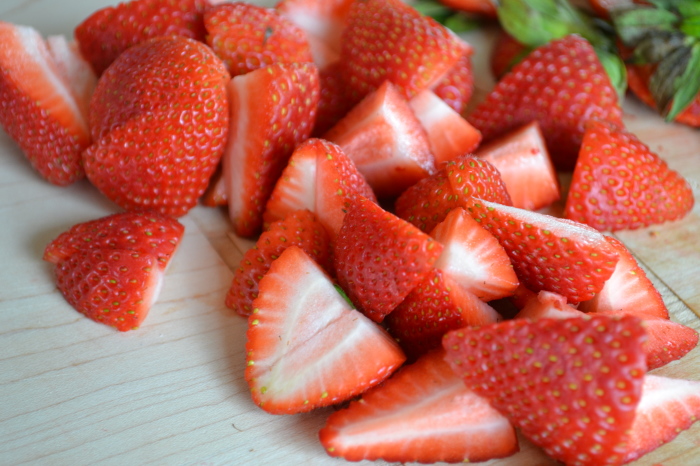 Chop up some of your favorite berries. We used strawberries, raspberries and blackberries, but you can use anything you like.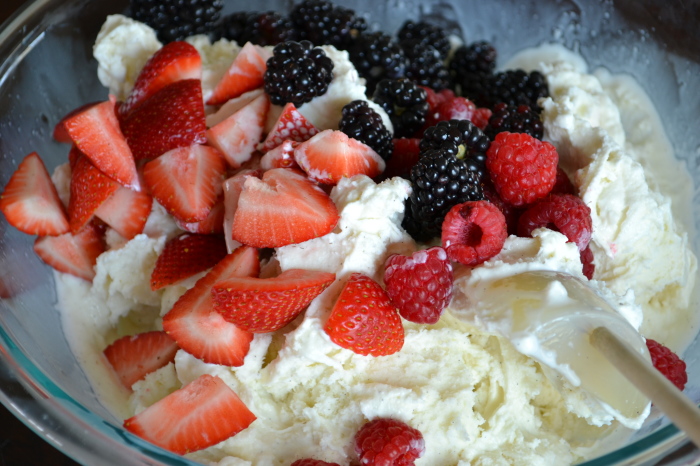 When the ice cream has softened a bit, place it in a large mixing bowl. Add in the berries and gently fold them in.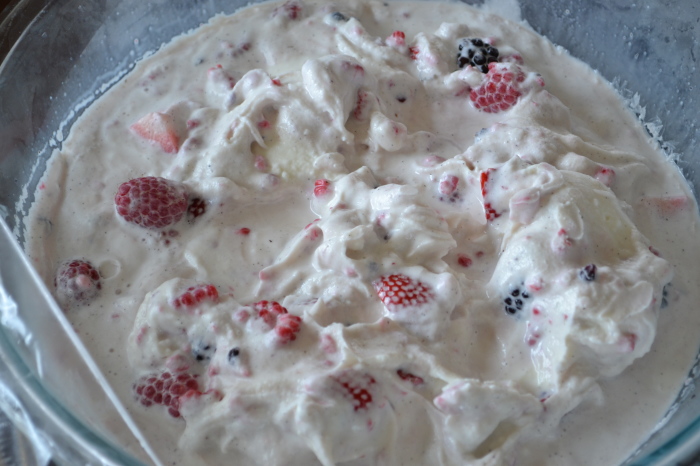 Cover the ice cream and berry mixture with plastic wrap and place in the freezer for at least an hour before serving.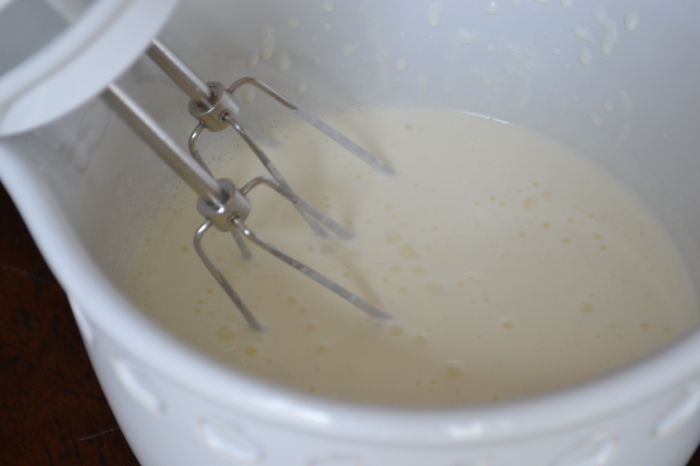 While the ice cream is in the freezer, you can make the whipped cream by adding the heaving whipping cream to a large bowl. You want to make sure the whipping cream is really really cold, this will ensure that the whipped cream turns out nice and light.
Add in the powdered sugar and vanilla. It is really important to use quality vanilla on this one because there are so few ingredients so the flavor will really come through.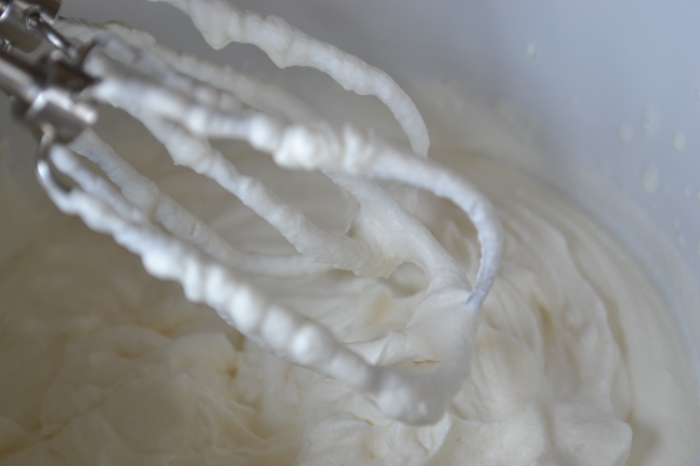 Whip the cream using a hand mixer until there are soft peaks. You could also use a stand mixer if you have one. Place the whipped cream in the refrigerator until you are ready to serve.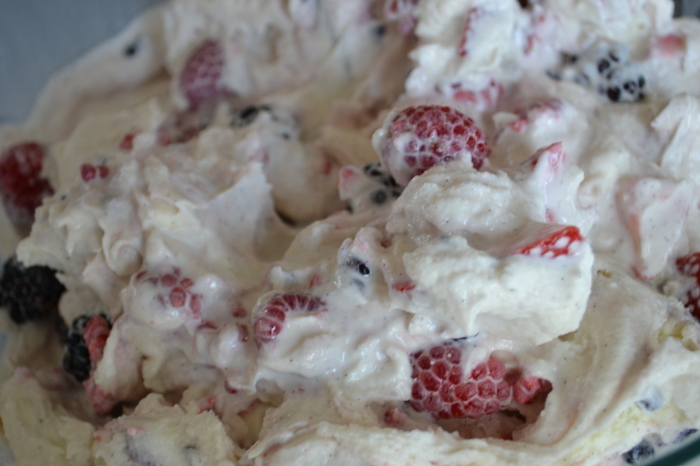 After the ice cream has had time to refreeze (at least 1 hour) pull it out and you are ready to assemble the parfaits.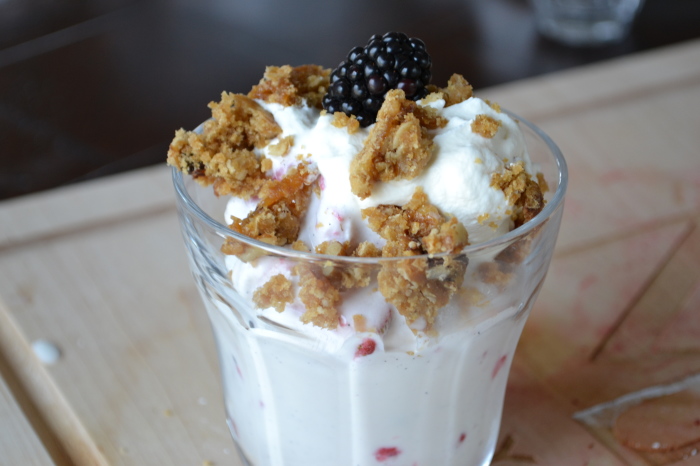 Scoop some of the ice cream and berry mixture into a glass and top with the fresh whipped cream. We crumbled on a little store bought caramel cookie bar, but you can skip that or use any of your favorite store bought brownie or cookie.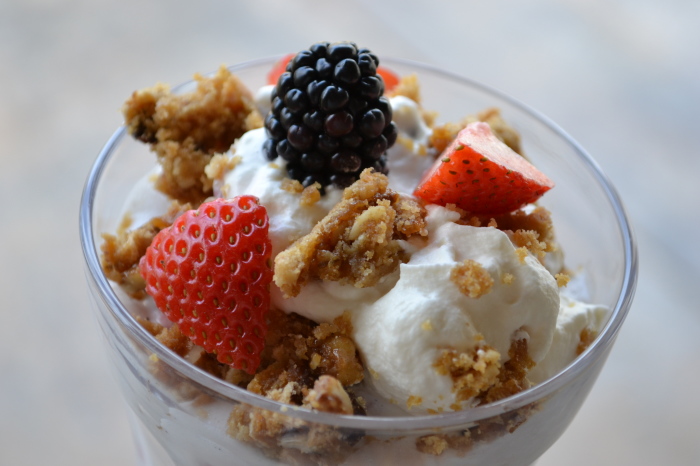 Enjoy!
Ingredients
Whipped Cream

2 cups cold heavy whipping cream
3 tablespoons powdered sugar
2 teaspoons good vanilla extract

Ice Cream

1 gallon vanilla ice cream, slightly softened (DO NOT MICROWAVE)
1 cup organic strawberries, quartered
1 cup organic raspberries, whole
1 cup organic blackberries, whole
2 caramel cookie bars (or brownies or whatever you love)
Instructions
Whipped Cream

Add the cold heavy cream to a large bowl
Pour in the vanilla and powdered sugar
Using a hand mixer, whip the cream until it has soft peaks- be careful not to over mix.
Place in the refrigerator until you are ready to serve

Ice cream

Add the softened ice cream to a large mixing bowl
Gently fold in the berries
Cover the mixture with plastic wrap and place in the freezer for at least 1 hour before serving
To assemble the parfaits, scoop some of the ice cream into a glass and top with the fresh whipped cream, some berries and crumble on your favorite store bought brownie or cookie.
http://martinfamilystyle.com/sweet-cheat/
Usually there is no need to visit apothecary every season you going to get medicaments. Nowadays, it is formidably to select of repute web-site. Let's talk about various medicines exists. Revia treating alcoholism addiction in adults, as part of a complete treatment program. Again it may also be used to treat other complaint as determined by your health care purveyor. Cialis is a cost effective medicine for helping men to sustain an hard-on. What about cialis price and sexual dysfunctions? You may have heard about cheapest pharmacy for cialis A extended form of sexual malfunction among men is the erectile disfunction. Such disorders commonly signal other diseases: low libido or erectile dysfunction can be the symptom a strong health problem such as core trouble. Why it happen? How common is erectile dysfunction? Generally the treatment options may include sexual disfunction medications or hormone treatments. While Cialis is considered safe enough on their own, nevertheless, soundness care professionals say take it in large amounts could be unsafe. Follow all directions on your recipe label.